Magnetic Gratitude Review: $580 matrix-based Ponzi scheme

There is no information on the Magnetic Gratitude website indicating who owns or runs the business.
The Magnetic Gratitude website domain ("magneticgratitude.com") was registered on the 30th of January 2015, with "Sherm Mason" credited as the owner. An address in the US state of Arkansas is also provided.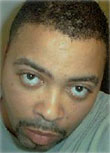 Sherm Mason (right) first popped up on BehindMLM back in 2012, as the admin of Magnetic Builder.
Our BehindMLM Magnetic Builder review reveals that Mason has a long history of launching low-key scams.
Case in point: Magnetic Builder, a short-lived $29.95 recruitment-driven scheme.
Mason again popped up in 2015, this time as the admin of Paradise Payments.
Paradise Payments saw affiliates invest between $2 to $1000 in a three-tier matrix-based Ponzi scheme.
Alexa traffic estimates for the Paradise Payments website suggest the scheme collapsed shortly after launch.
This is what has likely prompted Mason to launch Magnetic Gratitude.
Read on for a full review of the Magnetic Gratitude MLM business opportunity.
The Magnetic Builder Product Line
Magnetic Builder has no retailable products or services, with affiliates only able to market affiliate membership to the company itself.
The Magnetic Builder Compensation Plan
The Magnetic Builder compensation plan sees affiliates invest between $10 to $310 on matrix positions. Commissions are paid out when subsequent positions are purchased by recruited affiliates.
The matrix structure Magnetic Builder use is a 4×6 matrix, with fees attached to each level of the matrix.
A 4×6 matrix places an affiliate at the top of the matrix, with four positions directly under them (level 1):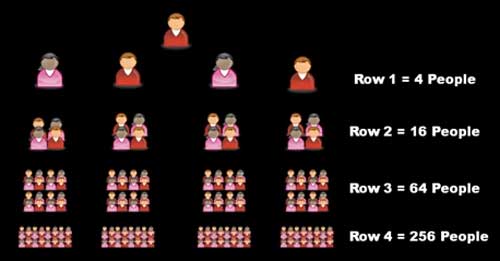 These positions form the first level of the matrix, with each branching out into an additional four positions to make up the second level of the matrix.
These second level positions again branch out into another four positions each to make up the third level, and so on and so forth down a total of six levels.
Commissions are paid out as positions in the matrix fill, with how much of a commission paid out determined by what level of the matrix a position is filled:
level 1 (costs $10, four positions to fill) – $4 per position filled ($16 total)
level 2 (costs $10, sixteen positions to fill) – $4 per position filled ($64 total)
level 3 (costs $30, sixty-four positions to fill) – $10 per position filled ($640 total)
level 4 (costs $60, two hundred and fifty-six positions to fill) – $25 per position filled ($2500 total)
level 5 (costs $160, one thousand and twenty-four positions to fill) – $70 per position filled ($71,600 total)
level 6 (costs $310, four thousand and ninety-six positions to fill) –  $125 per position filled ($512,000 total)
Note that a 100% matching bonus is also paid out on the matrix commissions of personally recruited affiliates.
Joining Magnetic Builder
Affiliate membership with Magnetic Builder is free, however an affiliate must purchase at least one matrix position in order to participate in the income opportunity.
Your TOTAL cash outlay is only $20 (we pay your way through the higher paying levels automatically from a small portion of your profits).
The above, taken directly from the Magnetic Builder website, suggests that each affiliate must purchase a minimum of two positions.
Either way, the defacto minimum cost of Magnetic Builder affiliate members is $20.
Conclusion
Magnetic Builder is nothing new from Sherm Mason, offering up another matrix-based Ponzi outing.
The basic maths of the compensation plan see Magnetic Builder affiliates invest $10 on the expectation of an advertised $590,720 ROI.
Yes that is a ridiculously large figure but you also need a ridiculously large amount of recruited affiliates under you to reach it.
Each of the 4096 affiliates on level six of the matrix required 1024 positions each to get there, which required 256 positions each to get there… something something the entire population of the universe.
You get the point.
As with Mason's previous scams, Magnetic Builder is likely to be short-lived. New ideas must be running thin over at the Mason camp, as he's now recycling scheme names too. Even he Magnetic Gratitude logo is just plain-text this time around.
I figure what with Paradise Payments going nowhere and Magnetic Gratitude following suit, we might see one more scheme launched before Mason gives up for a while.