Legends VIP Network Review: Pyramid recruiting & pirate streaming

Legends VIP Network doesn't explicitly clarify who runs or owns the business on their website.
Marketing videos featured on Legends VIP Network's website however feature Val Smyth: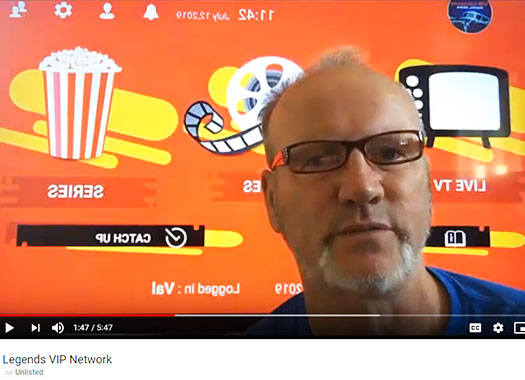 Smyth is also the owner of the Legends VIP Network website domain, which was first registered in 2014.
Smyth first popped up on BehindMLM's radar in 2015 as co-admin of Total Takeover.
Total Takeover was a relatively short-lived recruitment scheme. A few months after launch Total Takeover collapsed.
Later in the year Smyth returned with The Elite Networker, another recruitment-driven opportunity.
In 2016 Smyth launched Mentoring Millionaires, a combination pyramid gifting scheme.
At the time of publication the Mentoring Millionaires website is misconfigured.
With an Alexa website traffic ranking of over ten million, it's a safe bet that Mentoring Millionaires has long-since collapsed.
Of note is Val Smyth's use of a Canadian address to register the Legends VIP Network website domain.
A Washington address is provided on the Legends VIP Network website terms and conditions.
Read on for a full review of the Legends VIP Network MLM opportunity.
Legends VIP Network Products
Legends VIP Network details a $39.95 a month stream service.
As per the company's compensation plan material however, this doesn't appear to have anything to do with the attached business opportunity.
Legends VIP Network's Compensation Plan
Newly recruited Legends VIP Network affiliates sign up and pay $147.
Commissions are paid out when they recruit others who do the same.
Legends VIP Network affiliates earn $100 per affiliate they personally recruit.
Residual recruitment commissions are paid via a 1-up compensation structure, tracked via a unilevel team.
A unilevel compensation structure places an affiliate at the top of a unilevel team, with every personally recruited affiliate placed directly under them (level 1):

If any level 1 affiliates recruit new affiliates, they are placed on level 2 of the original affiliate's unilevel team.
If any level 2 affiliates recruit new affiliates, they are placed on level 3 and so on and so forth down a theoretical infinite number of levels.
New Legends VIP Network affiliates pass-up their first recruitment commission to the affiliate who recruited them.
That is Bob recruits Sue, who recruits Tom.
The $100 commission generated on recruitment of Tom is passed up to Bob.
After this first pass-up recruitment commissions are kept by the recruiting affiliate.
The residual nature of the model kicks in when personally recruited affiliates pass-up their first recruitment commission too.
Theoretically this can see payments passed up from an infinite depth, hence the residual nature of the plan.
Joining Legends VIP Network
Legends VIP Network affiliate membership is $147.
Conclusion
The disjointed nature of Legends VIP Network is likely a reflection of what the company is; a desperate and hastily put together cash grab.
The MLM side of Legends VIP Network doesn't seem to have anything to do with their $39.99 a month streaming service.
Legends VIP Network's MLM business is payment of a tacked on $100 fee (for some reason affiliates are slugged $47 for their first month over the $39.95 regular price), which is used to pay recruitment commissions.
With 100% of commissions paid out tied to affiliate recruitment, the MLM side of Legends VIP Network operates as a pyramid scheme.
With respect to the offered streaming service, Legends VIP Network fails to disclose who their provider is.
In doing so, the company also fails to disclose whether it or its merchant service provider has broadcast rights to advertised copyrighted content.
For its part, Legends VIP Network does not specify on its website whether it holds licenses from the owners of the content it provides access to.
Copyrighted content Legends VIP Network provides streaming access to, as advertised on their website, includes "USA TV", NFL, MLB, NBA, Formula 1 and localized content from a number of countries.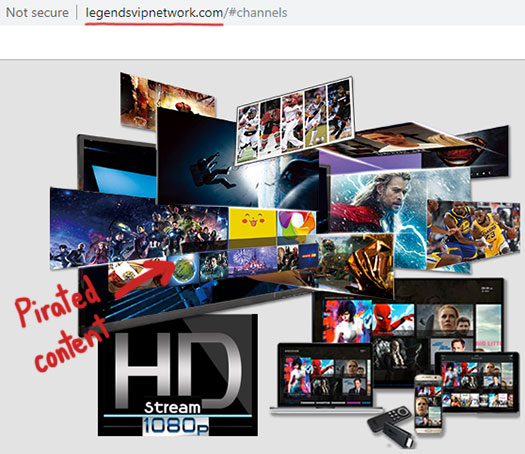 A good example of what can happen to MLM companies who provide access to pirated content is TVizion.
Like Legends VIP Network, TVizion provided access to pirated content. Dish Network sued TVizion in mid 2018.
TVizion and owner Jim Pshehalouk failed to defend the suit, resulting in a $5.9 million dollar default judgement earlier this year.
Failing action by copyrighted content owners, pyramid schemes like Legends VIP Network collapse once recruitment inevitably stalls.
Due to the pass-up nature of the business model, those who get in early and recruit stand to make the most money.
Sitting at the top of Legends VIP Network company-wide unilevel team is Val Smyth, through one or more preloaded admin positions.
Math dictates that at any given time, when a pyramid scheme collapses the majority of participants lose money.
Promoting access to pirated content as a business opportunity is also a good way to trash your professional reputation.