KJBT Review: Social media "click a button" app Ponzi

Radar Media (aka KJBT), fails to provide ownership or executive information on its website.
Radar Media's website domain ("radarak.com"), was first registered in 2017. The private registration was last updated on September 13th, 2023.
Through the Wayback Machine we can see Radar Media's website domain was for sale until around mid 2023. This is when the current website went up, meaning it was also purchased around this time also.
Radar Media's official FaceBook page was created on May 18th, 2023. The website domain was likely purchased earlier the same month.
Despite existing for a month or so, Radar Media falsely claims it was "established in 2020".
Again, despite only existing for a month, Radar Media also falsely claims to have the "trust of more than 20 million users and the support of 500+ enterprises".
If we take a look at Radar Media's website source-code, we find it is localized in Chinese:

This strongly suggests whoever is running Radar Media has ties to China.
As always, if an MLM company is not openly upfront about who is running or owns it, think long and hard about joining and/or handing over any money.
Radar Media's Products
Radar Media has no retailable products or services.
Affiliates are only able to market Radar Media affiliate membership itself.
Radar Media's Compensation Plan
Radar Media affiliates invest Pakistani rupees (PKR) or PKR equivalents in tether (USDT).
This is done on the promise of advertised returns:
PK-1 – invest 10 PKR and receive up to 100 PKR a day
PK-2 – invest 26 PKR and receive up to 390 PKR a day
PK-3 – invest 80 PKR and receive up to 1440 PKR a day
PK-4 – invest 150 PKR and receive up to 3450 PKR a day
PK-5 – invest 260 PKR and receive up to 7280 PKR a day
PK-6 – invest 500 PKR and receive up to 17,500 PKR a day
The MLM side of Radar Media pays up to 15% on daily returns paid to downline affiliates.
Specific commission rates are not made public.
Joining Radar Media
Radar Media affiliate membership is free.
Full participation in the attached income opportunity requires a minimum 10 PKR investment.
Radar Media solicits investment via EasyPaisa or tether (USDT).
Radar Media Conclusion
Radar Media is yet another "click a button" app Ponzi scheme, this time targeting Pakistan.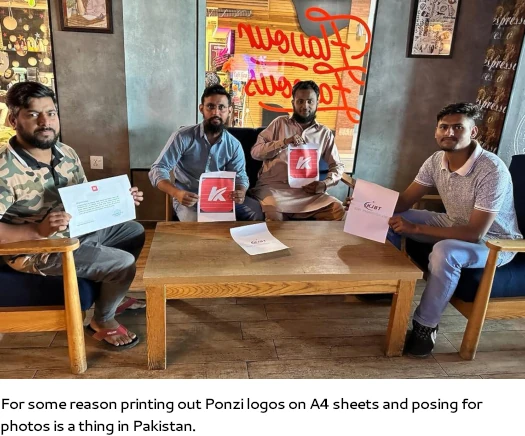 Radar Media's "click a button" Ponzi ruse is social media manipulation:

In 2020, the brand project platform RM of KJBT Promotion LTD was established, and digital media institutions such as Facebook, YouTube, TIK Tok, Instagram and other digital social media institutions were cooperated to use their own advantages and majors to use advanced Internet technology and huge media analysis data as the. [sic]

Infrastructure provides global social platforms and small and medium -sized advertisers with the best promotion effect and effect of product promotion.
The presented ruse is Radar Media affiliates are required to leave artificial likes and comments on social media content (YouTube, FaceBook, Tik Tok, Instagram etc.).
Upon doing so they go back into Radar Media's app and click a button. The more a Radar Media affiliate invests the more buttons they have to click.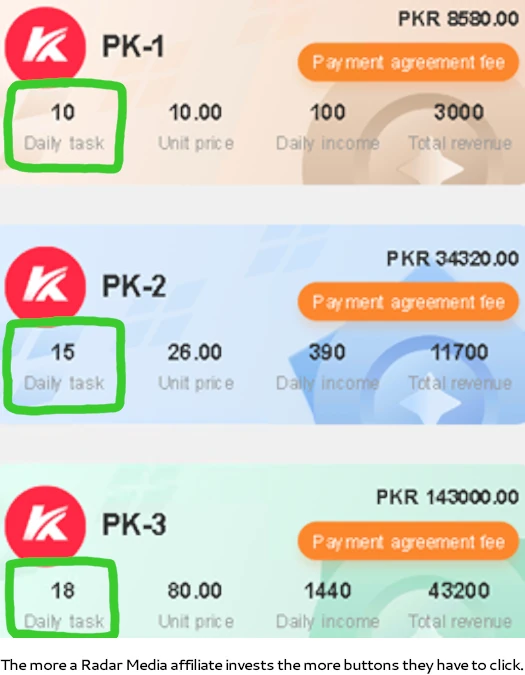 Something something revenue, which is purportedly then shared with investors.
If that makes no sense it's because it doesn't. Clicking a button in an app has nothing to do with revenue generation via social media manipulation.
In reality clicking a button inside Radar Media does nothing. All Radar Media is doing is recycling newly invested funds to pay earlier investors.
Radar Media is part of a group of "click a button" app Ponzis that emerged in late 2021.
Examples of already collapsed "click a button" app Ponzis using the same social media include FocuStar, GoTik and AOL918.
Including Radar Media, BehindMLM has thus far documented eighty-six "click a button" app Ponzis. Most of them last a few weeks to a few months before collapsing.
"Click a button" app Ponzis disappear by disabling both their websites and app. This tends to happen without notice, leaving the majority of investors with a loss (inevitable Ponzi math).
The same group of Chinese scammers are believed to be behind the "click a button" app Ponzi plague.