JetStream Direct Review: $499 stream-capable piracy boxes

There's no direct information on the JetStream Direct website indicating who owns or runs the business.
A press-release uploaded to the site on the 13th of April lists "Mark DeLanney, Sr." as a contact for JetStream Direct, with the release itself quoting him:
JetStream Direct is the leader in premier streaming media TV boxes," says Mark DeLanney, Sr.

"We offer the JetStream TV Box and the Android TV Box, effectively allowing for streaming on all types of devices. Our new distributor and reseller program allows people to start their own business in this highly popular entertainment field that consumers are excited about."
The use of possesive suggests DeLanney Sr. is the owner of JetStream Direct. Further supporting this are a number of YouTube videos that feature on the JetStream Direct website, hosted on an account bearing DeLanney Sr.'s name.
Of note is that up until recently DeLanney Sr. credited himself as an "Independent Business Owner at JetStream Direct" on his LinkedIn profile:

This information has since been removed, with DeLanney Sr. now crediting himself as CEO of xmWired TV, LLC (as of June 2015).

After saturating myself in the "streaming media"​ marketplace and learning all there is to know with this new technology, I have developed the absolute best streaming device available.

With help from the manufacturer, I have made the necessary upgrades and adjustments that makes this product not only the "best in it's (sic) class"​, but also consumer friendly.
I was unable to find any further information on xmWired TV, with any relationship between the company and JetStream TV remaining unclear.
Read on for a full review of the JetStream Direct MLM business opportunity.
The JetStream Direct Product Line
JetStream Direct market a $499 streaming media box, which the company claims provides access to 'unlimited movies and shows on-demand'.
The JetStream Streaming Media TV and Movie Box is a device that allows people to watch over 100,000 different movies and television shows commercial free with no monthly cost.

In addition it also includes over 1,000 channels, and events which are included for free.
For those interested in the technical specs of box, JetStream Direct claim their device has a 4 Core CPU, 8G Flash and 1G RAM.
The JetStream Direct Compensation Plan
The JetStream Direct compensation plan sees affiliates sign up for free and get paid to sell JetStream Direct stream boxes.
The boxes retail for $499, with a $65 retail commission paid out when a box is sold to a retail customer.
Residual commissions in JetStream Direct are paid out via a unilevel compensation structure.
A unilevel compensation structure places an affiliate at the top of a unilevel team, with every personally recruited affiliate placed directly under them (level 1):

If any level 1 affiliates recruit new affiliates, they are placed on level 2 of the original affiliate's unilevel team.
Theoretically a unilevel team can extend down unlimited depth, however JetStream Direct cap payable unilevel levels at two.
Commissions are paid when a Direct Stream affiliate sells a stream box to a recruited JetStream Direct affiliate, and when these recruited affiliates either do the same or sell a box to a retail customer:
level 1 (personally recruited affiliates purchase a stream box) – $65 commission
level 2 (level 1 affiliates recruit a new affiliate who purchases a stream box or sells a box to a retail customer) – $15 commission
Joining JetStream Direct
Affiliate membership with JetStream Direct is free.
Conclusion
The core issue with the JetStream Direct business opportunity lies with its product offering.
Marketing on the JetStream Direct website clearly aims to sell the box on it's ability to access unlicensed content, which JetStream Direct do not hold distribution rights for.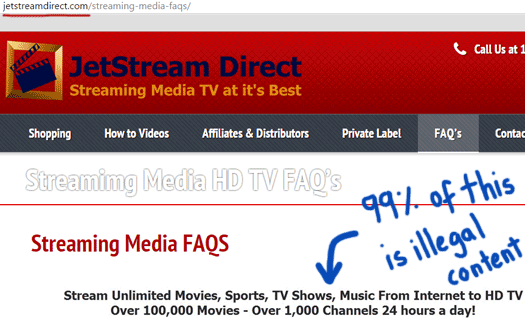 "How to videos" hosted on the JetStream Direct website (featuring Mark DeLanney, Sr.) leave little to the imagination, with DeLanney Sr. providing step by step instructions on how to access unlicensed content using the JetStream Direct device: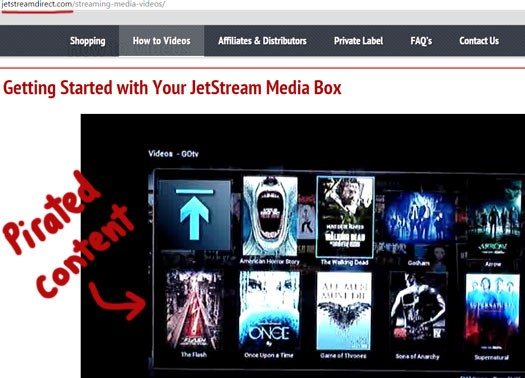 Purpose-built piracy boxes are fast emerging as a regulatory issue of late, with Amazon in the US recently removing Kodi from their appstore.
The instructional videos on the JetStream Direct website clearly show Kodi (through third-party plugins), as the platform used to access unlicensed content with.
In the UK police recently raided sellers of piracy-capable stream boxes, with two of them arrested and facing criminal charges.
Personally I believe it's only a matter of time before we see similar raids and arrests taking place in the US.
No matter how you try to justify it, at the end of the day JetStream TV are marketing hardware on the merit of it being specifically sold to access unlicensed content.
On the compensation side of things, at $499 for the device and affiliate membership being free, there's a good chance that the majority of JetStream Direct device purchasers are going to be affiliates.
If this is the case then it can be an issue as the question of retail value comes up.
That however is vastly overshadowed by the fact that JetStream Direct are essentially marketing piracy. As we've seen in the UK, it's likely only a matter of time before authorities move in on these boxes – with sellers such as JetStream Direct affiliates placing themselves at risk.