UK police raid stream box sellers, 1000+ units seized
Last month Amazon removed the popular plugin Kodi from its app store.
When combined with third-party plugins, Kodi is easily the platform of choice among stream box sellers.
Now the crackdown continues, with news of UK police raiding sellers of stream-capable piracy boxes.
An initial raid on one seller was carried out Trading Standards officers, police and representatives from Sky TV on June 12th, with a followup raid on June 30th seeing over a thousand piracy boxes seized;
Officers from the Metropolitan Police carried out raids in Feltham, Middlesex.

A 48-year-old-man and a woman were arrested and more than 1,000 set-top boxes were seized.

Further north in the West Midlands town of Walsall, police seized "dozens" of pieces of electronics including set-top boxes, computers and sat nav systems.

A 50-year-old man was voluntarily interviewed by police and FACT investigators.
The second raid is of particular significance, as it was carried out
after a joint investigation by the Metropolitan Police and the Federation Against Copyright Theft (FACT) into the sales of set-top boxes programmed to provide access to movies, TV shows, live sports and subscription channels without permission.
Assisting with the raids were officers from both the Regional Organized Crime Unit (ROCU) and Government Agency Intelligence Network (GAIN).
As far as I know, the two arrests today mark the first in relation to the selling of stream-capable piracy boxes.
Not surprisingly, as we've predicted in every MLM piracy box review here on BehindMLM, the issue authorities have with the boxes is not the technology itself, but rather the boxes marketed as all you can eat pirated content free-for-all buffets.
While selling any of the above devices alone is entirely legal, over the past couple of years online markets such as eBay and Amazon have been flooded with "fully loaded" boxes (Android-based in particular) that enable free viewing of anything from first run movies to live sports.

Surprisingly, many vendors have been happy to publicly advertise that fact, with many apparently under the impression that if they don't provide the illegal content themselves then they aren't liable.

In the UK that argument is unlikely to fly.
Indeed. Here at BehindMLM we've seen this argument raised often by affiliates of MLM stream box companies.
The general gist of the argument is that, as long as the MLM company itself isn't hosting the illegal content they and their affiliates openly advertise is available via use of their purpose-built piracy boxes, affiliates believe they themselves aren't facilitating piracy.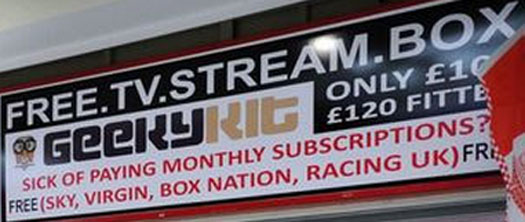 Above is a screenshot of how one of the raided sellers was advertising their piracy boxes. Looks awfully similar to how MLM stream box affiliates market their company's respective devices.
Details of the charges those arrested are facing have yet to surface, but you've got to wonder… how long before we start seeing similar raids in the US?
Update 7th August 2017 – While the MLM piracy-box streaming niche is all but dead, the criminal case against streambox sellers in the UK continues.
Julian Allen was arrested after raids at 'Geeky Kit' premises in Billingham and Middlesbrough in the north of England.

This January, Allen appeared before Teesside Crown Court charged with laundering £135,173, money said to have been generated via the sale of pre-loaded set-top boxes and premium packages over a 30-month period.

Allen was expected to appear for a week-long trial scheduled to start this Monday but that was scrapped after the 40-year-old pleaded guilty to using or acquiring criminal property.

According to Gazette Live, a proceeds of crime hearing has been scheduled for next year.

In the meantime, Allen was granted unconditional bail until sentencing on October 20, where he faces a potential jail sentence.
Allen is the guy who owned the "Free Stream TV Box" storefront above. He'd argued he didn't provide copyright content and therefore wasn't liable.
Guess that wasn't a defense worth taking to trial after all.