Legacy Direct Review: $399 piracy boxes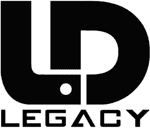 Legacy Direct operate out California and operate in the stream box MLM niche.
Launched in mid 2015, Legacy Direct is headed up by CEO Christian Rosario.
Through his company MiH Marketing, Rosario is currently a Seacret Direct affiliate. Prior to Seacret Direct, Rosario was an affiliate with Gano Excel (ganoderma coffee).
Read on for a full review of the Legacy Direct MLM business opportunity.
The Legacy Direct Product Line
Legacy Direct market an Android-based stream box they call a "BTV media player".
BTV media player boxes retail for $399.
The Legacy Direct Compensation Plan
The Legacy Direct compensation plan pays affiliates to sell BTV media player boxes to retail customers and recruited affiliates.
Residual commissions are paid out via a binary compensation structure, with additional rank and performance-based bonuses available.
Legacy Direct Stream Box Commissions
The Legacy Direct streaming box retails for $399, on which a $150 retail commission is paid.
The same $150 commission is paid out on non-retail sales of the stream box to recruited affiliates.
A $25 override commission is paid to an affiliate's immediate upline for each $150 commission earned.
Recruitment Commissions
For every three Legacy Direct affiliates recruited who purchase a stream box within 30 days of signing up as an affiliate, a $100 commission is paid out.
Residual Commissions
Residual commissions in Legacy Direct are paid out via a binary compensation structure.
A binary compensation structure places an affiliate at the top of a binary team, split into two sides (left and right):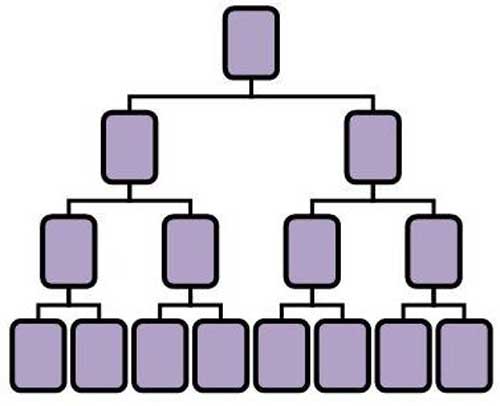 New positions in the binary team are created by splitting the previous level positions into another two positions each. Positions themselves are filled via the direct and indirect recruitment of new Legacy Direct affiliates.
Commissions are paid out based on a 1:1 matching ratio between the two binary sides, with a 10-15% commission is paid out per 100 BV matched.
BV stands for "Business Volume" and is sales volume generated by the sale of a Legacy Director stream box. The sale of one Legacy Direct stream box generates 80 BV on the side of the binary it was sold on.
According to the Legacy Direct compensation plan, new affiliates are paid 10% ($10 per 100 BV matched) and Director ranked affiliates 15% ($15 per 100 BV matched).
To qualify as a Director, a Legacy Direct affiliate must have 25 recruited affiliates on both sides of their binary or 2000 BV in accumulated sales volume.
Binary commissions are capped at $25,000 week, with any unmatched volume carried over.
Binary Check Match
Upon qualifying at the Director level and having at least one personally recruited affiliate do the same, Legacy Direct affiliates quality for a 20% match on that affiliate's earnings.
This 20% match is then paid out on any personally recruited Director rank affiliate's binary earnings.
Rank Advancement Bonus
The Legacy Direct compensation plan mentions rank advancement bonuses of up to $1 million dollars.
Unfortunately no specific qualification criteria is provided.
Performance Bonuses
To qualify for Performance Bonuses, a Legacy Direct affiliate must have 50 recruited affiliates on either side of the binary team or 5000 BV with an Elite Distributor on either side.
The Performance Bonus is described as a bonus paid out "every four weeks". The Legacy Direct compensation plan does not go into any further detail.
Joining Legacy Direct
Legacy Direct affiliate membership is $49.
Conclusion
There are two primary issues with the Legacy Direct MLM opportunity.
The first is the probability that the only customers of the BTV media boxes are Legacy Direct affiliates.
I'm basing this likelihood on the $150 markup of the boxes, which is paid out as a base-commission. Other commissions paid out further inflate the price, with comparable stream boxes available for less than half the price.
So other than a few gullible unsuspecting customers, who exactly is paying $400 for an Android stream box?
A near 100% affiliate-based customer pool means Legacy Direct would effectively be operating as a closed-loop opportunity. Commissions would inadvertently be tied to the recruitment of new affiliates, spurred along by a specific commission paid out per three affiliates recruited.
If this scenario exists company-wide, Legacy Direct would be operating as a product-based pyramid scheme.
The second issue is one Legacy Direct shares with nearly every other MLM stream box opportunity out there. That is, the legality of the content streamed and issues with marketing access to pirated content.
For reference, here's how Legacy Direct themselves market their BTV media players:
-Stream your favorite Movies or TV shows

-Access to over 250,000 Movies, TV shows or original content

– Access to over 50,000 radio stations

-Access your favorite apps:  Netflix, Hulu, Facebook, Twitter, Google, Pandora and more!

-Turns your old TV into a SmartTV saving hundreds of dollars

-Surf the Internet from your home TV

-Skype, share photos and more!

-Access to Kids Zone and educational programming

-Access to national and international sporting events

AND MUCH MORE!
The movies and TV shows mentioned are pirated content, with Legacy Direct an opportunity built on marketing access to it.
This is problematic for what should be obvious reasons, least of all the legality of the unlicensed content itself and profiting off of marketing it.
What you do in your on home is up to you, but when you join and promote a business opportunity focused on the distribution of pirated content, you're opening yourself up to some pretty serious liabilities.
Unable to ignore the obvious, it appears Legacy Direct have employed an intellectual property attorney to push its own brand of pseudo-compliance.
In footage uploaded to YouTube late last year, an individual who claims to be an attorney tells an assembly of Legacy Direct affiliates:
Because there are so many ways to use the device and because you can surf the internet with it, of course it is possible to find media files that would be infringing someone elses' copyright.

But we're not promoting that. You don't wanna do it.

Don't talk about it when you're selling it to people. We are on the up and up.
The problem?
As the lawyer instructs the crowd to not promote Legacy Direct's piracy box's biggest selling point, he's flanked by a big promotional poster advertising "movies, tv shows and music":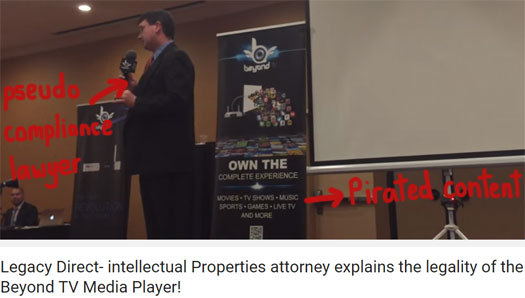 What with Legacy Direct not advising they hold the distribution rights to any media, it's pretty obvious the content advertised as accessible through their device is pirated.
Now the counter to that is Legacy Direct aren't explicitly referencing any particular content on that flyer – so how would I know if it's pirated or not?
Well, you're right. But let's cut the crap.
Bearing in mind the pseudo-compliance speech Legacy Direct's lawyer gave, here's Christian Rosario, CEO of Legacy Direct, marketing the opportunity by demonstrating access to pirated content a few weeks later: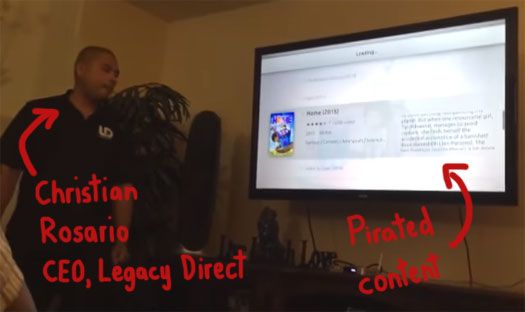 I won't go into Rosario's bullshit explanation about streaming copyrighted content being legal and media copyright being "unregulated" in the US, suffice to say that Legacy Direct are unquestionably selling and marketing access to pirated content.
Again, what you do in your own home is your business – but as soon as money (via a business opportunity) enters the equation, we have a problem.
When the legality of what you're marketing factors in as routine due diligence, consideration of the myriad of less shady MLM opportunities available is probably a better bet.
Update 18th April 2019 – Legacy Direct appears to have been abandoned.
The company has been rebooted as Vizions Network Live on or around January 2019.
Christian Rosario is still running the show, although there's no mention of him on the Vizions Network Live website.
I had intended to publish a separate review but couldn't find anything on Vizions Network Live's compensation plan.
The cost to sign up as an affiliate is the same, so I'm assuming there's little difference between Vizions Network Live's and Legacy Direct's compensation plans.
Rosario is still marketing access to pirated content through Vizions Network Live.
There is a new hook though, with affiliates and customers able to host their own channels.
Yes this is totally a YouTube knockoff, save for one feature; Vizions Network Live affiliates and customers able to charge for access to their channels.
There is also an advertising model, similar to how YouTube pays its creators.
Considering Legacy Direct and Vizions Network Live's streaming boxes are pitched at people who don't want to pay to legally access content, getting them to pay to access affiliate and customer PPV channels is pretty rich.
I doubt anyone outside of a few affiliates will adopt the service, and certainly I can't see anyone outside of the business opportunity paying for access to what is essentially a YouTube channel clone.
Pending access to Vizions Network Live's compensation plan I might publish a stand alone review.
In the meantime the above should be enough for an introductory Vizions Network Live review.
Update 26th November 2019 – Vizions Network promo material is naming Stuart Graham as CEO of the company.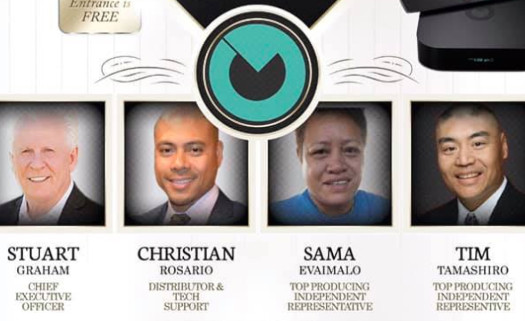 Graham doesn't appear to exist outside of Vizions Network marketing material. I was unable to verify he actually exists.