Jaa Lifestyle Review: Lease To Own mag sub pyramid scheme

I came across Jaa Lifestyle as part of my research into Lifestyle Marketing Group.
I found it odd that Lifestyle Marketing Groups' CEO Shain Hymon appeared to be heading up two companies simultaneously.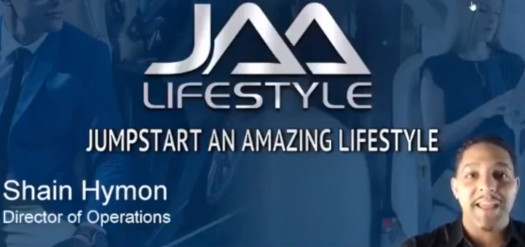 Not wanting things to get complicated, I published our Lifestyle Marketing Group review and marked Jaa Lifestyle for a separate look.
I initially thought Jaa Lifestyle launched after Lifestyle Marketing Group.
Upon researching Jaa Lifestyle though, I found evidence the company started off as a securities fraud offering: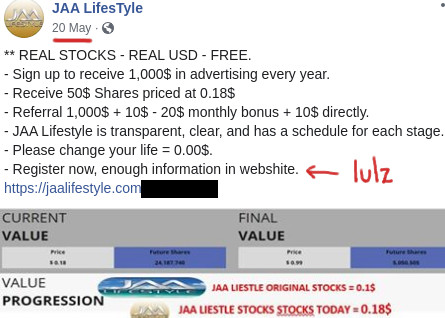 Jaa Lifestyle seems to have launched on or around mid May. Whether the illegal unregistered securities offering is still part of the opportunity I can't say.
I didn't come across it in the compensation plan material I used as source material for this review.
Lifestyle Marketing Group's website domain was registered in April 2019. The company went into soft launch on June 1st 2020.
Eight days later on June 8th a "remodeling" was announced:
JUNE 8, 2020

Important Updates & Changes Moving Forward

LMG is Remodeling our company to ensure a successful launch and long term success moving forward.

During the remodeling period LMG will not be accepting any new members. This means the share links are not available until further notice.
Lifestyle Marketing Group's website is still up, so who knows what's going on there.
Jaa Lifestyle appears to be run in tandem with Lifestyle Marketing Group. If one company is supposed to replace the other it's not made particularly clear.
In any even the only executive tied to Jaa Lifestyle is Shain Hymon. He appears to be behind both companies.
Read on for a full review of Jaa Lifestyle's MLM opportunity.
Jaa Lifestyle's Products
Jaa Lifestyle has no retailable products or services, with affiliates only able to market Jaa Lifestyle affiliate membership itself.
Jaa Lifestyle affiliate membership provides access to magazine subscriptions.
Supposedly Jaa Lifestyle is offering subscriptions to fifty magazines. Obviously they aren't publishing the magazines themselves.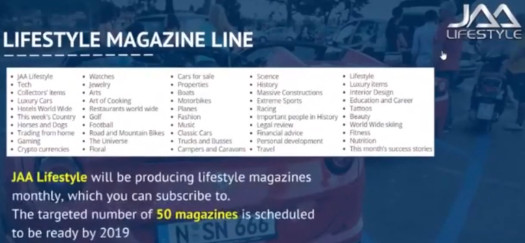 Note that while the above official marketing slide states "2019", I believe that's a typo.
No information about the magazine subs is provided on Jaa Lifestyle's website.
Jaa Lifestyle's Compensation Plan
Jaa Lifestyle's compensation plan revolves around signing up as an affiliate, paying fees and recruiting others who do the same.
For every €200 EUR earned in commissions, Jaa Lifestyle affiliates receive a new income position (magazine subscription).
Residual Commissions
Jaa Lifestyle pays residual commission via a unilevel compensation structure.
A unilevel compensation structure places an affiliate at the top of a unilevel team, with every personally recruited affiliate placed directly under them (level 1):

If any level 1 affiliates recruit new affiliates, they are placed on level 2 of the original affiliate's unilevel team.
If any level 2 affiliates recruit new affiliates, they are placed on level 3 and so on and so forth down a theoretical infinite number of levels.
Jaa Lifestyle caps payable unilevel team levels at seven.
Residual commissions are paid out across these seven levels based on affiliate fees paid.
€35 EUR a month subscription
level 1 (personally recruited affiliates) – €1 EUR a month
levels 2 to 6 – €1 EUR a month
level 7 – €2 EUR a month
Starter Package (€150 EUR annually)
level 1 – €15 EUR
levels 2 to 7 – €5 EUR
Lease To Own
Jaa Lifestyle withholds 50% of paid commissions for the Lease To Own program.
The Lease To Own program sees Jaa Lifestyle buy a "property, car, motorbike, boat, plane, etc." and "lease" it back to an affiliate.
The lease is paid by the 50% withheld commission.
To qualify for the Lease To Own program, a Jaa Lifestyle affiliate must
recruit ten affiliates who sign up for an annual subscription; or
recruit five affiliates who sign up for an annual subscription within 72 hours of signing up yourself.
Joining Jaa Lifestyle
Jaa Lifestyle affiliate membership appears to be free.
Commissions are tied to €35 EUR monthly magazine subscriptions or €150 EUR annually.
Conclusion
Despite starting with an illegal virtual shares opp, the current Jaa Lifestyle iteration appears to have been borne out of Lifestyle Marketing Groups' failure.
In essence both are pyramid schemes, however Jaa Lifestyle's offering is potentially more financially dangerous.
Both Jaa Lifestyle and Lifestyle Marketing Group operate with the usual pyramid scheme caveats; that is if you get involved you're more than likely to fall into the majority who lose money.
Where Jaa Lifestyle differentiates itself is with its Lease To Own program.
For starters, where is the company getting money to purchase property, boats or even planes from? And as an affiliate, having a company lease a major purchase on your behalf and then buy it back from them… what happens if your commissions tank?
Is Jaa Lifestyle going to take the financial hit? Will affiliates be saddled with debt? And with single qualification criteria, are there any limits?
If I recruit ten affiliates who sign up for the annual sub that's €1500 EUR in revenue generation, minus commissions paid out. So let's say I want to lease a €500,000 property.
Then I do nothing, any my commissions are €0. Who's footing the bill?
I get that I'm asking a lot of questions here but literally none of this is explained on Jaa Lifestyle's website or in its marketing material.
The whole Least To Own program feels poorly though out. Not withstanding the financial devastation it can cause, assuming it functions as advertised – which I'm certainly sure it doesn't.
All in all even without the problematic Lease To Own scheme and "are they or aren't they" securities fraud, Jaa Lifestyle is a pyramid scheme.
Math guarantees the majority of participants lose money. With Jaa Lifestyle, you have the potential to lose a lot more money than you pay in yourself.
Update 29th August 2021 – Jaa Lifestyle has morphed into a "watch ads" cryptocurrency Ponzi scheme.