Infinity8Gold Review: $2-$50 subscription-based cycler Ponzi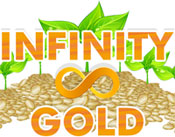 There is no information on the Infinity8Gold website indicating who owns or runs the business.
The Infinity8Gold website domain was registered on the 3rd of January 2015, however the domain registration is set to private.
As always, if a MLM company is not openly upfront about who is running or owns it, think long and hard about joining and/or handing over any money.
The Infinity8Gold Product Line
Infinity8Gold has no retailable products or services, with affiliates only able to market affiliate membership itself.
Once signed up, Infinty8Gold affiliates are then able to purchase advertising credits. These credits can be used to display advertising on the Infinity8Gold website.
The Infinity8Gold Compensation Plan
The Infinity8Gold compensation plan sees affiliate purchase positions in a series of matrices.
These matrices are of the 4×1 variety, with each position requiring four below it to be filled before the position at the top cycles out.
Commissions in each of the five matrices offered in Infinity8Gold are paid out as follows:
Matrix 1 – positions costs $2, pays out $2 and entry into Matrix 2
Matrix 2 – positions costs $4, pays out $4 and entry into Matrix 3
Matrix 3 – positions costs $8, pays out $6 and entry into Matrix 4
Matrix 4 – positions costs $20, pays out $14 and entry into Matrix 5
Matrix 5 – positions costs $50, pays out $100
A Matching Bonus is paid when personally recruited affiliates cycle out of matrices 2 to 5, paying out as follows:
Matrix 2 and 3 – $1
Matrix 4 – $2
Matrix 5 – $30
Pledge Subscriptions
In addition to purchasing matrix positions, Infinity8Gold affiliates must also maintain a $2 a day subscription.
Affiliate fund this pledge subscription themselves, but also receive payments towards it when they cycle out of matrices as follows:
Matrix 1 – $2
Matrix 2 – $3
Matrix 3 – $5
Matrix 4 – $14
Matrix 5 – $70
Joining Infinity8Gold
Affiliate membership with Infinity8Gold is free however in order to participate in the company's income opportunity, affiliates must purchase at least one matrix position ($2-50) and maintain a subscription ($2 a day).
Conclusion
Under the guise of selling advertising, Infinity8Gold offer affiliates participation in a relatively straight forward matrix-based Ponzi scheme.
Affiliates buy in for $2, and as new positions are purchased (invested in) by other affiliates, they eventually are paid an advertised ROI.
Where does this ROI money come from?
Quite obviously from affiliates investing in positions. But don't take me word for it, here's Infinity8Gold's own explanation via their "no refunds" refund policy:
We have a strict NO REFUNDS Policy! We share the revenue earned from your purchase with other members, so we can not afford to offer refunds.
Using newly invested affiliate funds to pay off existing investors, clearly makes Infinity8Gold a Ponzi scheme.
The Pledge Subscription system will serve to extend the life of the scheme, as all it does is trap more affiliate funds in the system (to be used to pay out other investors).
As with all Ponzi schemes though, once new investment funds slow down, the scheme will find itself unable to meet its ROI liabilities.
Being a matrix-based Ponzi scheme, this will mean the matrices themselves stall (no new affiliate investment = no new matrix positions).
Here's what Infinity8Gold affiliate can expect after that:
What will happen if I file a dispute against Infinity8Gold?

A: Members are free to file disputes, however Infinity8Gold is Approved and Business Verified. It only means that you have received advertising credits automatically whenever you purchase pledge and your position entered the matrix system.

We can send proof to the processor's company that you have received advertising credits. You will have slim chance of winning the dispute plus you will be removed from Infinity8Gold community.
You get upset, the anonymous admin deletes your account and pockets your money.