ImpulsX Review: EurekaCoin crypto Ponzi reboot

There are three components of ImplusX; ImpulsX Passive, ImpulsX Trading and the EurekaX crypto exchange.
All three of these entities run on separate websites, none of which disclose company ownership information.
EurekaX is a cryptocurrency exchange owned, either wholly or partly by CEO Darren Bradbury.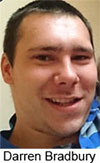 Darren Bradbury (right) is a long-time serial scammer. He first appeared on BehindMLM back in 2017 as owner of PowerHouse Feeder.
In the review linked above we detail Bradbury's promotion of fraudulent schemes prior to running them.
Bradbury popped up again on BehindMLM in 2019, as owner of the My Passive Trades Ponzi scheme.
Within a year My Passive Trades had collapsed twice. We documented the second collapse in May 2020, noting Bradbury's transition to cryptocurrency fraud.
Bradbury launched EurekaCoin in late 2019.
Bradbury (right) creates ERK out of thin air, then uses it to pay My Passive Trades investors.

ERK is publicly tradeable and listed on a few dodgy exchanges. After debuting at 0.6 cents last December, ERK is currently trading at around 1 cent.
ERK flatlined at 1 to 2 cents for most of 2020. Coinciding with the launch of Implusx Passive in late 2020, ERK pumped to 8 cents.
Throughout October and November ERK dumped below 2 cents. It's been hovering around 2 to 3 cents since.
From EurekaCoin you get EurekaExchange. Which handles the cryptocurrency side of ImplusX.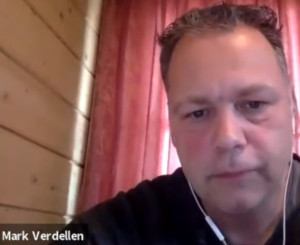 Bradbury has teamed up with Mark Verdellen to launch ImplusX. Verdellen is the only credited ImpulsX founder.
Less than a year ago Verdellen (right) was promoting the Elysium Capital Ponzi scheme.
Darren Bradbury is based out of the UK. According to his LinkedIn profile, Mark Verdellen is based out of the Netherlands.
Read on for a full review of the ImplusX MLM opportunity.
ImpulsX's Products
ImpulsX has no retailable products or services, with affiliates only able to market ImpulsX affiliate membership itself.
ImpulsX's Compensation Plan
ImpulsX's MLM opportunity consists of three components, ImpulsX Passive, ImpulsX Trading and EurekaX
To keep things simple I've cover the three components separately below.
ImpulsX Passive
ImpulsX Passive is a simple adcredit Ponzi scheme.
ImpulsX Passive affiliates invest in $10 adpacks on the promise of a 2.5% weekly ROI.
A 10% referral commission is paid on adpacks purchased by personally recruited affiliates.
Residual commissions are paid out via a 2×20 matrix.
A 2×20 matrix places an affiliate at the top of a matrix, with two positions directly under them:

These two positions form the first level of the matrix. The second level of the matrix is generated by splitting these first two positions into another two positions each (4 positions).
Levels three to twenty of the matrix are generated in the same manner, with each new level housing twice as many positions as the previous level.
Residual commissions are paid at 20 cents per adpack purchased by downline affiliates placed into the matrix.
ImpulsX Passive affiliates have to unlock matrix levels beyond level 4 as follows:
Silver – invest in 10 adpacks and recruit two investing affiliates to earn residual commissions down to level 8
Gold – invest in 100 adpacks and recruit five investing affiliates to earn residual commissions down to level 12
Diamond – invest in 500 adpacks and recruit ten investing affiliates to earn residual commissions down to level 15
Ruby – invest in 1000 adpacks and recruit thirty investing affiliates to earn residual commissions down to level 17
Emerald – invest in 2500 adpacks and recruit fifty investing affiliates to earn residual commissions down to level 20
ImpulsX Trading
ImpulsX combines pyramid recruitment with a crypto trading bot Ponzi.
$9.99 a month to maintain affiliate membership
$39.99 a month for "Ninja Trading Modules"
$39.99 a month for access to NBot, hosted on EurekaX
$249.99 a month for "personal mentoring training"
ImpulsX Trading pays out 7.5% of fees paid as residual commissions.
ImpulsX Trading pays residual commissions via a 3×10 matrix.
This is much the same as ImpulsX's 2×20 matrix, except positions are multiplied by factors of three and capped at ten levels.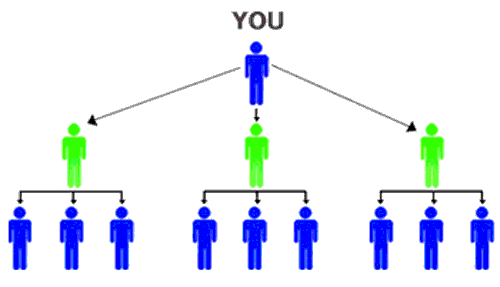 $9.99 a month fee-paying affiliates only earn direct referral commissions (rate not disclosed).
To earn matrix commissions, ImpulsX Trading affiliates must subscribe to Ninja Trading Modules, the NBot trading bot of personal mentoring training.
To continue earning matrix commissions $39.99 a month must be spent.
EurekaX
EurekaX is the crypto exchange that powers ImpulsX.
EurekaX takes 25% of fees charged and uses them to pay commissions down two levels of recruitment.
Exact commission rates are not provided.
Joining ImpulsX
ImpulsX Passive affiliate membership appears to be free.
Full participation in ImpulsX Passive's income opportunity requires a minimum $10 investment.
ImpulsX Trading affiliate membership is $9.99 a month.
Full participation in ImpulsX Trading's income opportunity requires a $39.99 to $249.99 a month subscription.
Conclusion
After My Passive Trades collapsed, Darren Bradbury continued with EurekaCoin through his EurekaX exchange.
That wasn't going anywhere, and so we have the introduction of ImpulsX.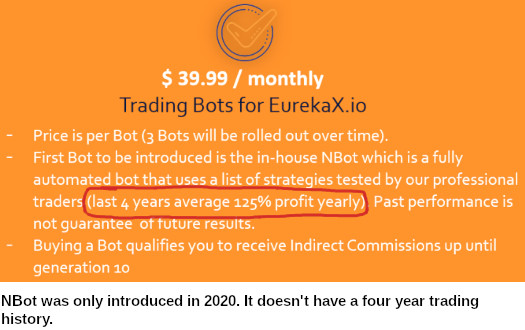 ImpulsX combines an adcredit Ponzi with a trading bot Ponzi. There's other fluff attached but these are the core components.
Investment takes place through EurekaX, which ties the whole scam together.
One income opportunity I didn't cover in the compensation plan is IPX token.
ImpulsX's launch has resulted in a new Ponzi shitcoin, IPX. ImpulsX affiliates can invest in IPX and park it with ExchangeX, on the promise of a 6% monthly ROI.
In addition to investment fraud, IPX gives Bradbury and Verdellen a shitcoin exit-scam route when the time comes.
It's important to note that, aside from directly enriching Darren Bradbury and Mark Verdellen, the only reason ImpulsX exists is to pump ERK and IPX.
As the primary token holders, pumping either coin will primarily enrich Bradbury and Verdellen. A few early adopters will be able to cash out a few breadcrumbs along the way.
Everyone else, as with any MLM Ponzi scheme, loses out.
Being cryptocurrency Bradbury and Verdellen can drag this scam out for as long as there's a bullshit public trading value attached to ERK.
IPX appears to be an internal shitcoin for now. Expect public trading to begin when things inevitably turn south.
In ImpulsX the mechanics have been fleshed out beyond the relative simplicity of My Passive Trades (cycler Ponzi + shitcoin). But the end result will be the same.
ImpulsX will eventually collapse, leaving the majority of investors once again with a loss.