My Passive Trades collapses again, MyEurekaClub reboot

Following its first collapse back in March, the My Passive Trades Ponzi scheme has collapsed again.
In a bid to keep My Passive Trades afloat, owner Darren Bradbury has jumped on the cryptocurrency fraud bandwagon.
This started with the launch of EurekaCoin (ERK) late last year.
ERK is a typical MLM shitcoin, holding no value outside of My Passive Trades.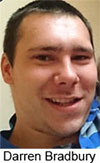 Bradbury (right) creates ERK out of thin air, then uses it to pay My Passive Trades investors.
ERK is publicly tradeable and listed on a few dodgy exchanges. After debuting at 0.6 cents last December, ERK is currently trading at around 1 cent.
In a notice published on My Passive Trades' website in the past twenty-four hour, Bradbury announced the second collapse.
Due to the amount of pressure we've been under we decided to make a final change to our business model to make it more in line with what the majority of our members demand.

We will do a 100% refund of every pack

Members will receive 4 ERK for every $1 worth of ad packs they have purchased.
4 ERK for every $1 invested equates to 4 cents on the dollar. Why "the majority" of My Passive Trades' investors "demanded" a 96% loss on their investments is unclear.
Looking forward, Bradbury is keen to ditch My Passive Trades and its ROI liabilities. In its place he's going to launch MyEurekaClub.
We will open a new site called MyEurekaClub, where ad packs in ERK value meaning the purchasing of the packs and the cash back program will be strictly in ERK.

In MyEurekaClub we will have 20M ERK worth of ad packs for sale.

Each pack will give a cash back of 0.5% per day in ERK until 150%.
And so My Passive Trades' transition into the MLM crypto fraud niche is complete.
Why give people back real money when you can just palm off your "costs me nothing to create" tokens?
Those gullible enough to hand over more money to Bradbury are being told:
We project throughout the next 12 months (ERK's) price will go way over $0.25.
Which of course is based on absolutely nothing.
Oh and apparently Bradbury
owns multiple six figures businesses that are generating revenue on a daily basis.
Which y'know, is why My Passive Trades collapsed twice.
If MyEurekaClub materializes with an MLM comp plan we'll cover it with a formal review.
Failing which I'll provide an update below when MyEurekaClub inevitably collapses too.