Impact101 Review: Eight-tier Ponzi "donations" cycler

Impact101 bills itself as 'a totally new initiative of QRGL Marketing Inc.'
The company is a global leader in the IT space with a worldwide team, worldwide servers and long-serving relationships with other key international IT companies.

Frank Servedio, and Hans Looman, have been successfully combining their respective skills since they started QRGL Marketing Inc. in 2011.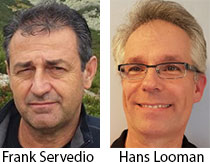 Frank Servedio serves as President of Impact101. Looman doesn't appear to have an executive position but is credited as a co-founder.
Prior to Impact101 Servedio and Looman were running Worldwide Shoppers Club.
Worldwide Shoppers Club was an MLM e-commerce platform.
The company appears to have been abandoned sometime last year, ahead of Impact101's launch in mid January 2019.
Read on for a full review of the Impact101 MLM opportunity.
Impact101 Products
Impact101 has no retailable products or services, with affiliates only able to market Impact101 affiliate membership itself.
The Impact101 Compensation Plan
Impact101 affiliates purchase positions in a eight-tier 2×2 matrix cycler.
A 2×2 matrix places an Impact101 affiliate at the top of a matrix, with two positions directly under them: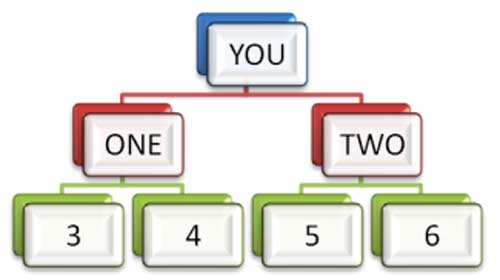 These two positions form the first level of the matrix. The second level of the matrix is generated by splitting each of these first two positions into another two positions each.
Commissions are paid when all six positions in a matrix are filled.
Positions are filled when newly recruited and existing Impact101 affiliates purchase subsequent positions.
In total Impact101 offers six matrix cycler tiers, costing between $40 to $4800.
Commission payments across Impact101's six matrix tiers are as follows:
$40 matrix – purchase a $40 matrix position and receive $120 plus re-entry into a new $40 matrix
$80 matrix – purchase an $80 matrix position and receive $240 plus re-entry into a new $80 matrix
$150 matrix – purchase a $150 matrix position and receive $450 plus re-entry into a new $150 matrix
$300 matrix – purchase a $300 matrix position and receive $900 plus re-entry into a new $300 matrix
$600 matrix – purchase a $600 matrix position and receive $1800 plus re-entry into a new $600 matrix
$1200 matrix – purchase a $1200 matrix position and receive $3600 plus re-entry into a new $1200 matrix
$2400 matrix – purchase a $2400 matrix position and receive $7200 plus re-entry into a new $2400 matrix
$4800 matrix – purchase a $4800 matrix position and receive $14,400 plus re-entry into a new $4800 matrix
Joining Impact101
Impact101 affiliate membership is tied to an initial $40 to $4800 matrix position purchase.
Full participation across all of Impact101's eight cycler tiers costs $9570.
Conclusion
Under the cliched guise of "crowdfunding" and "accepting and giving donations", Impact101 operates as an eight-tier cycler Ponzi scheme.
What separates Impact101 from legitimate crowdfunding is the fact that payments are made for the sole reason to qualify to receive payments from other participants.
Legitimate donations are made without expectation (or indeed the possibility) of receiving payment from other donors.
Across its eight cycler tiers, Impact101 simply shuffles newly invested funds (position purchases) to pay existing investors.
Half of what's invested at each tier is paid to affiliates, with the rest split between generating a new position and Impact101's admins.
E.g. at the $600 tier, a complete 2×2 matrix generates $3600.
$1800 is paid out and another $600 is used to generate a new position, leaving $1200 for Frank Servedio, and Hans Looman.
This, on top of any preloaded admin positions Servedio and Looman have, guarantees they'll receive the majority of funds invested in Impact101 cycler positions.
The whole thing is a bit tragic really, considering QRLG Marketing has been around since 2011.
Worldwide Shoppers Club never really took off. The initial offering combined third-party affiliate networks with four merchants.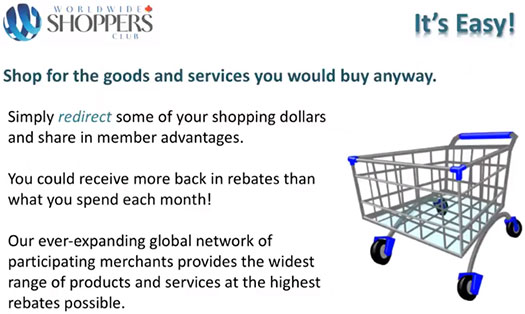 There was also a $25 fee that in addition to rebate "overage", was paid out based on recruitment.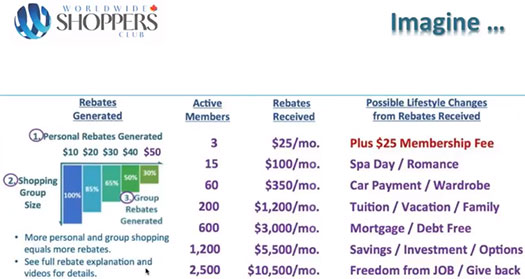 In 2014 Worldwide Shoppers Club embraced cryptocurrency. Initially the company used bitcoin, litecoin and auroracoin.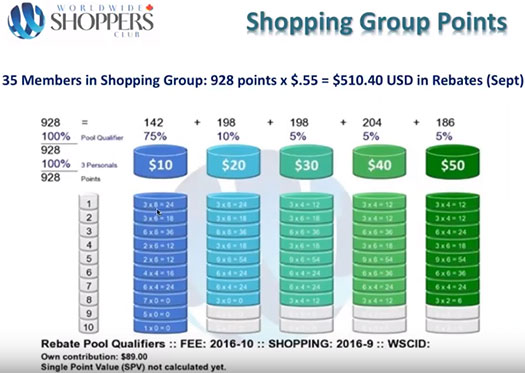 On or around 2016 the focus changed to mercatorcoin, some waste of time altcoin that doesn't exist anymore.
Considering Worldwide Shoppers Club was paying exclusively in mercatorcoin, this probably contributed to the company's collapse.

No doubt Servedio and Looman made a packet accepting bitcoin for mercatorcoin. But spare a thought for Worldwide Shoppers Club affiliates, who were ultimately left bagholding a worthless shitcoin.
QRLG Marketing meanwhile appears to have been repurposed to provide Impact101 affiliates with landing pages.
Note that this doesn't make Impact101's fraudulent business model legal.
As with all MLM Ponzi schemes, once affiliate recruitment dies down so too will new position purchases.
This will stall Impact101's cyclers. And when enough matrices within the eight cycler tiers have stalled, prompt a collapse.
The math behind Ponzi schemes guarantees that when they collapse, the majority of investors lose money.