Holiday Coin Club Review: Matrix cycler with a mandatory travel twist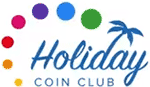 The Holiday Coin Club is anti-consumer and does nothing to encourage retail sales.
Visitors to the website are informed they require "exclusive access" to the Holiday Coin Club website, through an affiliate referral link.
A "company information" link is present at the bottom of the website, however this redirects to a new page where only a shell company address in the Marshall Islands is provided.
The Marshall Islands is a known tax-haven and not somewhere you'd expect a reputable MLM company to provide a corporate address in.
The Holiday Coin Club website domain ("holidaycoinclub.com") was first registered in 2017.
The domain registration was last updated on April 24th, 2018, which might be when the current owner(s) took possession of it.
Unfortunately the Holiday Coin Club domain registration is private and provides no information about who owns or runs the company.
It's worth noting that the Holiday Coin Club compensation plan is presented in euros, strongly suggesting that whoever is running the company is based out of Europe.
As always, if an MLM company is not openly upfront about who is running or owns it, think long and hard about joining and/or handing over any money.
Holiday Coin Club Products
Holiday Coin Club don't appear to have any retailable products or services, with affiliates only able to market Holiday Coin Club affiliate membership itself.
Holiday Coin Club affiliate membership provides access to a travel-booking engine.
Through participation in Holiday Coin Club's compensation plan, discount vouchers that can be used within this travel-booking engine are available.
The Holiday Coin Club Compensation Plan
Holiday Coin Club affiliates buy positions in a seven-tier matrix cycler.
Note that Holiday Coin Club do not disclose the matrix size used in their cycler.
Regardless, the mechanics of all matrix cyclers are the same. You purchase a position, other affiliates purchase positions and once enough subsequent cycler positions have been purchased, you receive a reward.
Holiday Coin Club reward affiliates with travel vouchers that can be used within their travel-booking engine.
Here are the corresponding rewards across Holiday Coin Club's seven cycler tiers:
Yellow (positions cost €125 EUR) – €250 EUR travel voucher or generate a new orange tier position
Orange (positions cost €250 EUR) – €500 EUR travel voucher or generate a new red tier position
Red (positions cost €500 EUR) – €1000 EUR travel voucher or generate a new pink tier position
Pink (positions cost €1000 EUR) – €2000 EUR travel voucher or generate a new purple tier position
Purple (positions cost €2000 EUR) – €4000 EUR travel voucher or generate a new blue tier position
Blue (positions cost €4000 EUR) – €8000 EUR travel voucher or generate a new green tier position
Green (positions cost €8000 EUR) – €16,000 EUR travel voucher or generate two new green tier positions
When a position cycles out of any color tier, affiliates are given the option of purchasing a new position on that tier for a 50% discount.
E.g. If you have a yellow position that cycles, you can buy in again at the yellow tier for €62.50 EUR.
Note that buying a discounted position has no effect on receiving a travel voucher or cycling into the next tier on the original position.
Finally, "pass" membership fees must be maintained to keep a position active on each cycler tier.
Holiday Coin Club state that yellow positions cost €1 EUR a month to keep active but fail to disclose specific monthly fees for the other tiers.
Free Holiday Challenge
When a Holiday Coin Club affiliate recruits their first five affiliates who purchase cycler positions, they receive a free yellow position.
Ambassador Loyalty Program
After qualifying for a free yellow position through the Free Holiday Challenge, Holiday Coin Club affiliates can pay a €99 EUR fee to become an Ambassador.
Ambassador affiliates continue to receive free cycler positions and receive larger discounts on any new positions purchased when an existing position cycles (regular discount offered is 50%).
Joining Holiday Coin Club
Joining Holiday Coin Club is free, however full participation in the Holiday Coin Club income opportunity requires the purchase of a pack.
Weekend Pack – €137 (includes one yellow position and 13 months of fees)
Sunshine Pack – €947 (includes a yellow, orange and red position and 15 months of fees)
Luxury Lifestyle Pack – €16,174 (includes a yellow, orange, red, pink, purple, blue and green position and 18 months of fees)
Conclusion
As stated in an official Holiday Coin Club marketing video, "the ultimate goal is to have permanent holidays forever".
The legitimacy of Holiday Coin Club hinges on travel vouchers issued in no way being redeemable for any amount of cash under any circumstances.
Although it operates much the same as any other cycler, Holiday Coin Club only ever offering affiliates the possibility to travel is what sets it apart from the scams.
Given this, it is certainly strange the Holiday Coin Club website provides no information about the company or who runs it. Despite the legitimate appearing business model, a lack of disclosure on the Holiday Coin Club website is pause for concern.
This is especially important with respect to the travel-booking engine, the value of which (or lack thereof) is at the core of the business.
There's no point having hundreds or thousands of euro in travel vouchers if you're not happy with the options you have to use them.
One hurdle Travel Coin Club might have to overcome is that typically MLM travel opportunities have little to do with actual travel.
Outside of a token trip here and there (typically taken to get photos for marketing purposes), the MLM travel niche is notorious for abusing travel as a cover for pyramid recruitment.
Although retail isn't possible in Holiday Coin Club (everyone is an affiliate), the lack of cash commissions negates these concerns. The only derived benefit from participation in the Holiday Coin Club is discounted travel.
The question is whether or not there's actually a market for a travel-based MLM company that's actually focused on offering discounted travel.
Following a brief spike in website activity earlier this year in April, interest in Holiday Coin Club seems to have sharply declined.
Holiday Coin Club's terrible website presentation might have something to do with that but otherwise feel free to draw your own conclusion.