Heavenly Pay Review: RIIAB owner targets Nigeria with new scam

There is no information on the Heavenly Pay website indicating who owns or runs the business.
The Heavenly Pay website domain ("heavenlypay.com") was registered on January 14th, 2016. Randy Garrard is listed as the owner, with an address in the US state of Kansas also provided.

Randy Garrard (right) first appeared on BehindMLM's radar in 2015, as admin of the cash gifting scam Residual Income in a Box.
In 2016 Garrard launched the 5 Dollar Leveraging System Ponzi cycler, which was followed up by a reboot of Residual Income in a Box.
Read on for a full review of the Heavenly Pay MLM opportunity.
The Heavenly Pay Product Line
Heavenly Pay has no retailable products or services, with affiliates only able to market Heavenly Pay affiliate membership itself.
The Heavenly Pay Compensation Plan
The Heavenly Pay compensation plan sees affiliates purchase $2 positions in a four-tier 4×1 matrix cycler.
A 4×1 matrix requires four positions to be filled before a cycle commission is paid out. Positions are filled via direct and indirect recruitment of new Heavenly Pay affiliates.
Once all four positions in a matrix are filled, commissions are paid out as follows:
Phase 1 (positions cost $2) – $1 commission paid, generates a new Phase 1 position and cycles into Phase 2
Phase 2 – $2 commission paid, generates a new Phase 2 position and cycles into Phase 3
Phase 3 – $4 commission paid, generates a new Phase 3 position and cycles into Phase 4
Phase 4 – $8 commission paid, generates a new Phase 4 position and cycles into Phase 5
Phase 5 – $48 commission paid and generates a new Phase 5 position
A Sponsor Bonus is also paid each time a personally recruited affiliate cycles out of a matrix phase:
Phase 1 – $1
Phase 2 – $2
Phase 3 – $4
Phase 4 – $8
Phase 5 – $48
Equivalent amounts is Nigerian Naira are also provided:
Phase 1 (positions cost ₦1300) – ₦650 commission (₦650 Sponsor Bonus)
Phase 2 – ₦1300 commission (₦1300 Sponsor Bonus)
Phase 3 – ₦2600 commission (₦2600 Sponsor Bonus)
Phase 4 – ₦5200 commission (₦5200 Sponsor Bonus)
Phase 5 – ₦83,200 commission (₦83,200 Sponsor Bonus)
Joining Heavenly Pay
Heavenly Pay affiliate membership is tied to a $2 (₦1300) matrix cycler position purchase.
Note that all USD payments within Heavenly Pay are made in bitcoin.
Conclude
Alexa traffic records reveal Residual Income In A Box was stagnant until October, 2016. Nigerian recruitment took off and today some 90% of all traffic to the RIIAB website originates out of Nigeria.
Like Peter Wolfing, this caught the attention of Randy Garrard and so we have Heavenly Pay.
Peter Wolfing's specific targeting of Nigerians saw him take down his Ultimate Cycler website for maintenance. When it returned the site had been fluffed up with stock photos of black people: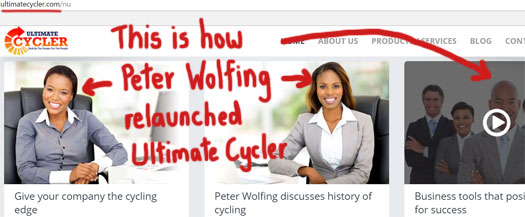 Randy Garrard has taken a leaf out of Wolfing's book and created Heavenly Pay with a Nigerian audience in mind:
Heavenly Pay is a Naira & Bitcoin Program Built for Nigerians but open to the WORLD!!!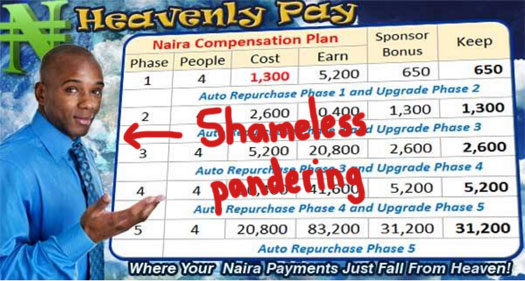 Beyond scamming the local population, neither Wolfing or Garrard have any ties to Nigeria.
Uneducated Nigerians Garrard hopes to scam are told the money they receive "just fall(s) from heaven". In reality a cycler sees newly invested funds used to pay off existing investors.
Like Ultimate Cycler, this makes Heavenly Pay a Ponzi scheme.
At any given time the largest group of Heavenly Pay affiliates are those at the bottom of the company-wide matrix. This group will lose money when affiliate recruitment dies down as there's nobody to pay them.
At the top of the company-wide matrix is Randy Garrard who, through pre-loaded positions and the phantom positions they create, will receive the lion's share of invested funds.
Unfortunately a combination of recession and poor education means Nigeria is currently experiencing a boom of MLM scams.
It's gotten so bad that you've now got US admins specifically creating scams tailored to a Nigerian audience.
The reality is no matter where a scam is domiciled or who it targets, commissions paid out have to come from somewhere.
In Heavenly Pay they most certainly aren't falling from the sky. You're stealing funds from people who join after you.
Once recruitment stops so will payments, and once the majority will lose their money.