HealX Nutrition Review: KulaBrands' CBD supplement offering

HealX Nutrition's website provides no information about who owns or runs the company.
Further research reveals a December 2018 press-release identifying HealX Nutrition as a partnership between Panacea Life Sciences and KulaBrands.
As I understand it, Panacea Life Sciences are manufacturing HealX Nutrition's products. KulaBrands founder and CEO Peter Gantner (below right) is running the company.
Panacea Life Sciences is an independent non-MLM company run by President James Baumgartner.
Panacea was created with patients' health and well being as our priority.

Our mission is to bring together the best minds in business, science, medicine, research, finance, and agriculture to create a global platform for the reintroduction of Hemp-based therapeutics into the mainstream of healthcare.

In our 2016 KulaBrand review we KulaBrands first appeared on BehindMLM's radar in 2016.
Our initial KulaBrands review raised concerns over a lack of retail products and manipulated crowdfunding based business model.
After two years, products supposedly brought to market via KulaBrands' crowdfunding include a toy figurine, a coffee mug, kids puzzle and games pack, usb cords, a laptop sleeve, an illustrated kids book, a waterless car wash and wax product and an infant pacifier "drop stopper".
In mid 2017 KulaBrands registered itself with the SEC. Last we heard the company was hoping to raise $40,000 through an IPO.
The last SEC filing KulaBrands made was a Form C annual report filed in April 2018.
As per the report, KulaBrands recorded an annual net loss of $331.56, down from $33,981 the previous year.
The $40,000 IPO doesn't appear to have taken place.
As per the provided corporate address, HealX Nutrition operates out of Colorado in the US.
Read on for a full review of the HealX Nutrition MLM opportunity.
HealX Nutrition Products
HealX Nutriton markets a range of "therapeutic products".

Xpress – "Rapid onset THC-Free formulation with rapid onset to treat acute and chronic pain, anxiety, sleep disorders, reduction of seizures, reduction of nausea, alleviates PTSD conditions, and possibly alleviate drug withdrawal symptoms", retails at $97.50 for a bottle of 30 tablets
Heighten – sustained release full spectrum oil used to treat acute and chronic pain, may be better than Xpress to treat sleep disorders and anxiety, reduction of seizures, reduction of nausea, inflammatory bowel disease, reduction of seizures, reduction of nausea, alleviating PTSD conditions and possibly alleviate drug withdrawal symptoms", retails at $93 for a bottle of 30 soft gel capsules
Tru-Relief – "topical pain relief balm that is applied to the skin to go directly to the source of pain", retails at $70 for a 1 oz. tub (28.35 g)
Yummies – "like taking a daily vitamin that will lower overall aches and pains, enhance focus, promote a sense of calm", retails at $49.95 for a bottle of 30 CBD gummies
Golden – "full Spectrum Hemp Oil that does contain THC", retails at $59.95 for 500 mg or $159.95 for 1500 mg
Canine – "designed to help your pet suffering from pain, cancer, joint issues, post-surgery complications and more", retails at $45 for a bottle of 30 capsules
Borbon – "the world's first & only full-spectrum premium handcrafted soothing herbal massage serum", retails at $78 for a 30 ml bottle
HealX Nutrition states its CBD products are 'made from organic industrial hemp'.
The HealX Nutrition Compensation Plan
HealX Nutrition pays residual commissions and a share-based bonus, both through a unilevel compensation structure.
Residual Commissions
HealX Nutrition pays residual commissions down three levels of recruitment (unilevel):
level 1 (personally recruited affiliates) – 18%
level 2 – 4%
level 3 – 6%
Affiliate Generational Pool
HealX Nutrition takes 5% of company-wide monthly sales volume and places it into the Affiliate Generational Pool.
Affiliates earn one share in the pool for every $200 in sales volume generated on the third and deeper levels of their unilevel team.
A unilevel compensation structure places an affiliate at the top of a unilevel team, with every personally recruited affiliate placed directly under them (level 1):

If any level 1 affiliates recruit new affiliates, they are placed on level 2 of the original affiliate's unilevel team.
If any level 2 affiliates recruit new affiliates, they are placed on level 3 and so on and so forth down a theoretical infinite number of levels.
On top of the basic $200 in volume equaling one share equation, the following Affiliate Generational Pool caveats also apply;
up to 50% of counted volume can come from any one unilevel leg
if this maximum is reached (50% of volume outside one stronger leg), the outside 50% counts as double volume towards each $200 awarded share
if no unilevel team leg contributes more than 30% toward Affiliate Generational Pool share qualification, sales volume counts as triple from the fourth unilevel team level for that month
Finally, remember that Affiliate Generational Pool shares are reset monthly and must be re-qualified for.
Joining HealX Nutrition
HealX Nutrition affiliate membership is $20 annually.
After the first year, the $20 annual fee is waived if an affiliate generates $200 in retail sales of personal purchases.
HealX Nutrition Conclusion
The unavoidable compliance issue with HealX Nutrition is its company product descriptions.
On the "about us" section of the HealX Nutrition website, the company displays the typical FDA supplement disclaimer:
The Food and Drug Administration has not evaluated these statements.

These products are not intended to diagnose, treat, cure or prevent any disease.
Click back to go back to the HealX Nutrition homepage, and it's hard to miss this big product banner: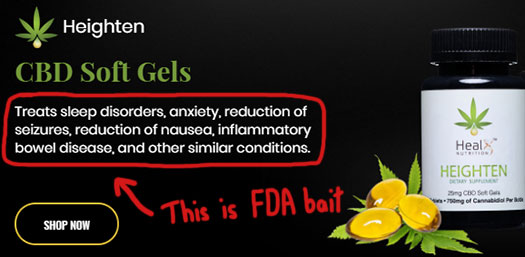 Xpress has the same non-compliant description as Heighten. The pet supplement Canine also states it can help dogs with cancer.
Intentional or not, it's also right there in the company's name: HealX Nutrition.
HealX Nutrition's product manufacturer, Panacea Life Sciences, buries an FDA disclaimer in their "refund and return policy".
Panacea Life Sciences' products have not been evaluated by the FDA, we make no claims as to any benefits from our products.
To their credit, Panacea Life Sciences don't make treatment claims in their product descriptions.
They however don't seem to have a problem with HealX Nutrition doing so. As per the examples above, it's not exactly overt.
Panacea Life Sciences also directly competes against HealX Nutrition and their affiliates.
Panacea Life Sciences' THC free capsule product is called "Daily Free".
Daily Free retails at $52 for 15 mg concentration and $110 for 40mg concentration. There are also slightly cheaper monthly autoship options available (only a few dollars, nothing significant).
HealX Nutrition's Highten is 25mg and retails at $93. I'm assuming they went with 25mg so as to not directly compete on concentration with Panacea Life Sciences' own offerings.
If you specifically need 25mg, then HealX Nutrition is cost-effective. Otherwise Panacea Life Sciences' 15mg offering is much cheaper.
For the fast-acting varieties, Panacea Health Sciences offering wins hands down.
Panacea's F.A.S.T. supplement is 35mg concentration and retails at $98. HealX Nutrition's Xpress is 25mg concentration for $97.50.
Panacea's Canine is 7.5mg concentration for $45 a bottle. HealX Nutrition's Canine is 5mg concentration for the same $45 price.
The massage oil and gummies appear to be unique so there's that.
Although not explicitly mentioned in HealX Nutrition's compensation plan material, I'm assuming retail is paid out at the same 18% as level 1 residual commissions.
That oversight aside, HealX Nutrition's compensation plan is refreshing simple. You have three levels of residual commissions expanded by a volume-based share pool.
The 2x and 3x volume bonuses for the share pool were a nice touch.
While the pricing can be adjusted or even overlooked (concentrations are different), HealX Nutrition's medical claims about their products cannot.
Should the FDA investigate, I have no doubt HealX Nutrition will be receiving a warning letter. I'm not sure whether Panacea Health Sciences will have any liability as the manufacturer.
In any event, if Panacea Life Sciences can properly market their supplements then there's no excuse for HealX Nutrition.
Keep that in mind if you're approached about HealX Nutrition with bombastic product health claims.
Alternatively if you're looking to join HealX Nutrition, the compensation plan is simple but effective.
With the company out of FDA compliance though, be aware it could be shut down at any time – depending on whether the FDA investigate and to what extent they pursue the matter.
If HealX Nutrition themselves don't proactively address FDA compliance, standard procedure is a warning letter first.
Either way it's not a good look for a company or affiliates working the company, especially over something so readily avoidable.
Update 5th January 2022 – HealX Nutrition appears to have collapsed.
As at the time of this update, HealX Nutrition is "not processing orders" and thecompany's website has been disabled.
BehindMLM covered HealX Nutrition's collapse as part of a 2022 update on parent company KulaBrands.