Handy BTC Review: 2×2 matrix bitcoin gifting cycler

Handy BTC provide no information on their website about who owns or runs the business.
The Handy BTC Terms Of Use suggest the company is being operated from Tunisia:
These Terms shall be governed and construed in accordance with the laws of Tunisia.
The Handy BTC website domain ("handybtc.com") was registered on April 15th, 2017. Chaker Saaf is listed as the domain owner, with an address in Monastir, Tunisia also provided.
On his Facebook profile, Saaf (right) claims he's living in London, UK. The Tunisia address for Handy BTC thus appears to be a decoy.
Prior to launching Handy BTC, Saaf was promoting the 2×9 BitMax bitcoin gifting scheme.
Alexa traffic estimates for the 2×9 Bitmax website suggest it went into decline a few weeks ago. This has likely prompted Saaf to launch Handy BTC.
Read on for a full review of the Handy BTC MLM opportunity.
Handy BTC Products
Handy BTC has no retailable products or services, with affiliates only able to market Handy BTC affiliate membership itself.
The Handy BTC Compensation Plan
Handy BTC affiliates purchase $20 positions in a 2×2 matrix cycler.
A 2×2 matrix places a Handy BTC affiliate at the top of a matrix, with two positions directly under them: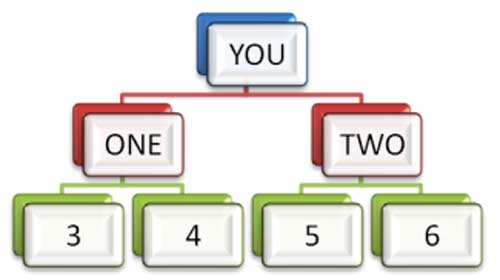 These two positions form the first level of the matrix. The second level of the matrix is generated by splitting these two positions into another two positions each (4 positions).
Commissions are paid as positions in the matrix are filled, via position purchases by newly recruited or existing Handy BTC affiliates.
A Handy BTC affiliate signs up and purchases a $20 matrix position. They then receive $20 from two position purchases on the second level of their matrix.
$30 of the $40 received is used to unlock level two of the matrix.
Four $30 commissions are received on level 2 of the matrix, $20 of which is used to purchase a new matrix cycler position.
Each complete 2×2 matrix cycle generates a $110 ROI.
Joining Handy BTC
Handy BTC affiliate membership is free, however affiliates must purchase at least one $20 matrix cycler position to participate in the attached income opportunity.
Note that all payments in Handy BTC are made with bitcoin.
Conclusion
Handy BTC continues Chaker Saaf's taste for fraud in 2×9 BitMax, combining both cash gifting and a Ponzi cycler.
All payments within Handy BTC are made between affiliates, satisfying the gifting component of the business model.
A ROI is realized where upon a 2×2 matrix is filled, effectively paying a $110 ROI on each $20 investment.
ROI funds in Handy BTC are sourced from subsequent affiliate investment, making it a Ponzi scheme.
As with all such schemes, when affiliate recruitment dies down so too will new position purchases.
This will starve Handy BTC of new funds, causing matrices within the scheme to stall.
Are there any refunds?

No, there are no refunds
Once enough matrices have stalled, Handy BTC collapses and the majority of affiliates lose money.
Handy BTC's use of bitcoin means fund recovery from Chaker Saaf in the event of a collapse will be next to impossible.