Global Bitmax Review: 2×3 matrix bitcoin gifting matrix cycler

Global Bitmax provide no information on their website about who owns or runs the company.
The Global Bitmax website domain ("globalbitmax.com") was privately registered on March 3rd, 2017.
Further research reveals Global Bitmax affiliates naming Mauro Mangibin as owner of the company.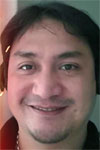 Mangibin (right) confirms this on his Facebook profile, as per a May 22nd post advertising Global Bitmax;
My First Ever Matrix/Cycler Is in Pre Launch.

We tested it, and Positive Result comes out.

Two of my Facebook friends already earned $200 each in couple of hours. Trust me this is Moving Very Fast.
Mangibin is based out of Marseille, France and has recently been promoting Platinum World Team Build (Ponzi cycler), 2×2 Club (bitcoin gifting), GladiaCoin (bitcoin Ponzi) and Bitcoin Builder (bitcoin gifting).
Read on for a full review of the Global Bitmax MLM opportunity.
Global Bitmax Products
Global Bitmax has no retailable products or services, with affiliates only able to market Global Bitmax affiliate membership itself.
Global Bitmax affiliate membership provides access to ad credits and a "full suite of marketing emails and graphics".
The Global Bitmax Compensation Plan
Global Bitmax affiliates gift bitcoin to each other via a 3×2 matrix.
A 3×2 matrix places a Global Bitmax affiliate at the top of a matrix, with three positions directly under them: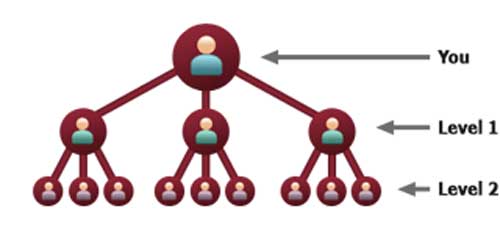 These three positions form the first level of the matrix. The second level of the matrix is generated by splitting these first three positions into another three positions each (9 positions).
A Global Bitmax affiliate signs up and gifts $10 in bitcoin to an existing affiliate.
This payment in turn qualifies the affiliate to receive $10 in bitcoin from three subsequently recruited affiliates.
This sum ($30 worth of bitcoin) is then paid to an upline Global Bitmax affiliate to unlock level 2 of the matrix.
Unlocking level 2 of the matrix generates another nine $30 in bitcoin gifting payments. Once all nine positions of the second level of the matrix are filled, an additional five positions in new 3×2 matrices are also created.
Referral Commissions
A $1 in bitcoin direct referral commission is paid when a personally recruited affiliate purchases a $10 bitcoin matrix position.
A residual $20 in bitcoin referral commission is paid when a personally recruited affiliate fills all twelve positions in a 3×2 matrix.
Joining Global Bitmax
Global Bitmax affiliate membership is tied to the purchase of at least one $10 in bitcoin matrix position.
Conclusion
Global Bitmax sees affiliates paying affiliates to generate a $270 ROI on each $30 investment.
The direct payment between affiliates constitutes cash gifting, with referral commissions also adding an additional pyramid layer to the scheme.
Of note is the direct and residual referral commission, as well as the five new positions created per 3×2 matrix cycle.
With payments between affiliates a zero sum game, where the money comes to pay direct and residual commissions isn't clear.
One possibility is Mauro Mangibin is funding the commissions from funds received through one or more preloaded Global Bitmax admin positions.
The five new positions per cycle are also a problem, as each position generates a potential $270 liability without contributing any new funds to the system.
It only takes a few position cycles for these liabilities to spiral out of control, at which point anyone who joins Global Bitmax is pretty much just throwing money away.
This is likely to coincide with affiliate recruitment dying off, the end result being widespread losses among Global Bitmax affiliates.