Growing Circle International Review: 7-tier matrix cycler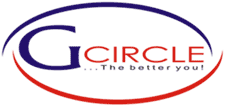 On their website, Growing Circle claim they're 'not like other network marketing companies'.
We're committed to having the best compensation plan, affordable and effective services, systems that keep our customers coming back, and the best culture of any company.

When you join growing circle, you get much more than our outstanding services. You'll experience our culture of fun, family, success, growth, passion, and integrity that will bring out the best in you and inspire you to help bring out the best in others.
In addition to providing a corporate address in Colorado, US (a residential property), Growing Circle International also provide addresses for offices in Nigeria and Ghana.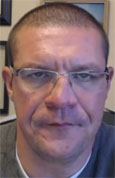 Heading up the company is Ben Mueller (right), who serves as Growing Circle International's CEO.
On his YouTube channel, Mueller has been promoting Fuxion, a health and wellness MLM opportunity.
The last Fuxion video uploaded to his channel was three days ago, suggesting Mueller is still active in the company.
Prior to Fuxion Mueller was an affiliate with LifeForce International, a nutritional MLM company.
Over the past four years Mueller has been uploaded internet marketing training videos to his YouTube channel. He doesn't seem to have much of a following however, with most videos having a viewcount under thirty.
Growing Circle International would appear to be Mueller's first MLM venture as an executive.
Read on for a full review of the Growing Circle International MLM business opportunity.
The Growing Circle International Product Line
I'm not sure if Growing Circle International's product page is supposed be a joke or not, but here's what's currently listed:
filming tools – "these are tools to enhance your graphices view!" for $1100
sterio (sic) – "cool sterio!" for $153
unique (???) – "this will be nice on you!" for $333
Chrysler – "whether you're looking for fuel efficiency or legendary power, you've got them all here" for $28,000
Chevrolet – no description provided, $33,000
saterlite (sic) phone – "this is Test only" for $3060
computer – "best desk top" for $367.50
hazoo (represented by a picture of a magic lantern) – no description provided, $525
VitaLife, VitaCaffe and VitaBrew – a coffee blend, ginger drink and "organic drink infused with slimming components" for $20
The Growing Circle International Compensation Plan
The Growing Circle International compensation plan pays affiliates to recruit new affiliates.
Residual commissions are paid out through a seven-tier matrix cycler, along with matching and cycle bonuses.
Recruitment Commissions
Growing Circle International affiliates are paid to recruit new affiliates.
For each new Growing Circle International affiliate recruited, the recruiting affiliate is paid $15.
Matrix Cycler Commissions
Residual commissions in Growing Circle International are paid out via a seven-tier matrix cycler.
The sizes of the matrices used in the cycler are 2×2 and 2×3.
A 2×2 matrix places an affiliate at the top of a matrix, with two positions directly under them: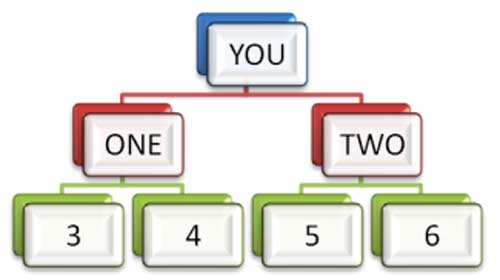 These initial two positions form the first level of the matrix. The second level of the matrix is generated by splitting each of the two first level positions into another two positions each (4 positions).
A 2×3 matrix adds an additional level, splitting the four positions on level 2 into another two positions each (8 positions).

In total a 2×2 matrix houses six positions and a 2×3 matrix fourteen positions.
Commissions are paid when positions in the matrices are filled, with positions filled via the direct and indirect recruitment of affiliates.
This is referred to as a "cycle". How much of a cycle commission is paid out is determined by what tier matrix a Growing Circle International affiliate is cycling out of:
Starting Point (2×2 matrix, positions cost $15) – pays out $30 and cycles into Bronze
Bronze (2×3 matrix) – pays out $140 and cycles into Silver
Silver (2×3 matrix) – pays out $325 and cycles into Gold
Gold (2×3 matrix) – pays out $1100 and cycles into Platinum
Platinum (2×3 matrix) – pays out $2200 and cycles into Sapphire
Sapphire (2×3 matrix) – pays out $16,500 and cycles into Diamond
Diamond (2×3 matrix) – pays out $55,000 and re-enters into a new Diamond matrix
Matrix Cycler Matching Bonus
When a personally recruited affiliate cycles out of one of the seven matrices, the following matching bonus is paid to the affiliate who recruited them:
Bronze – $24
Silver – $62.50
Gold – $220
Platinum – $620
Sapphire – $3150
Diamond – $8500
Cycle Bonuses
The following non-cash cycle bonuses are rewarded to an affiliate the first time they cycle out of one of the following matrix-tiers:
Bronze – a "mini Android phone"
Silver – a "7 inches Android phone"
Gold – "brand new laptop and all expensis (sic) local trip"
Platinum – "5 night trip to South Africa worth $2500 and 5 night trip to Dubai worth $3000"
Sapphire – "brand new Ford Focus worth $15,000 and brand new Ford Escape worth $25,000"
Diamond – "brand new Ford Edge worth $40,000 and house award worth $80,000"
Joining Growing Circle International
Affiliate membership with Growing Circle International is tied to the purchase of a $15 matrix position.
The purchase of any additional matrix positions will increase this initial cost ($15 per position purchased).
Conclusion
If you look at Growing Circle International's offered products, they make little sense. That is until you go over the compensation plan, at which you point you learn they're intentionally not meant to.
The products listed on the Growing Circle International website have nothing to do with the offered MLM business opportunity.
Commissions in Growing Circle International revolve around affiliates paying $15 for a matrix position and then recruiting others who do the same.
Boiled down to its simplest form, Growing Circle International offer a $75,295 ROI on a $15 investment.
The ROI is paid out of subsequently invested funds, making Growing Circle International a Ponzi scheme.
The direct recruitment and matching bonus are recruitment incentives, adding an additional pyramid layer to the scheme.
On the math side of things at least 5020 $15 payments are required for one $75,295 ROI. The actual number is higher once the non-liner nature of matrix cyclers, recruitment and matching bonus commissions are factored in.
It's likely that the only positions to make it to the upper-tiers of the matrix cycler are those that Ben Mueller created when he launched Growing Circle International.
Everyone else will get stuck somewhere in the middle, with the majority of participants losing funds when the scheme inevitably collapses.
That someone involved in MLM for so many years has decided to launch an MLM cycler is certainly depressing.
Here's hoping Growing Circle International isn't the sum total of what Mueller learnt about MLM in LifeForce International and Fuxion…