BeWise Trader Review: GooBets Ponzi scheme rebooted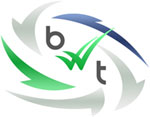 There is no information on the BeWise Trader website indicating who owns or runs the business.
The BeWise Trader website domain ("bewisetrader.com") was registered on the 24th of April 2015, however the domain registration is set to private.
An address in London is given on the BeWise Trader website, however this is just virtual office space (a mailing address) owned by Regus.
One thing I noticed in researching BeWise Trader is that a number of affiliates mention it was formerly known as GooBets:
GooBets was run by Miguel Carvalho and Augusto Queiroz (a former investor in the Brazilian Ponzi scheme MultiClick), with a search revealing Carvalho is involved in BeWise Trader: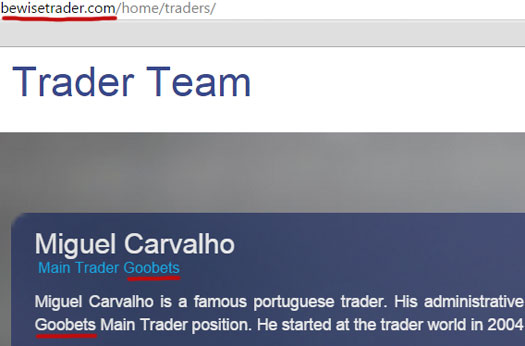 GooBets was a Ponzi scheme launched earlier this year, promising investors weekly ROIs of up to 31% on investments of up to $1350.
The scheme appears to have collapsed sometime after launch, with the GooBets website offline at the time of publication.
With Carvalho confirmed to be involved in BeWise Trader, it would indeed appear to be a relaunch of GooBets.
Read on for a full review of the BeWise Trader MLM business opportunity.
The BeWise Trader Product Line
BeWise Trader has no retailable products or services, with affiliates only able to market affiliate membership with the company itself ($50).
Once signed up, BeWise Trader affiliates can then invest sums of up to $13,000.
The BeWise Trader Compensation Plan
The BeWise Trader compensation plan sees affiliates invest between $260 to $1300, on the promise of advertised weekly ROIs:
Bronze ($260) – up to $17.55 a week
Silver ($520) – up to $36.40 a week
Gold ($780) –  up to $56.55 a week
Diamond ($1300) – up to $100.75 a week
Diamondx10 ($13,000) – up to $1007.50 a week
Referral commissions are paid on funds invested by recruited affiliates, paid out down ten levels of recruitment:
level 1 (personally recruited affiliates) – 5%
levels 2 to 10 – 0.22%
Residual Commissions
Residual commissions in BeWise Trader are paid out via a  binary compensation structure.
A binary compensation structure places an affiliate at the top of two positions, which form the start of two binary sides (left and right):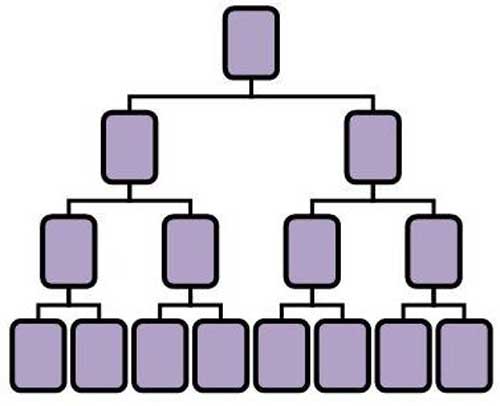 Investment volume is tracked between the two binary sides, with commissions paid out via points.
Each investment by an affiliate in a binary team generates points as follows:
Bronze – 50 points
Silver – 100 points
Gold – 150 points
Diamond – 250 points
Diamondx10 –  2500 points
At the end of each day points generated in both binary teams are tallied up, with an affiliate paid 50% of the point balance of their weaker binary team (the side that generated less points).
For the purpose of residual commission calculation, 1 binary point is equal to $1 (with affiliates paid 50% of the weaker binary side balance).
BeWise Trader affiliates are capped earnings wise through the binary, with how much they can earn determined by how much they themselves invested:
Bronze – $1000 a day
Silver – $3000 a day
Gold – $5000 a day
Diamond and Diamondx10 – $15,000 a day
Monthly fees charged to all BeWise Trader affiliates are also paid out via the binary, via the following point allocations:
Bronze ($9.90 a month) – 1 point
 Silver ($19.90 a month)- 2 points
Gold ($29.90 a month) – 3 points
Diamond ($49.90 a month) – 5 points
Diamondx10 ($499 a month) – 50 points
Again an affiliate is paid 50% of the balance of their weaker binary side, with 1 point equal to $1.
Green Diamond Bonus
The Green Diamond Bonus pool is made up of 2% of funds invested and fees paid by BeWise Trader affiliates each month.
Affiliates can qualify for a share in the Green Diamond Bonus pool by personally recruiting at least 10 affiliates who invest at the Diamond or Diamondx10 level.
Five of these recruited affiliates must be on either side of the recruiting affiliate's binary team.
Note that the above qualification requirements must be achieved within 60 days of a BeWise Trader affiliate signing up.
Black Diamond Bonus
The Black Diamond Bonus pool is made up of 1% of funds invested and fees paid by BeWise Trader affiliates each month.
Affiliates can qualify for a share in the Black Diamond Bonus Pool each month by having both binary teams generate at least 3000 points each, for 20 days in the month (days do not have to be consecutive).
Career Rewards
BeWise Trader affiliates are rewarded for encouraging recruited affiliates to invest, with the following bonuses based on binary point accumulation by an affiliate's weaker side:
30,000 points = a Mont Blanc pen
150,000 points = a Rolex watch
500,000 points = "dream holiday with companion"
1,000,000 points = Jaguar XF car
2,000,000 points = Maserati Gran Turismo car
Joining BeWise Trader
Affiliate memberhip with BeWise Trader is $50.
Note that affiliates must also invest between $260 to $13,000 in order to participate in the BeWise Trader income opportunity.
An ongoing $9.90 to $499 monthly fee is also charged, with the specific amount charged determined by how much a BeWise Trader affiliate invests.
Conclusion
Like GooBets before it, BeWise Trader has Ponzi fraud written all over it.
You've basically got the same investment-based compensation plan (albeit with slightly adjust dollar amounts), hiding behind a sports betting ruse.

No doubt some token amount of betting takes place, but by and large all BeWise Trader are doing is shuffling newly invested funds to pay off existing investors.
Augusto Queiroz is well-versed in Ponzi fraud through MultiClick, with Miguel Carvalho providing just enough sports betting babble to suck in the uninformed. Upon closer inspection however, it's blatantly obvious that sports betting could not possibly fund the ROIs, binary commissions and bonuses BeWise Trader's promise their investors.
Two major tells reveal the Ponzi fraud taking place, the first being that sports betting does not provide a consistent ROI – yet that's exactly what BeWise Trader offer investors.
The second is that if Miguel Carvalho was the successful trader he's presented as, then he wouldn't need your money to invest.
He'd instead take out a personal loan and be on his way to riches in no time.
As with GooBets one can assume BeWise Traders will also collapse once it's clear new affiliate investment has dried up.
Whether or not Carvalho and Queiroz will then launch a third scam remains to be seen.
Meanwhile BeWise Trader affiliate presentations mention that the scheme is being run out of Portugal, which makes sense considering the number of Ponzi investment scams we've seen originate out of there following TelexFree.
As they say: Fool me once, shame on you. Fool me twice…