#1 Goldmine Review: Email blasters with text and banner ads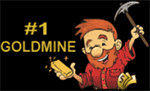 #1 Goldmine operates in the advertising MLM niche and identifies Maryanne Myers as owner of the company.
On the #1 Goldmine website, Myers claims to have history with websites going back twenty years.
I've owned websites since 1998 and will be my 20th anniversary when 2018 rolls in.

I've always done this under my own name in conjunction with the names of: Webstars2000 (Previous, it was outdated name), Webstars2K (CURRENT) or Webstars International LLC (Previous, an LLC was not needed).

Other than Pangea, Myers (right) appears to have launched and primarily been involved in low-key "get paid to" opportunities.
There's a relevant thread on RealScam that has been tracking Myers since 2012.
According to Myers' Facebook profile she's based out of the US state of Indiana. This is also presumably where #1 Goldmine is being operated from.
Read on for a full review of the #1 Goldmine MLM opportunity.
#1 Goldmine Products
#1 Goldmine has no retailable products or services, with affiliates only able to market #1 Goldmine affiliate membership itself.
#1 Goldmine affiliate membership provides access to various advertising services.
#1 Goldmine Compensation Plan
#1 Goldmine affiliates sign up and earn commissions when they recruit other affiliates who purchase advertising.
Specific advertising costs are not provided, however the #1 Goldmine website does state affiliates 'can buy advertising randging [sic] between $5.77 to $100.'
A 25% commission is paid on purchased advertising services down two levels of recruitment (affiliates you personally recruit and those they recruit).
Joining #1 Goldmine
#1 Goldmine affiliate membership is free.
Conclusion
Considering the purchase of #1 Goldmine's advertising services are the sole driver of commissions, let's take a look at them in greater detail;
The "Colossal" Blasters

This extremely large blaster submits your ads to a 12 of my sites to over 338000+ members, and WITHOUT ANY NEED FOR 'CREDITS'.

This includes my best selling Safelists, Traffic Exchanges and a massive worldwide Text Ad exchange, with ONE CLICK.

This is only found here and is 100% custom programmed.

The "Poppin" Blaster

This makes adding your sites to numerous search engines and classifieds much easier and faster, the exposure is 4 million.

This is only found here and is 100% custom programmed.

The Text Ad rotator

Every single member can add in one text link that shows throughout the members area and on member profile books – FOR FREE, UNLIMITED AND FOREVER.

This site does not use credits, so your textad doesn't use credits. You get this just by being a member!

Those who have bought advertising, get color on their text link – FOREVER.

Viral Banner Ads

As you may have seen, it shows the favorite programs of your sponsor and their sponsor too.

So, for you this passes your favorites program links to show on your signup's referral pages too.
While the raw numbers might sound enticing, this is ultimately non-targeted low quality advertising.
You're basically "blasting" whatever it is your advertising to a swath of email addresses and hoping for bites.
Which of course #1 Goldmine are pretty candid about (probably) not happening:
Refunds are not provided due to lack of effort over expectation or due diligence and once the account or advertising is accessed.
When you're "blasting" ads to an email list built over almost twenty years, don't expect much.
On the compensation plan of things #1 Goldmine is simple enough. Sell advertising and get paid down two levels.
Retail is a problem though, what with every #1 Goldmine "member" being an affiliate.
100% of #1 Goldmine's revenue is derived from affiliates, which means so too is commission revenue.
As we saw in the FTC actions against Vemma and Herbalife, an MLM company without significant retail activity is a pyramid scheme.
#1 Goldmine attempt to explain away this compliance red flag by claiming their opportunity
is not an MLM, Pyramid Scheme, or Get-Rich-Quick cash or money program.

We do not require you to pay any fees ever to join and participate in our site.

We do not require you to have a website or sell any product to use our service.

We do not require you to refer anyone to our site to use our service.

You will not get rich by using our program.
What reality those excuses fly in is not clear but it certainly isn't this one.
#1 Goldmine is an MLM opportunity and is required to demonstrate retail activity taking place.
By design retail is impossible, leaving a recruitment-based opportunity bundled with low quality non-targeted advertising.
I doubt little has changed over the course of Maryanne Myers' twenty years in online marketing.
The rest of the industry has adapted. This leaves offers like #1 Goldmine likely to attract only those desperate to either pitch some offer or another, or try to earn on the advertising itself.