Futures Trade reboot reveals MLM Ponzi syndicate

A few days ago we covered the scammers behind Futures Trade funneling victims into LogicBitInvest.
Since then we've seen a number of identical emails sent out to victims of other collapsed schemes.
Abandoning their initial "regulators!" exit-scam, the "please join LogicBitInvest" email switched up to "we got hacked!".
Recent updates to the withdrawal system gave way to a hack attempt, the website domain was compromised and this disrupted the activity of the server and it couldn't process withdrawal.

All funds have been successfully secured and encrypted in codes and backed up in our offline database.
This exact same language has appeared in multiple emails sent out, redirecting victims of seemingly unrelated schemes to LogicBitInvest.
Our first example was sent out on January 27th, targeting victims of LeoBits: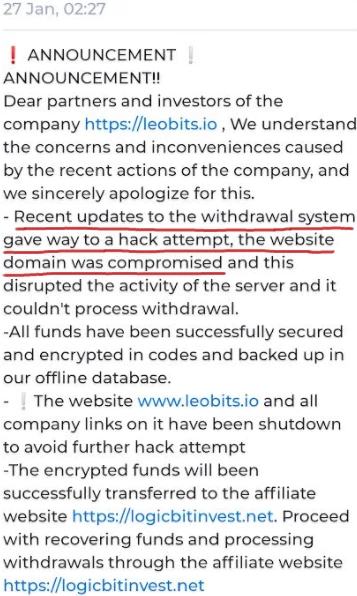 LeoBits promised investors 12% a day.
Another email targets victims of Girali: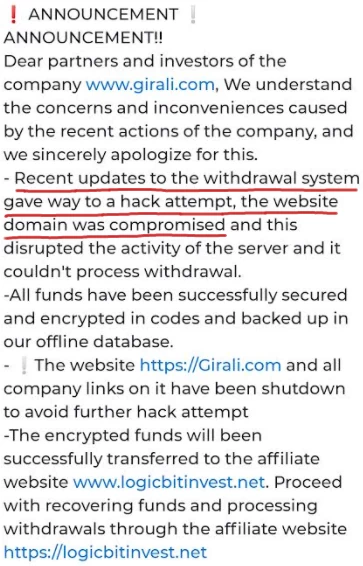 Girali promised investors a 200% ROI.
Both LeoBits and Girali are believed to have launched in late 2021. They then collapsed in January or February 2022.
A third email cited by BehindMLM uses the same language to target Upistic victims.
Upistic was another late 2021 launch daily returns Ponzi scheme.

Taking a slightly different tack, Upistic victims are being redirected to Coinsurance.
Coinsurance is an hourly returns MLM Ponzi. Commissions are paid down four levels of recruitment (7%, 2% and 1% on 3 and 4).
Seems like there's a Ponzi syndicate out there running these schemes, collapsing them and then funneling victims into reload scams.
Alexa traffic estimates reveal neither LogicBitInvest or Coinsurance have taken off.