EvryBet (EvryAffiliates) Review: Online casino rev-share

EvryAffiliates is the MLM division of the online casino EvryBet. For the purposes of this review, I have used EvryBet to refer to both the casino and the attached EvryAffiliates MLM business opportunity.
There is no information on the EvryBet website indicating who owns or runs the business.
The EvryAffiliates website domain ("evryaffiliates.com") was registered on the 24th of May 2014, however the domain registration is currently set to private.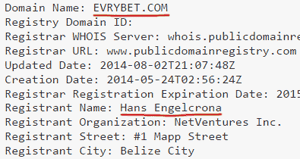 Before it was made private, a "Hans Engelcrona" of NetVentures Inc. was listed as the domain owner. An address in Belize (a known tax-haven) was also provided.
Why Engelcrona was removed from the domain registration is unclear.
In August Engelcrona and NetVentures Inc. registered for a trademark application for "EvryBet".
On the application NetVentures appears with the aforementioned Belize address, however Engelcrona is listed with an address in Bjursås, Sweden.
Given Engelcrona's ownership of the EvryBet domain and trademark application, it is highly probably that this where the company is being run out of.
Confusingly, a third entity is added to the mix by way of a footer message on the EvryAffiliates website:
Licenses and Operators

The Evrybet.com website is operated and managed by OddsMatrix Ltd, a company bearing registration number C44411, and having its registered address at Suite 4, Num. 62/63 Morina Court, George Borg Olivier Street, St.Julians, STJ 1081, Malta.

OddsMatrix Ltd. is licensed and regulated by the Lotteries and Gaming Authority of Malta
As per their website,
OddsMatrix delivers a wide range of sportsbook solutions. Fully managed white-label, hybrid managed and DIY, hosted or API.
Putting two and two together, it would appear that EvryBet is a managed casino offering of OddsMatrix, which Hans Engelcrona has attached to the EvryAffiliates opportunity, which he runs from Sweden through his Belize-registered NetVentures Inc. company.
Why Hans Engelcrona or NetVentures Inc. do not appear anywhere on the EvryBet or EvryAffiliates websites is a mystery.
Mentioned during the fallout between Bidify and their former CEO, Engelcrona has been credited with running Bidify's Bidsson penny auction website.
90% of auctions listed on Bidsson were being shill bid and won by a company employee in Norway.

Two men operate the Biddson website and handles the shipping out of Norway Hans Engelcrona and Robin Bakkejord. Hans lists all the auctions daily on the Bidsson website then he has his young assistant use self registered accounts to counter bid everyone on the auction site.

This means that they win 99% of the auctions that they list.
Engelcrona's specific role within Bidify was never officially clarified.
In any event, Bidify was a Ponzi scheme modeled on the $850 Ponzi scheme Zeek Rewards.
Following the shutdown of Zeek Rewards in 2012, Bidify rewrote their Ponzi points compensation plan in an attempt to go legit.
This flopped and the company then re-invented itself a few times over the next few months (reverting back to their original Ponzi roots), before finally settling on a complete reboot as MyCenterBid in mid 2013.
Just as Bidify's previous attempts at rebooting itself failed, so too did MyCenterBid.
Whether Hans Engelcrona is still involved with the scheme or at what point he abandoned ship remains unclear.
In any event, Engelcrona would appear to have moved on from rigging Bidsson auctions and has decided to launch an MLM company of his own.
Read on for a full review of the EvryBet / EvryAffiliates MLM business opportunity.
The EvryBet Product Line
EvryBet appears to be a white-label hosted service powered by OddsMatrix.
EvryBet´s Sportsbook offers thousands of live events every month, and can present sporting activities in almost any sports category around the globe.

EvryBet also offers premium Casino Games including Live Video Casino with live dealers.
Funds can be deposited by customers or affiliates into the casino platform, up to a maximum of 5000 EUR in any one transaction.
Players at EvryBet are restricted from withdrawing a maximum of 10,000 EUR a day.
The EvryBet Compensation Plan
The EvryBet compensation plan revolves around the depositing of funds with EvryBet and recruitment of EvryAffiliates and their purchase of starter packs.
EvryBet "Net Revenue"
Much of the EvryBet compensation plan revolves around calculations made using the casino's "net revenue" on any given day.
In their compensation plan documentation, EvryBet define their casino's net revenue as
All monies received by the company from players in relation to placed bets/casino activities less

(a) monies paid out to players as winnings, (b) bonus and jackpot contribution payouts, (c) administration fees, (d) fraud costs, (e) charge-backs, (f) returned stakes and (g) monies paid out as duties or taxes; and

In relation to Poker:

The rake contributed less (a) bonuses, loyalty bonuses, promotional amounts and/or rake backs, (b) administration fees, (c) fraud costs and (d) charge backs.

NOTE: All amounts referred to above are only in relation to monies deposited and spent at the casino by players including casino marketing chips.
That last part in bold is of particular relevance, as it reveals that EvryBet consider their affiliates as "players" spending money at the casino.
Unilevel Commissions
The first of the residual commissions in EvryBet are paid out using a unilevel compensation structure.
A unilevel compensation structure places an affiliate at the top of a unilevel team, with every personally recruited affiliate placed directly under them (level 1):

If any level 1 affiliates go on to recruit new affiliates of their own, they are placed on level 2 of the original affiliate's unilevel team.
If any level 2 affiliates recruit new affiliates, they are placed on level 3 and so on and so forth down a theoretical infinite number of levels.
EvryBid cap payable unilevel levels at five, with commissions paid out as a percentage of the revenue generated by affiliates on each level of the unilevel team.
How much of a percentage is paid out is determined by what level payable revenue volume is generated on:
level 1 – 11% and 9% in bonus credits
level 2 – 5.5% and 4.5% in bonus credits
level 3 – 2.75% and 2.25% in bonus credits
level 4 – 1.65% and 1.35% in bonus credits
level 5 – 1.1% and 0.90% in bonus credits
Note that in order to earn on levels 3 to 5, an affiliate must recruit and maintain at least six affiliates or retail players who have spent at least 100 EUR or more over the last 30 days (ongoing requirement).
Binary Commissions
The second method residual commissions are paid out in EvryBid is via a binary compensation structure.
A binary compensation structure places an affiliate at the top of two binary teams, left and right: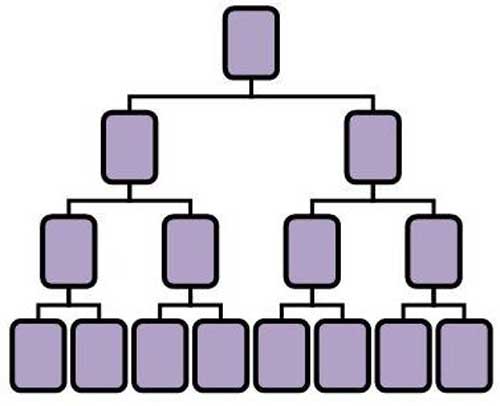 Revenue volume is tracked in both teams, with commissions paid out using a 300 point structure.
Points are generated when recruited affiliates purchase paid affiliate membership when they sign up:
Bronze (300 EUR) – 150 points
Silver (700 EUR) – 350 points
Gold (1400 EUR) – 750 points
Diamond (2500 EUR) – 1250 points
The required matched 300 points can be paired as 100:200, 200:100 or 150:150.
Each time 300 revenue points are matched in an affiliate's binary, they are paid 30 EUR and awarded 20 Bonus Credits.
This amount may be lowered if EvryBet do not have enough revenue to cover their commission obligations.
Personal Casino Bonus
The Personal Casino Bonus pays an affiliate 16% of the net revenue brought in by personally recruited affiliates and retail players.
8% in "bonus credits" is also awarded.
Global Casino Bonus
Every month EvryBet take 30% of the casino's net revenue and put it into a Global Casino Bonus pool.
Affiliates qualify for a share in the Global Casino Bonus pool by generating 2000 EUR worth of activity in the casino. This amount can be personally generated or via the efforts of an affiliate's personally recruited downline (level 1).
Shares in the Global Casino Bonus pool are only good for shares in the pool for the month they were generated in.
Bonus Credits
Bonus Credits accompany various cash commissions throughout the EvryBet compensation plan.
The EvryBet compensation plan documentation states that these credits expire after 7 days and may only be used to 'to redeem Casino Marketing Chips, Marketing Packages or Gift Vouchers.
Marketing Chips are promotional casino chips purchased by affiliates to be given away.
Joining EvryBet
Affiliate membership with EvryBet is available in five options:
Free – no initial cost
Bronze –  300 EUR
Silver – 700 EUR
Gold – 1400 EUR
Diamond – 2500 EUR
A 10 EUR a month charge is applied to all affiliates, however this fee is temporarily waived depending on how much an affiliate spends when they sign up:
Free and Bronze – waived for 1 month
Silver – waived for 2 months
Gold – waived for 3 months
Diamond – waived for 6 months
Conclusion
Ridiculously priced affiliate buy-ins – check.
Points based revenue-share – check.
Bundled service that's neither here nor there – check.
Ineffective sample based marketing strategy – check.
Before we go any further, I'd like to make a distinction between EvryBet the casino and EvryAffiliates, the attached MLM business opportunity.
The casino-side of the business is fine. The legalities of online gambling aside, wholly out-sourced and managed by a third-party company, you'd expect it to work as advertised.
EvryBet completely falls apart though when we throw in the EvryAffiliates MLM opportunity.
Whereas the penny auction Ponzi schemes were modelled around sample bids, with EvryBet you have "marketing chips":
Free – no bundled marketing chips, able to give away 10 chips a month
Bronze (300 EUR) – 150 marketing chips, able to give away 50 chips a day
Silver (700 EUR) – 350 marketing chips, able to give away 100 chips a day
Gold (1400 EUR) – 700 marketing chips, able to give away 150 chips a day
Diamond (2500 EUR) – 1250 marketing chips, able to give away 200 chips a day
As with the MLM penny auctions, the flood of marketing chips completely undermines the potential for retail within EvryBet. At its simplest, nobody is going to spend actual money (other than affiliates) on EvryBet bids when they are being given away.
One thing I'm curious on is the mention of a "Global Marketing Pool". EvryBid state that affiliates
can only share Casino Marketing Chips with any of your personally referred players in the Casino or with the Global Marketing Pool.
But at no time do they clarify what his Global Marketing Pool is. If it's in any way tied to compensation then we're looking at a simple affiliate-funded Ponzi scheme.
Affiliates are directly compensated based on how many marketing bids they purchase and dump into the pool.
Even if we set aside the Global Marketing Pool though, the rest of the EvryBid compensation plan isn't much better.
The affiliate "optional" packages generate revenue for direct commissions and the bonus pools because affiliates are buying marketing chips.
In effect, you then wind up with commissions being paid on recruitment and mostly affiliate money being recycled through the bonus pools – which rewards affiliates for getting newly recruited affiliates to spend as much as possible when they sign up.
The unlocking of unilevel levels on condition of straight up recruitment and a monthly 100 EUR minimum spend is also a joke. No legitimate non-affiliate customers are going to be spending 100 EUR a here when all the affiliates are throwing countless marketing bids at them.
What will end up happening is the 100 EUR a month player spend will be recruited affiliates themselves spending the money on marketing bids. This pushes volume through the unilevel and bonus pool.
The binary component of the compensation plan meanwhile is strictly a recruitment tool. Yet again designed to encourage affiliates to get their recruits to spend as much money on a package when they sign up.
The wider picture of EvryBet's compensation plan is a bit convoluted, but the basic idea is that affiliate money flows in through an initial package purchase and continued purchase of marketing bids. That revenue is then shared out via the compensation plan, favoring affiliates who have recruited and generated the most revenue for the company.
The mention of a casino player and affiliate rotators in the compensation plan is also worrying, as it indicates the company is selling their affiliate-base customers (read: email addresses to dump bids onto) and a downline.
MLM companies selling their affiliates customers and affiliate recruits is generally frowned upon by regulators.
As with the Ponzi points auctions that came before it, the quickest way to ascertain the legitimacy of EvryBet is to ask a potential upline how much external revenue they have generated via non-affiliate retail players.
Typically in these sorts of schemes the answer is none.
As with all recruitment-driven opportunities, once affiliate recruitment dries up and nobody is purchasing packages, no new money enters the system. At this point money is simply recycled among those still purchasing marketing bids each month hoping to catch a new recruitment wave that never comes.
Pretty much how Bidify and now MyCenterBid wound up.