Elevate Pass Review: 200% ROI adpack crypto Ponzi

Elevate Pass operates in the cryptocurrency MLM niche.
The company is headed up by CEO Rafael Cebula.
Cebula appears to be a crypto bro, launching Elevate Pass from obscurity.
Circa 2019 Cebula was promoting the Omega Group Ponzi scheme: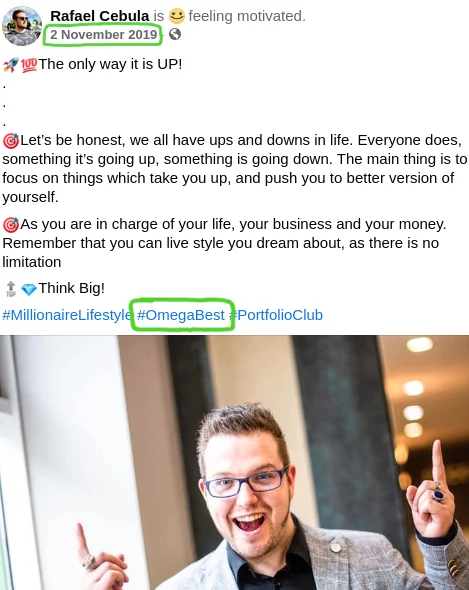 Omega Group collapsed in February 2020.
From June 2020 Cebula attempted to rebrand himself as an MLM coach on YouTube.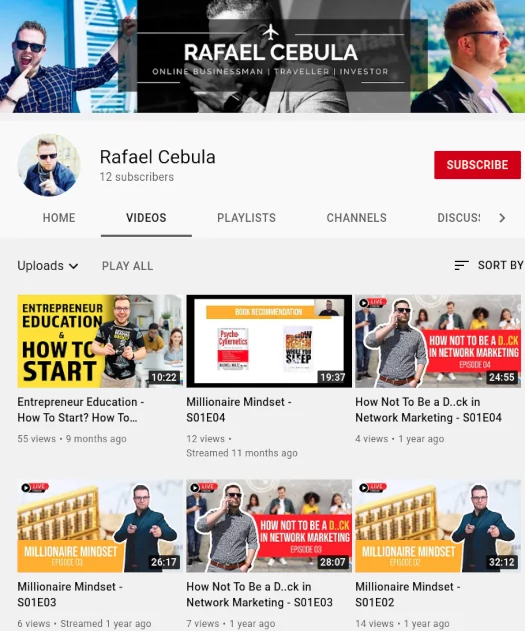 Cebula's last YouTube upload was in October 2020. A few months before he realized his entrepreneur channel was going nowhere, Cebula launched Mad Investor.
The first Mad Investor video was uploaded in August 2020.
As of three days ago Cebula was still uploading crypto bro videos, however his audience has shrunk considerably.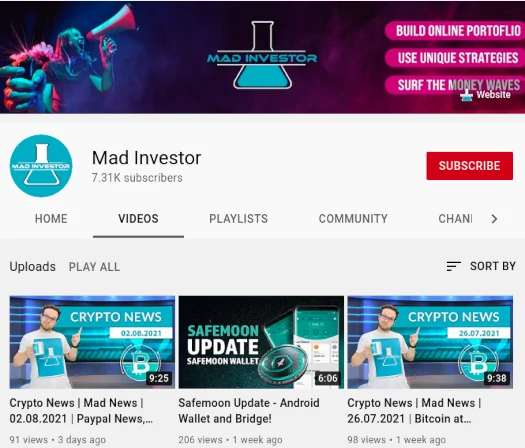 In April 2021 Cebula teamed up with Kaja Sikora to launch Mad Wear, a crypto themed clothing line.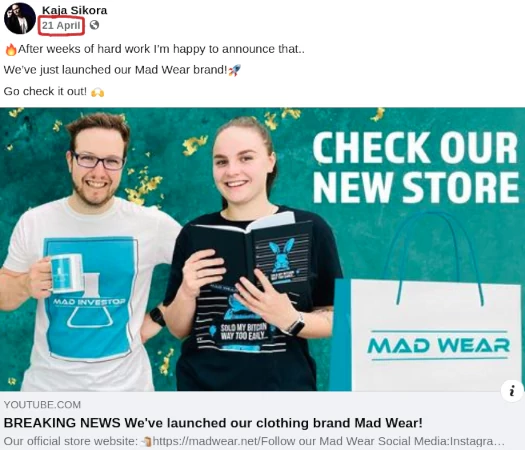 Sikora is Elevate Pass' Chief Marketing Officer, so there appears to at least be a prior business relationship between the two.
Mad Wear flopped, leading us to the Elevate Pass launch announcement about a week ago.
Based Cebula's and Sikora's respective Facebook profiles place them in the UK. This is where Elevate Pass appears to be operated from.
Read on for a full review of Elevate Pass' MLM opportunity.
Elevate Pass' Products
Elevate Pass has no retailable products or services.
Elevate Pass affiliates are only able to market Elevate Pass affiliate membership itself.
Elevate Pass' Compensation Plan
Elevate Pass affiliates invest $10 or more in cryptocurrency. This is done on the promise of a 200% ROI.
An "up to" 3% ROI is paid weekly. Commissions and bonuses earned through Elevate Pass' compensation plan also count towards the ROI.
Once 200% is reached, reinvestment is required to continue earning.
The MLM side of Elevate Pass sees affiliates rewarded for recruiting new affiliate investors.
Referral Commissions
Elevate Pass affiliates earn a 10% commission on crypto invested by personally recruited affiliates.
Residual Commissions
Elevate Pass pays residual commissions through a 2×22 matrix.
A 2×22 matrix places an affiliate at the top of a matrix, with two positions directly under them.

These two positions form the first level of the matrix. The second level of the matrix is generated by splitting these first two positions into another two positions each (4 positions).
Levels three to twenty-two of the matrix are generated in the same manner, with each new level housing twice as many positions as the previous level.
Positions in the matrix are filled via direct and indirect recruitment of Elevate Pass affiliates.
Residual commissions are paid out at 1.8% of funds invested across the matrix.
Note that each level of the matrix must be qualified for as follows:
levels 1 to 4 – sign up as an Elevate Pass affiliate and invest at least $10
levels 5 to 8 – earn $200 in returns and/or commissions
levels 9 to 12 – earn $1000 in returns and/or commissions
levels 13 to 16 – earn $5000 in returns and/or commissions
levels 17 and 18 – earn $20,000 returns and/or commissions
levels 19 and 20 – earn $50,000 in returns and/or commissions
levels 21 and 22 – earn $100,000 in returns and/or commissions
Rank Achievement Bonus
There are twenty-two affiliate ranks within Elevate Pass.
Along with their respective qualification criteria and corresponding Rank Achievement Bonuses, they are as follows:
First Floor – earn $200 and receive a $20 Rank Achievement Bonus
Second Floor – earn $1000 and receive a $200 Rank Achievement Bonus
Third Floor – earn $5000 and receive a $500 Rank Achievement Bonus
Fourth Floor – earn $20,000 and receive a $2000 Rank Achievement Bonus
Fifth Floor – earn $50,000 and receive a $4000 Rank Achievement Bonus
Sixth Floor – earn $100,000 and receive a $7000 Rank Achievement Bonus
Seventh Floor – earn $250,000 and receive a $15,000 Rank Achievement Bonus
Eighth Floor – earn $500,000 and receive a $30,000 Rank Achievement Bonus
Ninth Floor – earn $1,000,000 and receive an $80,000 Rank Achievement Bonus
Penthouse – earn $5,000,000 and receive $300,000 plus a bonus 0.6% on investment made across matrix level 22 and deeper
Joining Elevate Pass
Elevate Pass affiliate membership is tied to a minimum $10 investment.
Elevate Pass solicits investment in bitcoin, ethereum, tether, litecoin, tron, ripple and monero.
Elevate Pass Conclusion
Having likely lost money in Omega Group and other MLM crypto Ponzi schemes, then failing at YouTube and a clothing business, Rafael Cebula has launched his own MLM crypto Ponzi scheme.
Although they have nothing to do with advertising, Elevate Pass refers to its investment positions as "advertising packs".
Learn how purchasing our packs can help you build your stable passive income for years to come.

Up to 3% per week based on your advertising packs.

Stable profit focused on a long run!
This is a throwback to adcredit Ponzi schemes. These were a thing prior to crypto trading/mining/someotherbullshit Ponzi schemes taking over.
Elevate Crypto trots out the standard cliche Ponzi ruses; "AI trading which includes spot and futures trading" and "spot trading by our trading team".
Beyond investing in MLM crypto Ponzi schemes that use the same ruses, Cebula has no ties to trading of any kind.
Nor is any evidence of Elevate Pass engaging in trading provided.
It should be noted that the often used social media "proof of trading" is not a substitute for legally required audited financial reports.
Being based out of the UK, Elevate Pass is required to register with the FCA and provide said reports.
There is no indication Elevate Pass has registered with the FCA. Therefore at a minimum, Elevate Pass and Cebula are committing securities fraud.
That said, it should be noted the UK is a scam-friendly jurisdiction, both with respect to corporate and securities fraud.
As with all MLM Ponzi schemes, once affiliate recruitment dries up so too will new investment.
This will starve Elevate Pass of ROI revenue, eventually prompting a collapse.
The math behind Ponzi schemes guarantees that when they collapse, the majority of participants lose money.
Elevate Pass' collapse end-game appears to be the shitcoin route:
Do you have a special coin or token?

Yes, it's currently in development.
When investment dries up or as it is drying up, Elevate Pass will launch a shitcoin.
This will be distributed to affiliates as a substitute for actual withdrawals.
Shortly after Elevate Pass collapses, leaving affiliates bagholding yet another worthless Ponzi token.
Update 11th May 2022 – Elevate Pass appears to have collapsed.
Update 23rd August 2022 – Elevate Pass has collapsed again. This time withdrawals have been disabled.