Elegant Matrix Review: $20 to $500 matrix Ponzi doubler

There is no information on the Elegant Matrix website indicating who owns or runs the business.
The Elegant Matrix website domain ("elegantmatrix.com") was registered on the 8th of February 2016, however the domain registration is set to private.
A few days ago one BehindMLM reader claimed that Dale Payne-Sizer is behind Elegant Matrix. Further research reveals Elegant Matrix affiliates claiming the same: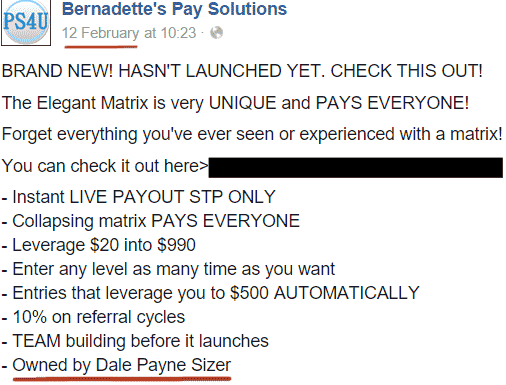 Dale Payne-Sizer recently featured on BehindMLM as the admin of Infinity Profit System, a $25 to $100 a month cash gifting scheme.
Read on for a full review of the Elegant Matrix MLM business opportunity.
The Elegant Matrix Product Line
Elegant Matrix has no retailable products or services, with affiliates only able to market Elegant Matrix affiliate membership itself.
Once signed up, Elegant Matrix affiliates can purchase matrix positions and participate in the offered income opportunity.
Upon purchasing at least one matrix position, Elegant Matrix affiliates are provided access to "downloadable products".
The Elegant Matrix Compensation Plan
The Elegant Matrix compensation plan sees affiliates pay $20 to $500 for positions in five 2×2 matrix cyclers.
A 2×2 matrix places an affiliate at the top of a matrix, with two positions directly under them: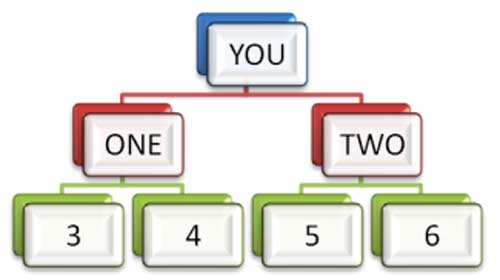 These initial two positions form the first level of the matrix, with the second level generated by splitting each of the first two positions into another two positions each.
A complete 2×2 matrix thus has six positions to fill, with a cycle commission paid out once all positions in the matrix are filled.
How much of a commission is paid out is determined by which cycler a position cycles out of:
$20 cycler = $40 commission
$45 cycler = $90 commission
$100 cycler = $200 commission
$250 cycler = $500 commission
$500 cycler = $1000 commission
A 10% referral commission is also paid each time a personally recruited affiliate purchases a matrix position.
Joining Elegant Matrix
Elegant Matrix affiliate membership is free, however affiliates must purchase at least one matrix position to participate in the offered MLM income opportunity.
As such, the minimum cost of Elegant Matrix affiliate membership is $20 (one position in the $20 cycler).
Conclusion
Elegant Matrix is most accurately referred to as a "doubler", in that funds invested are eventually doubled as new investments are made.
Each cycler tier operates independently of the others with newly invested funds used to pay off existing investors.
This defines Elegant Matrix as a Ponzi scheme.
The "downloadable products" are neither here nor there, with a provided breakdown of funds invested in Elegant Matrix revealing no money is paid for them:
10% to the person who referred you
4% Payment processor fee
6% admin fee
30% to the person above you in the matrix
50% to the person 2 up from you
In any event, even if Elegant Matrix were to change the above breakdown to provide a token percentage allocated to the downloadable products, the fact that they are not sold to retail customers remains an issue.
As it stands, Elegant Matrix is a five-tier Ponzi scheme. Affiliates invest between $20 and $500 on the promise of advertised $40 to $1000 ROIs, funded by subsequently invested funds.
As with all such schemes, once new investment dries up, Elegant Matrix will find itself unable to meet its ROI obligations.
Being a cycler-based scheme, this will manifest itself by way of cycle times blowing out – before the matrices across all five tiers stall completely.
Elegant Matrix Refund Policy: We have a NO REFUND Policy
At that point the scheme will have collapsed, leaving everybody except Dale Payne-Sizer and a few early investors out of pocket.