CryptoCash Nation Review: 7 Rings of Wealth crypto pyramid reboot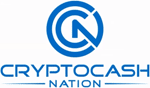 CryptoCash Nation provide no information on their website about who owns or runs the business.
The CryptoCash Nation website domain ("cryptocashnation.com") was registered on December 30th, 2017.
Jill Field of "FXB Trading Inc." is listed as the owner, through an address in British Columbia, Canada.
I wasn't able to find any definitive ties to Jill Field and CryptoCash Nation.
There is a cryptocurrency exchange that goes by the name of FXB Trading, however again it doesn't appear to have any links to CryptoCash Nation.

In a CryptoCash Nation marketing video, Thomas Fraser is identified as one of the co-founders of the company.
Fraser (right) appears to reside in British Columbia, Canada.
On his Facebook profile Fraser identifies himself as the owner of CryptoCash Nation, which he markets through the "Tommy Swoles Global Networker" page.
Prior to owning CryptoCash Nation Fraser was promoting Valentus.
Who Fraser is working with is unclear, but documents hosted on the CryptoCash Nation website suggest it's tied to 7 Rings of Wealth:

7 Rings of Wealth is a cash gifting scheme launched early last year.
The company referred to participants in the scam as "the Nation".
Alexa traffic statistics show interest in 7 Rings of Wealth peaked in September, 2017.
The scheme began to collapse around December and today 7 Rings of Wealth website activity is terminal.
For all intents and purposes, CryptoCash Nation appears to be a reboot of 7 Rings of Wealth.
Read on for a full review of the CryptoCash Nation MLM opportunity.
CryptoCash Nation Products
CryptoCash Nation has no retailable products or services, with affiliates only able to market CryptoCash Nation affiliate membership itself.
The CryptoCash Nation Compensation Plan
CryptoCash National affiliates pay a $15 weekly fee in the DASH cryptocurrency.
Commissions are paid when they recruit others who do the same.
Free CryptoCash Nation affiliates pass up the first two paid affiliates they recruit (including generated commissions), and must then maintain $15 a week (recruit another three paid affiliates), in order to start earning commissions.
If a free affiliate is commission qualified they are designated "qualified" with respect to rank qualification criteria (see below).
Paid CryptoCash Nation affiliates receive commissions from their first recruited affiliate.
All payments within CryptoCash Nation (both commissions and fees) are paid in DASH.
For the first two CryptoCash Nation affiliate recruited, the recruiting affiliate is paid $5 of their weekly $15 fee.
From the third recruited affiliate a $10 weekly commission is paid out.
CryptoCash Nation Affiliate Ranks
There are XX ranks within the CryptoCash Nation compensation plan.
Along with their respective qualification criteria, they are as follows:
Silver – recruit and maintain at least four paid affiliates and/or qualified free affiliates
Gold – recruit and maintain at least seven paid affiliates and/or qualified free affiliates
Platinum – recruit and maintain at least ten paid affiliates and/or qualified free affiliates
The Synergy Loop
The Synergy Loop is a weekly rotator that takes two recruited affiliates and the downline under them, and assigns commissions generated on their fees to the affiliate who recruited you.
In turn you receive passed-up affiliates from your affiliates you've recruited (and generated commissions).
Each week two recruited affiliates are passed up through the Synergy Loop.
The following week the next two affiliates are recruited and so on and so forth.
This process repeats itself through six weekly cycles.
Fast Start Bonus
If a CryptoCash Nation affiliate recruits three paid affiliates within 7 days of signing up, they are paid a one-time $20 Fast Start Bonus.
Matching Bonus
The Matching Bonus is paid out as a percentage of commissions earned by personally recruited affiliates:
Silver ranked affiliates receive a 20% Matching Bonus
Gold and Platinum ranked affiliates receive a 40% Matching Bonus
Note that the Synergy Loop does not affect the Matching Bonus paid out on personally recruited affiliates.
Co-Op Quarterly Profit Pool
Platinum CryptoCash Nation affiliates receive a share in the Co-Op Quarterly Profit Pool.
The Co-Op Quarterly Profit Pool is made up of 1% of membership fees paid across the entire CryptoCash Nation affiliate-base.
As the name suggests, the Co-Op Quarterly Profit Pool is paid out quarterly.
Joining CryptoCash Nation
CryptoCash Nation affiliate membership is $15 a week, paid in the DASH cryptocurrency.
CryptoCash Nation affiliates receive "30 min weekly cryptocurrency updates" and ICO investment advice.
There is also a free CryptoCash Nation affiliate membership.
Free CryptoCash Nation affiliates receive access to a cryptocurrency "education center".
In order to qualify for gifting payments they must "pass up" recruitment commissions from the first two paid affiliates they recruit.
Conclusion
The only source of revenue generated by CryptoCash Nation is affiliate membership fees.
The SYNERGY LOOP rotational system pays a portion of the membership fee to you, even from people you did not introduce.
Using these fees to pay recruitment commissions makes CryptoCash Nation a pyramid scheme.
This is departure of 7 Rings of Wealth's business model, which was straight cash gifting (although company admins did skim from higher levels of the matrix).
In that sense there's not much different between 7 Rings of Wealth and CryptoCash Nation.
Affiliates pay in each week, some of that money goes to the recruiter and the rest is split between upline affiliates and company admins (albeit more discreetly this time around).
The cryptocurrency education angle is smoke and mirrors.
In an attempt to legitimize pyramid fraud, CryptoCash Nation refer to themselves as an "educational coop".
Build your cryptocurrency & ICO (Initial Coin Offering) portfolio with confidence via the easy to learn educational system we offer.
At the end of the day it doesn't matter what is attached to recruitment commissions.
If an MLM company is paying affiliates to recruit new affiliates with zero retail sales, it's operating as an illegal pyramid scheme.
Like 7 Rings of Wealth, owners like Thomas Fraser will receive most of the money paid in.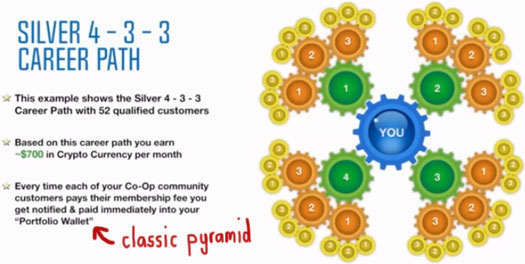 This is particularly true upon consideration of the Synergy Loop system, which essentially milks downlines for double commissions each week.
At the top of the Synergy Loop pass-up chain are compensation positions owned by Fraser and his fellow co-owners.
With 7 Rings of Wealth having collapsed, positions directly under CryptoCash Nation's admins are likely stacked by 7 Rings of Wealth affiliates.
One of the most common reload ruses is to convince your victims they'll recover losses you caused by getting them to part with even more money in a new venture.
CryptoCash Nation is more of the same, except this time in cryptocurrency (easier for scamming admins to keep what they steal).
As with 7 Rings of Wealth, once affiliate recruitment dies down so too will payments within the system.
Being a weekly fee model, affiliates at the bottom will stop paying if they can't find anyone to recruit and cover their fees.
This trickles up and recruitment dies across the company, eventually triggering an irreversible collapse.
When a pyramid scheme like CryptoCash Nation collapses, invariably the majority of participants lose money.