Highdef Nation Review: AWIS insurance feeder?

Like most of the world, when I think "highdef" I think television screens that are capable of displaying video 'with more than 480 horizontal lines (North America) or 570 lines (Europe)' (Wikipedia).
Whether this somehow got lost in translation with the founders of Highdef Nation the MLM business opportunity or whether they're just trying to be hip with a snazzy name I'm not sure, but I was somewhat disappointed to learn that Highdef Nation has nothing to do with television.
So what is Highdef Nation all about then? Read on for a full review.
The Company
Based out of Texas in the US, Highdef Nation was launched in October 2012 and was founded by James Dickerson (CEO), Sonu Sandhu, Wavey Lester and Kenny Lloyd (respective photos below).

Described in his company bio as being a "spiritual leader" who does everything he does "with excellence", James Dickerson is an "MLM Corporate Business Developer" who 'recently ushered over 56,000 distributors into a company pre-launch in 45 days', however no specifics are provided by Highdef Nation.
MLM wise Dickerson (who refers to himself as "Mr. Super Fantastic") was involved in Javita in 2011 and prior to that was involved in training and coaching MLM affiliates under the brand "Real Talk No Bull".
Sonu Sandhu started out in MLM with Herbalife under Mel Gill. Gill later went on to launch his own MLM company MyVideoTalk, which Sandhu signed onto as "Vice President of Business Development" in 2005.
After seven years with MyVideoTalk, Sandhu left the company earlier this year.
Wavey Lester's past MLM ventures include 5Linx, ShoptoEarn, Send out Cards and People String.
In 2010 Lester was involved in wireless MLM company Global Verge, writing an angry letter accusing Global Verge's management of creating 'a list as long as the Great Wall of China of unfulfilled promises' that 'caused (damage) to the lives of thousands' with some 'losing their homes because they believed that Global Verge would do what it said it would do'.
Finally Kenny Lloyd, described by Highdef Nation as an 'awe-inspiring successful businessman and entrepreneur', was heavily involved in Ardyss International (MLM weightloss) for a few years before leaving the company mid last year.
The Highdef Nation Product Line
As a MLM company, Highdef Nation themselves don't appear to have any retailable products or services. Instead the company markets "health and dental plans", provided by third-party insurance agencies.
If you visit the "products" section of the Highdef Nation website, you are directed to the domain highdefplans.com "for more details". The HighdefPlans website however demands affiliate information be entered before it actually shows a visitor any information.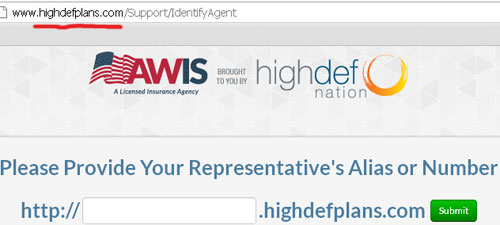 The American Workers Insurance Services (AWIS) logo at the top of the page indicates that they are behind the health and dental plans available through Highdef Nation.
Interestingly enough, AWIS (who claim to be "a licensed insurance agency") themselves offer a MLM business opportunity on their website. Not surprisingly, "Healthcare Solutions" are marketed as their product.
If you try to view any information about AWIS' offered plans, you are dumped on the same "please enter the affiliate's information who referred you" website as the one over at Highdef Nation: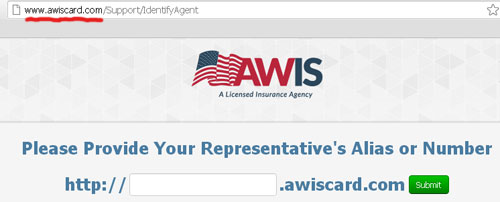 Product wise it appears Highdef Nation are nothing more than resellers of AWIS' own health insurance product line, with the details of any plans offered kept secret from the general public.
The Highdef Nation Compensation Plan
Highdef Nation offer affiliates retail commissions upon the signing up of non-affiliates to healthcare plans, along with recruitment commissions and bonuses for recruiting new Highdef Nation affiliates.
Retail Commissions
Although details of health plans on offer are not provided, Highdef Nation claim their affiliates can earn $30-$60 for each customer they sign up onto a "healthcare benefit plan".
Recruitment Commissions
When a Highdef Nation affiliate recruits a new affiliate into the business, the company pays out a "Fast cash/Team-builder Bonus".
Once again the company provides no specifics, other than stating their recruitment commissions are 'calculated at 50% of the assigned Commissionable Volume associated with a respective HDN Business Kit'.
An affiliate recruitment presentation I saw however did state that affiliate's would receive $50 per affiliate they signed up as a Highdef Nation member for $199.
Residual Commissions
Residual commissions in Highdef Nation are paid using a unilevel compensation structure. This structure places an affiliate at the top of their team, with each personally recruited member placed directly under them (level 1).
If any of these level 1 members recruit new affiliates of their own, they are placed directly under level 1 affiliates, forming level 2 of the original affiliate's unilevel team.
Using this compensation structure, Highdef Nation pay out a percentage of all downline affiliate earnings, paid down monthly on up to seven levels of recruitment as follows:
Level 1 – 20%
Level 2 – 3 to 5%
Level 3 – 2 to 5%
Level 4 – 1 to 4%
Level 5 – 1 to 3%
Level 6 – 1.5 to 2%
Level 7 – 1 to 2%
The reason for the varying percentages between levels 2 to 7 are not explained in the Highdef Nation compensation plan material.
Eight membership ranks do exist within the Highdef Nation compensation plan, however their requirements and whether or not they affect residual commissions is not specified by the company in its official compensation plan documentation.
The Mega Start Bonus
Highdef Nation's Mega Start Bonus is a cash bonus paid out upon achieving specific sales volume and recruitment requirements within 68 months of joining the company.
Requirements are listed bimonthly and with a total payout $60,000 achievable by month 68 if an affiliate and their downline are generating 5 million points in sales volume and the affiliate has personally recruited 12 new Highdef Nation affiliates.
Failure to meet the bimonthly requirements of the Mega Start Bonus forfeit an affiliates chance to claim any future payments as part of the bonus program, even if they've previously qualified for bonuses under the plan.
A matching bonus is also available on the earnings of personally recruited affiliate (level 1) earnings in the Mega Start Bonus.
Membership Rank Bonuses
Although the specifics of the eight membership ranks that exist within the Highdef Nation compensation plan are not explained by the company, they do mention a rank achievement bonus payable upon an affiliate reaching certain membership ranks.
These payments are as follows:
Divisional Leader – $500
Regional Leader – $1000
Regional Vice President – $2000
Executive Vice President – $3500
Senior Vice President – $7500
National Sales Director – $15,000
Executive Sales Director – $25,000
Presidential Sales Director – $50,000
Car Bonus
Again dependent on the unspecified requirements of Highdef Nation's membership ranks, the company pays out a monthly car bonus of
$500 to Regional Vice Presidents
$1000 to National Sales Directors
$2000 to Presidential Sales Directors
Joining Highdef Nation
For reasons unknown, it is currently impossible to signup to Highdef Nation using the company website:

Marketing material I have seen from the company however, indicates that Highdef Nation membership will be priced around $199 with no indication of a monthly ongoing membership fee payable.
Conclusion
If I didn't know any better, I'd say Highdef Nation are simply an affiliate master account of AWIS themselves with the company set up as a feeder into AWIS with its own compensation plan attached.
Within the Highdef Nation compensation plan it also seems entirely possible for affiliates to sign up for $199 and then earn a $50 commission simply by recruiting new affiliates in at the $199 membership level.
HDN Associates receive a Fast cash/Team-builder Bonus for every person they personally sponsor into the HDN opportunity.
Naturally this raises some red flags as this component of the Highdef Nation compensation plan pays out as a pyramid scheme would (on the recruitment of new members).
Product wise Highdef Nation sell nothing of their own other than membership to the site itself. This is itself yet another red flag when recruitment commissions of $50 are on offer.
With AWIS themselves offering a MLM compensation plan and attached income opportunity to their insurance plans (which for some reason cannot be revealed to the general public), Highdef Nation appears to be nothing more than a feeder program with its own attached recruitment driven compensation plan.
I highly doubt anyone is going to sign up to health plans they can't even view the details of, giving off a strong indication that the Highdef Nation is geared more towards the recruitment of new affiliates rather than sale of health plans.
Infact with membership levels within the compensation plan and health levels both shrouded in mystery and not revealed by the company, the only thing that is explained clearly and upfront by Highdef Nation is that the company will pay you $50 per new member you recruit.
Having only just recently launched, Highdef Nation is definitely an opportunity you're going to want to closely observe before jumping into.
Update 20th October, 2012 – For reasons not immediately clear (running an obvious pyramid scheme?), it appears that Highdef Nation was indeed nothing more than a signed affiliate of AWIS.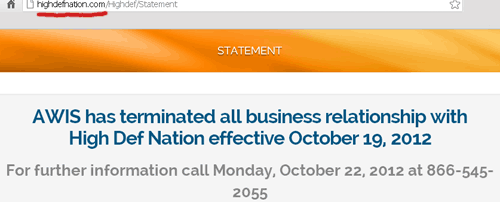 As above, effective October 19th 2012, AWIS has terminated their business relationship with Highdef Nation. Naturally as a result of this, the Highdef Nation MLM business opportunity is no more.