Crypto Orbis Review: Massive Action Teambuild Community cash gifting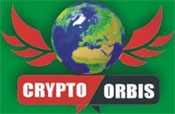 There is no information on the Crypto Orbis website indicating who owns or runs the business.
The Crypto Orbis website domain ("cryptoorbis.com") was privately registered on January 12th, 2017.
If you visit the Crypto Orbis website without a referral link, the website states you were "invited by Crypto Orbis". This is the Crypto Orbis admin account.
Attempting to sign up under this account reveals the name "Rose Glenny" as the referring Crypto Orbis affiliate.
This is a static connection to the Crypto Orbis admin account and does not change upon refresh.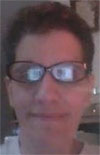 Rose Glenny (right) is based out of Maryland in the US. Other MLM opportunities advertised by Glenny include Instant Revshare (adcredit Ponzi scheme), CryptoBitX (cash gifting) and Reverse Commissions (cash gifting).
Glenny is also part of the group Massive Action Teambuild Community, through which people are funneled into various MLM underbelly schemes.
Of note is the use of the Passive Crypto Terms and Conditions on the Crypto Orbis website:

Passive Crypto is bitcoin cash gifting scheme launched last month. Whether or not Rose Glenny is also running Passive Crypto is unclear.
Read on for a full review of the Crypto Orbis MLM opportunity.

The Crypto Orbis Product Line
Crypto Orbis has no retailable products or services, with affiliates only able to market Crypto Orbis affiliate membership itself.
The Crypto Orbis Compensation Plan
The Crypto Orbis compensation plan sees affiliates gift bitcoin to each other via a 2×2 matrix.
A 2×2 matrix places an affiliate at the top of a matrix, with two positions directly under them: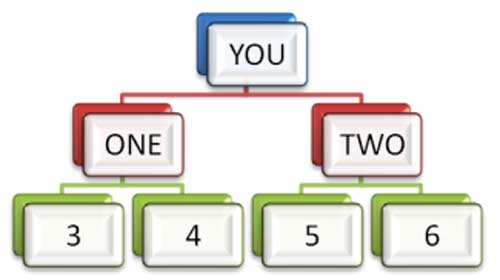 These two positions form the first level of the matrix. The second level of the matrix is generated by splitting each of the two positions into another two positions each (4 positions).
A complete 2×2 matrix has six positions to fill.
Both levels of a Crypto Orbis matrix operate as a separate cash gifting tier.
A Crypto Orbis affiliate begins by signing up and gifting 0.02841 BTC to the affiliate who recruited them.
This payment in turn qualifies the affiliate to receive 0.02841 BTC from two affiliates recruited into the first level of their matrix.
Unlocking the second level requires another 0.0341 BTC gifting payment.
This payment qualifies a Crypto Orbis affiliate to receive 0.0341 BTC from four affiliates placed in the second level of their matrix.
Once a Crypto Orbis affiliate's matrix is full, they need to start a new matrix by making another 0.02841 BTC gifting payment.
Joining Crypto Orbis
Crypto Orbis affiliate membership is tied to a minimum 0.02841 BTC gifting payment.
Conclusion
Crypto Orbis described itself as a "person-to-person direct contribution platform". This is MLM underbelly marketing waffle for cash gifting.
New Crypto Orbis affiliates make payments to existing Crypto Orbis affiliates, which is the source of 100% of commissions paid out.
Without a constant source of new recruits, matrices stall and Crypto Orbis collapses.
Rose Glenny and her Massive Action Teambuild friends have likely pre-loaded Crypto Orbis to the hilt.
They'll receive the lion's share of deposited funds with the rest of the Crytpo Orbis affiliate-base losing out.