Passive Crypto Review: Seven tiers of bitcoin cash gifting

There is no information on the Passive Crypto website indicating who owns or runs the business.
The Passive Crypto website domain ("passivecrypto.com") was privately registered on November 28th, 2016.
If you visit the Passive Crypto website without a referral code, the site informs you that you've been "invited by Passive Crypto".
If you then click "register", the site informs you that your referring affiliate is Muhammad Shakeel.
This is a static name, with Muhammad Shakeel appearing to be the owner of the Passive Crypto admin account.
Muhammad Shakeel is a common name in Pakistan, however I wasn't able to conclusively narrow down the owner of Passive Crypto.
As always, if an MLM company is not openly upfront about who is running or owns it, think long and hard about joining and/or handing over any money.
The Passive Crypto Product Line
Passive Crypto has no retailable products or services, with affiliates only able to market Passive Crypto affiliate membership itself.
Once signed up, Passive Crypto affiliates gift funds to the affiliate who recruited them.
Gifting payments within Passive Crypto are bundled with adcredits, which can be used to display advertising on the Passive Crypto website.
The Passive Crypto Compensation Plan
The Passive Crypto compensation plan sees affiliates gift bitcoin to eachother via a 2×7 matrix.
A 2×7 matrix places an affiliate at the top of a matrix, with two positions directly under them.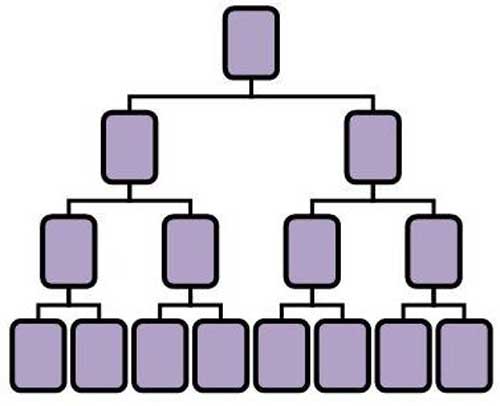 These two positions form the first level of the matrix. The second level of the matrix is generated by splitting each of the two positions into another two positions each.
Subsequent levels of the matrix are generated in the same manner for a total of seven levels.
A complete 2×7 matrix houses 254 positions.
A Passive Crypto affiliate begins by gifting 0.02 BTC to the affiliate who recruited them.
This payment qualifies the affiliate to receive 0.02 BTC from two affiliates recruited into the first level of their matrix.
Gifting across the other six Passive Crypto matrix levels is a repeat-process, with the amount gifted per level increased as follows:
level 1 – gift 0.02 BTC to the affiliate who recruited you and receive 0.02 BTC from two subsequently recruited affiliates
level 2 – gift 0.026 BTC and receive 0.026 BTC from four affiliates
level 3 – gift 0.053 BTC and receive 0.05 BTC from eight affiliates
level 4 – gift 0.2 BTC and receive 0.2 BTC from sixteen affiliates
level 5 – gift 0.93 BTC and receive 0.93 BTC from thirty-two affiliates
level 6 – gift 1.33 BTC and receive 1.33 BTC from sixty-four affiliates
level 7 – gift 2.66 BTC and receive 2.66 BTC from one hundred and twenty-eight affiliates
Note that the above payments (both received and paid) are monthly recurring.
Joining Passive Crypto
Passive Crypto affiliate membership is tied to a monthly 0.02 BTC gifting payment to the affiliate who recruited you.
Full participation in the Passive Crypto MLM opportunity costs 5.219 BTC a month.
Conclusion
Through our peer-to-peer direct upgrade commissions system, our members can earn 100% commissions on their referrals upgrades.
Anytime you see "peer-to-peer" in MLM it's code for cash gifting.
Under the guise of selling adcredits, Passive Crypto operate a seven-tier cash gifting scheme.
Nothing is marketed or sold to retail customers, with all payments within Passive Crypto made between affiliates.
Ultimately whatever is bundled with a fraudulent business model is irrelevant, meaning Passive Crypto's adcredits are only pseudo-compliance.
As with all cash gifting schemes, once recruitment of new Passive Crypto affiliates dies down so too will gifting payments within the scheme.
At that point Passive Crypto collapses, with the majority of affiliates taking a loss.
To put those losses into perspective, one complete 2×7 matrix requires 22,956 0.02 BTC payments fed into the bottom of the company-wide matrix.
Needless to say the only positions getting remotely close to that will be the ones Muhammad Shakeel has preloaded before launch.
Owing to the pass-up nature of the seven passive Crypto matrix tiers, Shakeel is guaranteed to make off with the lion's share of deposited funds.
A few early adopters might make a few dollars here and there, but by and large it will be stories of losses after the inevitable collapse.