Crowdbridge Global Firstlook: CBG Coins Ponzi points?

Crowdbridge Global first popped up on my radar a few months ago. At the time little to no information was available on the company, so I put a closer look on the backburner.
Since then some more information has surfaced. Not enough for a full Crowdbridge Global review, but enough for us to get a sense of the direction the company is headed.
Currently the Crowdbridge Global website is little more than a signup page with the following marketing pitch:
Now, you too can enjoy a career that's built around your life and comfort.

Our system gives you the ability to earn a part-time income by sharing your personal story.

Best of all, you'll earn money while improving the lives of others.
Terms and Conditions likened at the bottom of the page reveal
Crowdbridge Global Nederland B.V. holds registered offices; address at Magnesiumweg 14, 8471 XM, WOLVEGA, Netherlands.
Beyond that though, nothing specific about who owns or runs the company is provided.
The Crowdbridge Global website domain registration doesn't reveal anything, having been privately registered on June 21st, 2017.
To find out anything about company management you have to be on the inside and receiving marketing updates.
One such update recently sent out reveals the founders of Crowdbridge Global to be Hans Pasveer and Harald Ekker.
Hans Pasveer was a top earner in the SiteTalk and LEO pyramid schemes.
Harald Ekker was the owner of Towah, a European payment processing company.
Over the years Towah was attached to multiple fraudulent MLM opportunities, including Bidify, Wenyard and Conligus.
In 2013 $8.9 million dollars invested by Bidify affiliates that passed through Towah simply disappeared.
Prior to founding Towah, Ekker helped scam over 200,000 Norwegians out of millions of dollars through the World Games Inc. pyramid scheme.
The latest incarnation of LEO saw the company introduce the LEO cryptocurrency.
Launched in true altcoin pump and dump fashion, LEOcoin has no use outside of the LEO income opportunity.
After a brief spike of interest last year, LEOcoin haw slowly declined through most of 2017.
The business model however appears to have been a strong inspiration for Crowdbridge Global.
As per a recent marketing update, Crowdbridge Global affiliates will invest in CBG Coin.
CBG Coin at this stage appears to be an non-public altcoin, propped up by nothing more than Crowdbridge Global affiliate investment (ie. Ponzi points).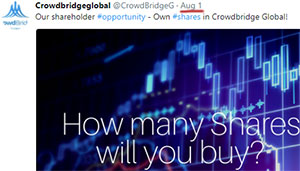 Investment in CBG Coin will pay an unspecified "monthly dividend". Additionally affiliates are also able to increase this dividend by investing in "founder shares".
As far as I can tell Crowdbridge Global have not sought approval to offer shares, virtual or otherwise, in any jurisdiction they operate in.
Pyramid recruitment is also present, with Crowdbridge Global affiliates paid a 15% commission on funds invested by personally recruited affiliates.
Full details are expected to surface in early October, which is when 'the full CBG platform will be live'.
Although Norway is currently the largest source of traffic to the Crowdbridge Global website (45.6%), Thailand is also shaping up to be a major source of investment revenue.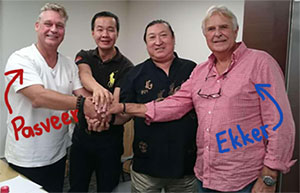 Hans Pasveer and Harald Ekker were recently in Asia pitching Crowdbridge Global to an individuals identified only as "Mr. Tingman" and "Mr. Tongchottnachart".
Tingman and Tongchottnachart run something called "Chinese Dragon Group", whose partnership Pasveer and Ekker perceive as quite the coup.
We introduced the unique CBG concept  to Mr Tingman, a very successful businessman in the area of Asian Pacific.

There is now a mutual agreement reached with the Chinese Dragon Group (CDG).

CDG will join CBG- and this will be a great step in our global vision!

We are very excited to open this great new market and we welcome Mr. Tingman and his team in CBG.

The meeting with Mr Tongchottnachart, who is working together with Mr Tingman in the Thai market,  was also very successful.

Welcome to the great Thai Team as well!
Tingman was the top Chinese affiliate of Leo in China. The plan appears to be to once again get a bunch of gullible people to invest across China and Thailand.
To that end Crowdbridge Global will be holding recruitment events in Thailand between November 24th and 26th.
Whether or not China's recent decision to ban new ICOs will hinder these efforts remains to be seen.
Not that Ponzi points fall under ICO regulation, but it does put a dent in the "eventual ICO" pitch pretty much every Ponzi points scam relies on.
Full details of Crowdbridge Global's compensation plan are expected to be released early next month. Stay tuned…
Update 14th September 2017 – Shortly after this firstlook was published I discovered the Crowdbridge Global compensation plan had been released.
BehindMLM published a full review of Crowdbridge Global on September 14th, 2017.