Concord Consulting Limited Review: $20,000 script Ponzi

There is no information on the Concord Consulting Limited website indicating who owns or runs the business.
The Concord Consulting Limited website domain ("concordconsulting.com") was registered on the 16th of May 2015, however the domain registration is set to private.
Further research reveals Concord Consulting affiliates identifying an "MG Faroque" as the owner of the company;
The owner of the company is MG Faroque. I have known him for quite some time, and have actually had conversations with him via Facebook and phone. He is as honest as it gets.
Faroque is currently advertising Concord Limited Consulting on his Facebook page, with it looking to be a relaunch of something called Enliven LTD: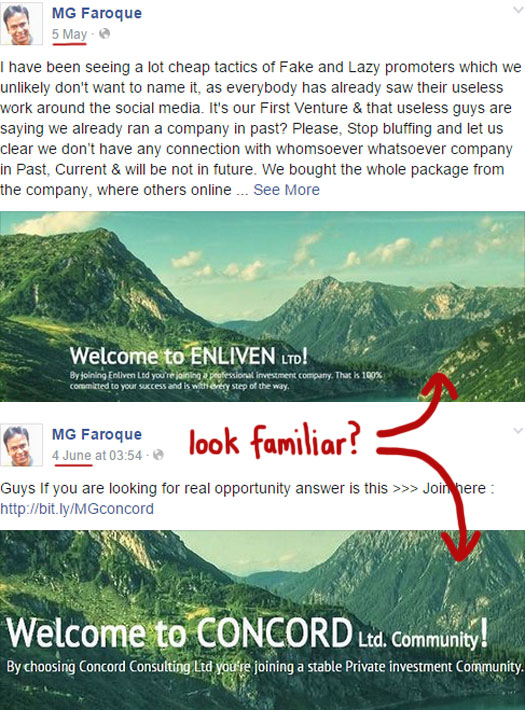 Enliven LTD appears to have launched in early May, with Faroque publishing the following Facebook update on May 2nd:
Dear Friends,

I was just like you who are struggling to make money online, so I know the pain and feeling of losing your savings, money, max out credit card, taking money from your spouse and losing it all.

I know the feeling of being scammed by dishonest admin who take your money and shut down the program, I know the feeling of sucking our money, and when it comes to withdrawal, drama starts one after the other and you can't even take your seed money out. I get all this.

So, I have come to this decision I would like to help all the people out there, to make money online, make the future plan without hesitating that tomorrow you may not get paid. I like to change the mode of online money making fear.

Our plan is pretty simple. Plans 1 to 3 will pay daily profit for 60 business days and your investment will be returned after the 60th business day. And the VIP plan will pay after 40 business days with a total 500% return on your investment.
Advertising for Concord Consulting Limited began on May 22nd, with Faroque later confirming it is a reboot:
(Investor): thought it was called somethign (sic) else (23 May at 06:49)

MG Faroque: name has been changed (23 May at 06:53)

(Investor): enlivin or something liek (sic) that before right? (23 May at 06:54)

MG Faroque: yes, plz go to group. (23 May at 06:55)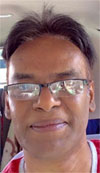 The Facebook group Faroque (right) refers to is set to private, but is presumably where he primarily communicates with Concord Consulting Limited investors.
As for the company itself, on his Facebook profile Faroque lists his location as New York in the US. Despite the presence of a UK company address on the Concord Consulting Limited website, New York is instead likely where the company is being run out of.
Faroque's familiarity with being scammed meanwhile comes as no surprise, with further perusal of his Facebook profile revealing advertising for
IntellaShares (collapsed $2.50 micro Ponzi)
BoomAdz (150% ROI Ponzi scheme)
Rockfeller (350% ROI Ponzi scheme)
PaFunds (250% ROI Ponzi scheme)
Profits Automatic (125% ROI Ponzi scheme)
Money Worldwide ($500 a week ROI Ponzi scheme)
Automatic Mobile Cash ($25 Ponzi scheme)
Powerline Cycler ($50 matrix-cycler Ponzi scheme)
Trinity Lines ($50 three-tier cycler Ponzi scheme)
Friendly Cycler (200% ROI cycler Ponzi scheme),
Best Online Salary System (matrix cycler Ponzi),
Achieve Community ($3.8 million dollar Ponzi scheme shutdown by the SEC)
Double Diamond Cycler ($20 six-tier matrix Ponzi cycler)
Unison Wealth ($35 matrix subscription Ponzi scheme)
Revetrix (1200% ROI Ponzi scheme)
RE247365 (collapsed $39.95 a month pyramid scheme)
Zukul ($25 a month recruitment-driven pyramid scheme)
Lead System Network (cash gifting) and
Empower Network appears to be Faroque's first venture into MLM, with advertisements appearing on his Facebook timeline in March 2014. Promotion of MLM underbelly scams began a few months after.
Read on for a full review of the Concord Consulting Limited MLM business opportunity.
The Concord Consulting Limited Product Line
Concord Consulting Limited has no retailable products or services, with affiliates only able to market affiliate membership with the company itself.
The Concord Consulting Limited Compensation Plan
The Concord Consulting Limited compensation plan sees affiliates invest in two offered plans:
Daily Plan ($25 to $499) = advertised 60 day 205% ROI
VIP Plan ($500 to $20,000) = advertised 45 day 200% "total return"
Referral commissions on investments made by recruited affiliates are paid out via a unilevel style compensation structure.
A unilevel compensation structure places an affiliate at the top of a unilevel team, with every personally recruited affiliate placed directly under them (level 1):

If any level 1 affiliates go on to recruit new affiliates of their own, they are placed on level 2 of the original affiliate's unilevel team.
If any level 2 affiliates recruit new affiliates, they are placed on level 3 and so on and so forth.
Theoretically a unilevel team can extend down an infinite number of levels, however Concord Consulting Limited cap payable unilevel levels to three.
Referral commissions are paid as a percentage of the funds invested by affiliates in a unilevel team as follows:
level 1 (personally recruited affiliates) – 3%
level 2 – 2%
level 3 – 1%
Joining Concord Consulting Limited
Affiliate membership with Concord Consulting Limited is free, however affiliates must invest at least $25 to participate in the income opportunity.
As such, the defacto minimum cost of Concord Consulting Limited affiliate membership is $25.
Conclusion
Concord LTD is a private investment consulting company that began as an idea and vision amongst a group of individuals and entrepreneurs.

Who manages Concord Consulting LTD's investment portfolio?

Our investment portfolio is managed by our team of skilled and experienced trading experts with a primary focus in the currency exchanges.
Despite the narrative presented on the Concord Consulting website, the reality is more in alignment with MG Faroque's MLM history.
Addressing concerns from investors that he was the admin of scams past, Faroque writes:
It's our First Venture & that useless guys are saying we already ran a company in past?

We bought the whole package from the company, where others online program's owner buy as well. If you see there are lot other company are listed under same company we bought the package, we don't pay every single item, we paid for whole website included script, design, hosting, support.
There is no "investment portfolio" or "trading experts".
All that powers Concord Consulting Limited is a cookie-cutter Ponzi scheme script, which shuffles newly invested funds to pay off existing investors.
In the little over a year Faroque has been advertising MLM underbelly schemes, he's amassed a private Facebook group following of over 400 individuals.
Obviously at some point Faroque has decided rather than lead these people from scam to scam and continue to get ripped off, that he'd much rather himself be the one doing the ripping off.
No doubt promising his followers Ponzi riches if they "get in early", that's now where you come in.
Sign up now that Faroque and his Facebook group have preloaded Concord Consulting Limited with positions, and then invest your funds so that they can be paid out.
Then when it comes time to collect your ROI… kaboom.
The initial Enliven LTD 500% ROI after 40 day ROI scheme lasted barely a few weeks. Concord Consulting Limited is a bit more relaxed on its ROI liabilities, but ultimately it too will collapse once new investment slows down.