ClicXAds Review: AdPack bitcoin Ponzi scheme

ClicXAds provides no information on its website about who owns or runs the company.
CliccXAds' website domain ("clicxads.com") was first registered in 2017. The domain registration was last updated with private details on February 16th, 2020.
Through the Wayback Machine I was able to verify that ClicXAds' domain was previously used to market a PTC script.
Although the the February reg update is the last recorded update, ClicXAds promotion began in late 2019. This suggests the domain was acquired prior to Feb 2020.
That said, promotion of ClicXAds appears to have only taken off recently. Alexa recorded an uptick in traffic to ClicXAds' website beginning February 2020.
Update 2nd June 2020 – Marketing videos on ClicXAds' official YouTube channel reveal the company is run by CEO Frank Nii Okanta Ankrah.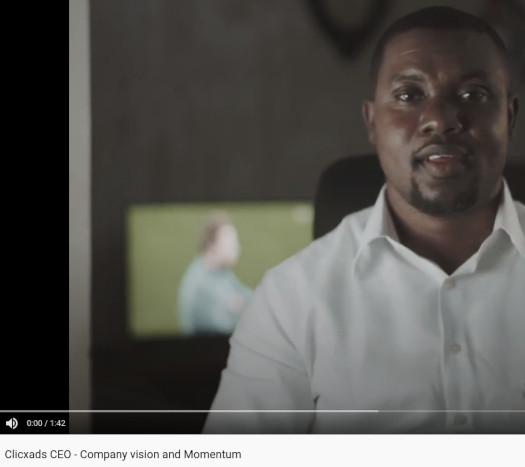 Ankrah describes himself as an "expert in the field of digital marketing sales" and, according to his Facebook page, is currently based out of Quintana Roo in Mexico.
Ankrah is originally from Ghana and appears to target his marketing efforts across Africa.
A Facebook post dated December 2019 suggests that, prior to launching ClicXAds, Ankrah was involved in the collapsed Dunamis Network Ponzi scheme.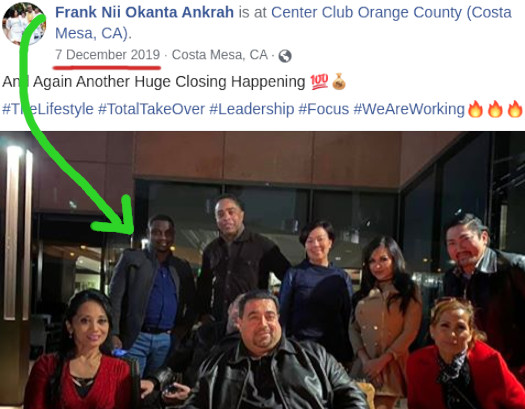 Dunamis Network was launched by BitClub Network scammer Joe Abel. In December 2019 Abel was gearing up to sell Dunamis Network's affiliate-base to theOnyx Lifestyle Ponzi scheme.
Five days after Ankrah's Facebook post, news broke that Joe Abel had been arrested by US authorities for his role in BitClub Network.
This appears to be around the time Ankrah split and went off to launch ClicXAds.
Prior to Dunamis Network Ankrah was promoting iMarketsLive for a few months.
Going back further, in 2017 Ankrah was promoting the Global Dynamic Marketing Ponzi scheme and Appi Travels (then operating as a pyramid scheme).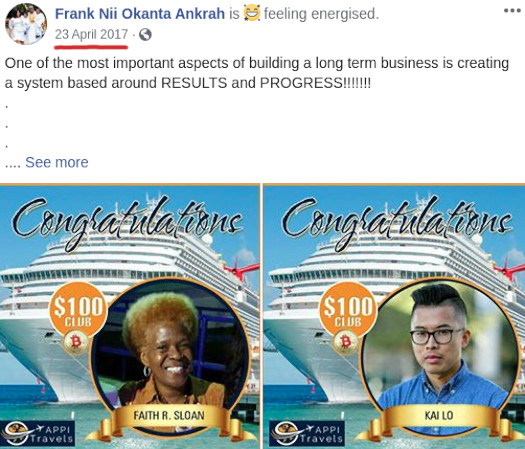 In 2016 it was Vida Divina, which as far as I can tell was Ankrah's first "serious" MLM venture. /end update
Alexa currently cites India (29%), Egypt (16%) and Malaysia (5%) as the top three sources of traffic to ClicXAds' website.
As always, if an MLM company is not openly upfront about who is running or owns it, think long and hard about joining and/or handing over any money.
ClicXAds' Products
ClicXAds has no retailable products or services, with affiliates only able to market ClicXAds affiliate membership itself.
ClicXAds' Compensation Plan
ClicXAds affiliates invest bitcoin on the promise of advertised returns.
Yellow – 0.002861 BTC (requires Basic membership)
Blue – 0.006312 BTC (requires Professional membership)
Green – 0.01434 BTC (requires Enterprise membership)
Red – 0.02872 BTC (requires VIP membership)
ClicXAd affiliate membership is subscription based, and determines returns on the above investment tiers.
Basic – no cost, returns capped at 105%
Professional – 0.001733 BTC a month, returns capped at 111%
Enterprise – 0.004619 BTC a month, returns capped at 115%
VIP – cost not disclosed, returns capped at 118%
Referral Commissions
ClicXAds pays referral commissions on invested funds down three levels of recruitment (unilevel):
Basic tier affiliates receive 3% on level 1 (personally recruited affiliates)
Professional tier affiliates receive 4% on level 1 and 1% on level 2
Enterprise tier affiliates receive 5% on level 1, 2% on level 2 and 1% on level 3
VIP tier affiliates receive 6% on level 1, 3% on level 2 and 2% on level 3
Matrix Commissions
ClicXAds has some sort of randomized matrix in its compensation plan.
ClicXAds marketing details commissions paid down six tiers, but fails to provide specifics on matrix size or what commissions are paid out on.
Presumably, matrix commissions are paid on affiliate membership fee payments.
For reference, here are the matrix level commission rates:
level 1 – 20%
level 2 – 15%
level 3 – 10%
level 4 – 7%
level 5 – 5%
level 6 – 2%
Supposedly the matrix is shuffled around every 7 days.
Joining ClicXAds
ClicXAds affiliate membership ranges from free to the undisclosed monthly cost of VIP membership.
Basic – no monthly cost
Professional – 0.001733 BTC a month
Enterprise – 0.004619 BTC a month
VIP – cost not disclosed
The more an affiliate spends on membership fees the higher their income potential through ClicXAds' compensation plan.
Note that all payments within ClicXAds are made in bitcoin.
Conclusion
ClicXAds is a simple adcredit Ponzi scheme.
You sign up, invest in AdPacks and collect a return paid out of subsequent investment.
The use of invested funds to pay returns is what makes ClicXAds a Ponzi scheme.
Commissions paid on recruited affiliate investment adds an additional pyramid layer to the scheme.
As with all MLM Ponzi schemes, once affiliate recruitment runs dry so too will new investment.
This will starve ClicXAds of ROI revenue, eventually prompting a collapse.
The math behind Ponzi schemes guarantees that when they collapse, the majority of participants lose money.