BTC Auto Matrix Review: BTC Ponzi cycler triangle

BTC Auto Matrix provide no information on their website about who owns or runs the business.
The BTC Auto Matrix website domain ("btcautomatrix.com") was privately registered on July 11th, 2017.
As always, if an MLM company is not openly upfront about who is running or owns it, think long and hard about joining and/or handing over any money.
BTC Auto Matrix Products
BTC Auto Matrix has no retailable products or services, with affiliates only able to market BTC Auto Matrix affiliate membership itself.
The BTC Auto Matrix Compensation Plan
BTC Auto Matrix affiliates purchase positions in a 3×3 matrix cycler.
A 3×3 matrix places a BTC Auto Matrix affiliate at the top of a matrix, with three positions directly under them: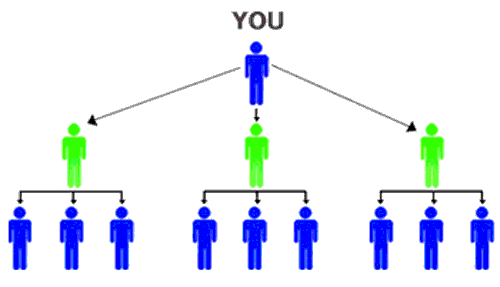 These three positions form the first level of the matrix.
The second level of the matrix is generated by splitting these three positions into another three positions each (9 positions).
The third level of the matrix is generated in the same manner and houses 27 positions.
A BTC Auto Matrix affiliate signs up and purchases a position for 0.005 BTC.
The three positions on the first level of their matrix are filled via direct and indirect recruitment.
Once filled a 0.002 BTC commission is paid out and the second level unlocked.
level 2 of the matrix pays 0.01 BTC
level 3 of the matrix pays 1 BTC
A referral commission of 0.002 BTC and 0.035 BTC is paid when personally recruited affiliates cycle out of levels 1 and 2 of the matrix.
Note that after level 3 has been cycled, an affiliate has to purchase additional 0.005 BTC positions to continue to participate in the BTC Auto Matrix opportunity.
Joining BTC Auto Matrix
BTC Auto Matrix affiliate membership is free, however affiliates must purchase at least one 0.005 BTC cycler position to participate in the attached income opportunity.
Conclusion
Cycling out of level three of the BTC Auto Matrix matrix generates two positions on both Straight Cycler and World Best Cycler.
Both of these are Ponzi cyclers, suggesting a serial scammer is behind BTC Auto Matrix.
World Best Matrix launched last month and appears to have stalled on July 7th. Straight Cycler is a similar story and collapsed on July 10th.
Both these collapses likely prompted the launch of BTC Auto Matrix.
BTC Auto Matrix uses the same Ponzi cycler model. That is affiliates invest 0.005 BTC on the promise of a 1.012 BTC ROI (once mandatory Straight Cycler and World Best Cycler positions have been subtracted).
The ROI is paid out of subsequent cycler position purchases by other BTC Auto Matrix affiliates, making it a Ponzi scheme.
As with all Ponzi schemes, once affiliate recruitment drops off so too will newly invested funds.
This will see BTC Auto Matrix starved of funds and unable to meet its ROI obligations.
Like Straight Cycler and World Best Cycler, BTC Auto Matrix will collapse and see the majority of participants lose money.