BnB Trades Review: Finance-themed Ponzi investment

There is no information on the BnB Trades website indicating who owns or runs the business.
An address in the US state of Michigan features on the website. Further research reveals this address to belong to "Michigan Runner Service".
I wasn't able to find any further information on this company, but did note that multiple business provide the same street address but with a PO Box number. This indicates that Michigan Runner Services may provide mail forwarding services for their clients.
The BnB Trades website domain ("bnbtrades.com") meanwhile was registered on the 7th of April 2015, however the domain registration is set to private.
Traffic analysis may provide some insight into where BnB Trades is being run out of. Alexa currently estimates that Poland (18.5%), India (18.2%) and Russia (14.3%) are the top three countries providing traffic to the BnB Trades domain.
Together these countries make up 51% of all traffic to the BnB Trades website, with the owner(s) of the company likely residing in one of the three.
My money is on India, based on the fact that if one clicks the "Western Union" logo at the bottom of the BnB Trades website, rather than the global Western Union website one is instead redirected to "india.westernunion.com".
This fits the offering of pointless business registration certificates on the BnB Trades website, which is a hallmark of Indian-based scams.
Ditto the awkward English present in the company's FAQ and T&Cs:
What is Bulls and Bears Traders (BnB)?

Bulls and Bears Traders is a registered company from Canada and United States that offers private clients investing into high profit business process optimization.
As always, if an MLM company is not openly upfront about who is running or owns it, think long and hard about joining and/or handing over any money.
The BnB Trades Product Line
BnB has no retailable products or services, with affiliates only able to market BnB Trades affiliate membership itself.
The BnB Trades Compensation Plan
The BnB Trades compensation plan sees affiliates invest up to $10,575 on the expectation of advertised ROIs. Referral commissions are also paid for encouraging recruited affiliates to invest.
ROIs
BnB Trades advertise ROIs on sums of money affiliates invest with the company.
ROIs are paid out daily (weekdays) for twelve to twenty-four months, which how much of a daily ROI paid out determined by how much a BnB Trades affiliate invests:
Prime Stake ($119) – 1% to 1.5% a day for 12 months
Yield Stake ($447) – 1.25% to 1.75% a day for 12 months
Proxy Stake ($1157) – 1.5% to 2% a day for 15 months
Hedge Stake ($2814) – 1.7% to 2.25% a day for 15 months
Blue Chips Stake ($5024) – 2% to 2.5% a day for 18 months
Premium Stake ($10,575) – 2% to 2.5% a day for 24 months
Again note that ROIs are only paid out on weekdays (Mon-Fri).
Referral commissions are offered on all recruited affiliate investments, paying 10% of the funds invested.
Residual Commissions
Residual commissions in BnB Trades are paid out via a binary compensation structure.
A binary compensation structure places an affiliate at the top of a binary team, split into two sides (left and right):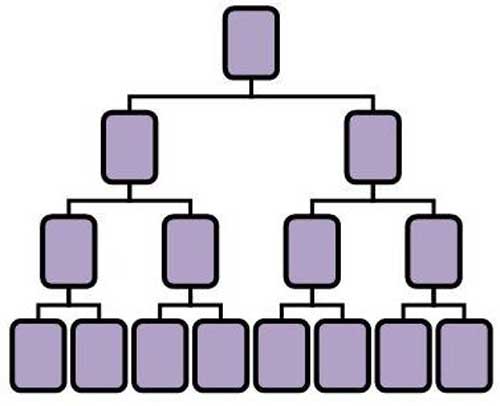 Filled positions in the binary represent recruited affiliates, with the amount they invest tracked between the two sides.
Investment activity on both sides of the binary are tallied up daily, with a BnB Trades affiliate paid 10% of the funds invested on their weaker side (the side with less investment volume).
Note that binary commissions are capped, with how much can be earnt daily determined by how much an affiliate has invested:
Prime Stake to Proxy Stake – $3000 a day
Hedge Stake and Blue Chips Stake – $6000 a day
Premium Stake – $10,000 a day
A matching bonus is also available, paying out a percentage of commissions earned by recruited affiliates.
The binary matching bonus pays out down a maximum of five levels of recruitment as follows:
level 1 (personally recruited affiliates) – 5%
level 2 – 3%
level 3 – 2%
levels 4 and 5 – 1%
Mandatory Reinvestment
Note that 25% of all commissions paid out to BnB Trades affiliates must be reinvested back into the company.
Joining BnB Trades
Affiliate membership with BnB Trades is free, however affiliates must invest if they wish to participate in the income opportunity.
As such, the defacto minimum cost of BnB Trades affiliate membership is $119 (the cost of Prime Stake investment).
Conclusion
Despite the obvious references to the stock market (BnB Trades stands for "Bulls & Bears Trades"), BnB Trades operate a simple Ponzi scheme frontend backed by a residual binary backend.
Nothing is being marketed or sold to retail customers, with all revenues flowing into the company sourced via affiliate investment.
Similarly, all ROIs and commissions paid out are also sourced from affiliate investment.
Simply put: BnB Trades simply take newly invested funds and use it to pay off existing investors, with binary and referral commissions acting as recruitment incentives.
As with all Ponzi schemes, once newly invested funds dries up BnB Trades will find itself unable to meet its daily ROI obligations.
This will first present itself by way of a slowdown in binary commissions, as this is the clearest indication of a lack of new funds coming in.
Note that the 25% mandatory re-investment will serve to keep BnB Trades from stalling a little while longer, but doesn't actually introduce any new funds into the scheme. As per the mathematics of paying out more than you take in, sooner or later BnB Trades will inevitably collapse.
What happens then?
As per the BnB Trades Terms and Conditions:
If any dealing between the company and the client is not successful or is not as profitable as it was meant, in that case the company will not be responsible.

The transactions are private and if they are not fruitful then in that case the company will not be accused of any charges.
The anonymous BnB Trades admin does a runner with whatever is left.
Of particular concern here are the lengthy maturity periods in play, offering the admin maximum flexibility in stealing funds still trapped in the system.
Finally I'll address the supposed business registration in the US, as portrayed on the BnB Trades website.
Two certificates are presented on the "BnB Legal" section of the BnB Trades website; one purportedly from the British Columbia Registry Services (Canada) and the other the Michigan Department of Licensing and Registry Affairs.
Putting aside the fact that the individual(s) would have likely filed for these registrations with fake details (assuming they are even legitimate registrations to begin with), the Canadian registration is neither here nor there.
Ditto the Michigan registration, with the only registration mattering when it comes to offering investments in the US being that with the SEC.
There is no mention of the SEC on the BnB Trades website, pertaining to registration or otherwise.
Thus it's a safe bet to assume BnB Trades are not registered with the SEC, and are therefore engaged in the offering of unregistered securities to US-based investors.
Being a Ponzi scheme, little does it matter where the schemes investors originate from. Seeing as the scammers behind BnB Trades sought to represent themselves as being registered in the US however, I thought I'd clarify the issue.