Bitcoin Ascension Review: 2×6 matrix bitcoin gifting scheme

A testimonial from Arla Mendenhall on the Bitcoin Ascension website identifies Ivan Mircic, Tom Kent, Amber Lee as admins of the company.
The Bitcoin Ascension website domain ("bitcoinascension.com") was privately registered on November 2nd, 2017.
On Ivan Mircic's Facebook page he refers to Bitcoin Ascension as "my program".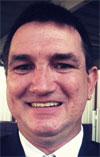 In a Facebook post dated December 3rd, 2017, Mircic (right) confirms he owns the company:
After a lot of work I have designed and will be launching my own program today.

Being the owner is an exciting feeling and I can't wait to share it will everyone.
Ivan Mircic first appeared on BehindMLM's radar in 2015, as one of the Facebook group admins for the Money Go Round Ponzi scheme.
Money Go Round was modeled on the Achieve Community Ponzi scheme, which the SEC shut down in February, 2015.
As with most residents of the MLM underbelly, Mircic has transitioned seamlessly into cryptocurrency fraud.
Scams promoted by Mircic over the past year include Double Your BTC (bitcoin Ponzi doubler) and Click Intensity's failed Ads Cash pump and dump ICO.
Bitcoin Ascension Products
Bitcoin Ascension has no retailable products or services, with affiliates only able to market Bitcoin Ascension affiliate membership itself.
The Bitcoin Ascension Compensation Plan
Bitcoin Ascension affiliates gift each other bitcoin through a 2×6 matrix.
A 2×6 matrix places an affiliate at the top of a matrix, with two positions directly under them: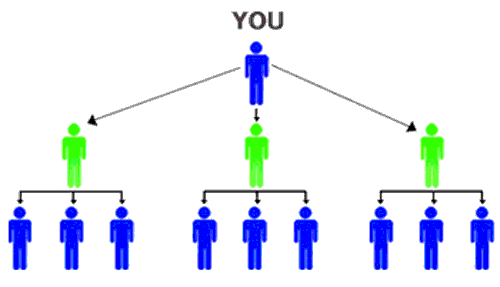 These two positions form the first level of the matrix. The second level of the matrix is generated by splitting these first two positions into another two positions each.
Levels three to six of the matrix are generated in the same manner, with each new level housing twice as many positions as the next level.
A Bitcoin Ascension affiliate signs up and gifts 0.004 BTC to the affiliate who recruited them.
This payment in turn qualifies the affiliate to recruit 0.004 BTC from two subsequently recruited affiliates, placed into the first level of their matrix.
Levels two to six of the matrix operate in the same manner.
Each level of the matrix requires a larger bitcoin gifting payment be made in order to receive gifting payments from other Bitcoin Ascension affiliates as follows:
level 1 – gift 0.004 BTC and receive 0.004 BTC from two affiliates
level 2 – gift 0.008 BTC and receive 0.008 BTC from four affiliates
level 3 – gift 0.02 BTC and receive 0.016 BTC from eight affiliates
level 4 – gift 0.04 BTC and receive 0.04 BTC from sixteen affiliates
level 5 – gift 0.1 BTC and receive 0.1 BTC from thirty-two affiliates
level 6 – gift 0.6 BTC and receive 0.6 BTC from sixty-four affiliates
Joining Bitcoin Ascension
Bitcoin Ascension affiliate membership is tied to a 0.004 BTC gifting payment.
Conclusion
Under the guise of giving and receiving donations, Bitcoin Ascension operates as a simple enough gifting scheme.
New affiliates sign up, gift bitcoin to those who joined before them and then proceed to receive gifting payments from those recruited after them.
Once recruitment slows down so too do new gifting payments, eventually resulting in the majority of participants losing money (the group waiting to recoup their initial gifting payment is always the largest).
Matrix-based gifting schemes like Bitcoin Ascension primarily benefit those running them.
Via one or more pre-loaded admin positions, Ivan Mircic sits at the top of the Bitcoin Ascension company-wide matrix.
Through pass-ups of larger and larger amounts of bitcoin on each matrix level, Mircic receives the lion's share of deposited bitcoin.
Typically matrix-based bitcoin schemes collapse before anyone than a few who joined early make any money.
In Bitcoin Ascension this would be the group of admins Arla Mendenhall cited in her testimonial.
One last fun fact I'll leave you with is that when Achieve Community was busted by the SEC, Mendenhall was one of the first to demand her money back.
At the time Mendenhall claimed she 'had no knowledge of anything illegal when (she) joined" Achieve Community.
Evidently two and a half years later Mendenhall is still participating in and attempting to profit from scams.
Some people never learn.