Serial scammer claims Achieve Community Ponzi ignorance

Whenever there's a Ponzi scheme bust up you always get three type of scammers.
Those who made a pretty-penny and slink off into the darkness, hoping they are over-looked.
Those who immediately move onto reload scams and try to drag their downlines with them.
And those who throw their hands up in the air, pretend they had no idea they were participating in a fraudulent scam and demand they be paid their money back.
Guess which one of those Arla Mendenhall is?
In a letter dated February 26th to the Colorado District Court currently hearing the SEC's Achieve Community Ponzi lawsuit, Mendenhall pleads her case.
The earnings showing on my 1099 Tax statement from Troy Barnes is showing as $6000.

I only withdrew $800 and the rest $5200 was re-invested in the business although I had to pay $6000 in taxes.

I would appreciate getting reinbursed (sic) for my losses in this business.

I had no knowledge of anything illegal when I joined the business.
Putting aside the fact that ignorance is no excuse, did Mendenhall really not know Achieve Community was a multi-million dollar Ponzi scheme?
Mendenhall first mentioned Achieve Community on her Facebook wall on the 9th of September 2014.
This is probably around the time she invested her $8450 into the scheme.
The post Mendenhall made was promoting an Achieve Community update, in which it was claimed the scheme had '$136,000 paid out in just over 2 months'.

'Turn one $50 position into $400' Mendenhall's post proclaims.
Describing Achieve Community as "the only no effort way to make money anywhere", Mendenhall's Facebook wall is full of Achieve Community promotional activity.
A ONE-TIME fee of 50 Dollars for a position in Achieve Community and turn it into 400 Bucks OVER & OVER AGAIN!! (13th September 2014)
Achieve! For continued income: Start with at least one $50.position,earn $400, repurchase with part of those profits, Repeat. (22nd September 2014)
Achieve is without any doubt the best opportunity on the internet and has without any doubt the most caring founders.

Be wise and join the Achieve Community asap and secure your financial future !!!!

Learn how a one-time purchase of $50 can help you to earn 400 over and over. (4th December 2014)
We now have 12,300+ paid members.

If you have not already joined what are you waiting for?

NO personal selling or recruiting needed to get paid. (7th December 2014)
Achieve is "NO DOUBT" The No.1 BEST Income Opportunity on the Planet!!!! NO EXPERIENCE – No Learning Curve,..just join and you will make unlimited Income with The Achieve Program PERIOD! JOIN US (December 13th 2014)
ACHIEVE is an International company open to anyone of legal age (in your country) and available in all countries except: a few No personal recruiting, just time.

We want to make a difference for you too. Everything you need to know is here! With a Life Time Income Plan, totally unique, simply unbeatable!

None of it goes to a Corporate Board, the owners are members just like us so we are all owners.

Achieve with us!

If you have not already joined what are you waiting for? (December 16th 2014)
If Mendenhall truly believes herself to be an owner of Achieve Community, perhaps she should trot down to her local SEC office and turn herself in.
With the actual owners of the scheme facing criminal charges and an SEC civil investigation, I'm sure they'd love a third-owner to scapegoat.
But I digress, just to recap – by Mendenhall's own admission she described Achieve Community as a "no effort" opportunity where one pumped $50 into it and $400 came out, again and again and again.
She perfectly understood Achieve Community's Ponzi business model but now claims she didn't realize Ponzi schemes were illegal?
Really?
Before Mendenhall began pimping the Achieve Community on Facebook, she was advertising a "210% or 220% return on your money" through DBM Masterminds.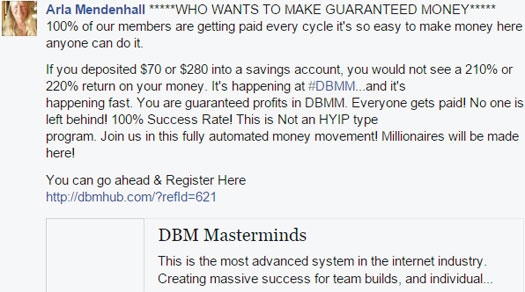 DBM Masterminds saw affiliates invest either $70 or $280 on the promise of a $150 or $625 ROI respectively.
Sound familiar?
DBM Masterminds ran out of money and collapsed in late 2014.
Prior to DBM Masterminds, Mendenhall fancied herself a little cash gifting through Blessing Gold Club (2013):

Blessing Gold Club saw Mendenhall and other participants gift thousands of dollars among themselves to qualify to receive thousands of dollars from those they recruited into the scheme.
With a low-level Ponzi scheme and gifting scheme already under her belt, clearly when Mendenhall signed up for Achieve she was no stranger to scams.
Perhaps the smoking gun though was her involvement in the $850 million dollar Ponzi scheme, Zeek Rewards.

How much money Mendenhall stole from Zeek's victims is unclear, but she was named by the court-appointed Receiver as a US net-winner who made more than $1000 in the scheme.
Mendenhall's name appears on a list of some 9000 Zeek investors who refused to pay back the money they stole from victims. Legal action against the investors on the list who have still not settled with the Receiver is ongoing.
Yet despite her prior involvement in one of the biggest MLM Ponzi schemes in history, Mendenhall would now have the District Court of Colorado believe she had no idea the Achieve Community Ponzi scheme was illegal.
I could keep going and dig up Mendenhall's involvement in a number of shady schemes prior to Zeek, but is there any point?
Clearly she understands what a Ponzi scheme and how it works – so the question begs, why is she lying to the Colorado court about it?
That Mendenhall lost money in Achieve Community certainly seems to be the case.
And I'm not suggesting that, like the other victims in the scheme, she's not entitled to a share of the funds recovered.
But emailing the court, lying your tits off and expecting special treatment? That's pretty low.
Mendenhall, like the rest of Achieve Community's victims will get some of their money back in due course. There's a process that has to play out here, and only then will we start to see funds returned. And that's still a long ways off.
Perhaps during in that time Mendenhall might pause and take stock of the people she's ripped off over the years by dragging them into scams like Achieve.
Having now been on the losing side of a scam (that must have stung), now also might be the time to give the MLM underbelly up for good.
Apologize to those you conned into Achieve and sit tight, there's really nothing else for it until we're advised otherwise.
Footnote: Our thanks to Don@ASDUpdates for providing a copy of Arla Mendenhall's letter to the Colorado District Court.
Update 7th July 2015 – The SEC has formally opposed Mendenhall's intervention seeking Plaintiff status, 'as that intervention could have the effect of placing Ms. Mendenhall's interests before the interest of other similarly-defrauded investors.'
Caselaw is also cited to support the SEC's opposition, with the agency concluding;
While the SEC is sympathetic to Ms. Mendenhall's position as a defrauded investor – indeed, the reason the SEC sought an emergency restraining order and asset freeze was to halt this fraud and protect investor assets – it cannot consent to Ms. Mendenhall's request to intervene.

There are myriad investors who were defrauded by Defendants. The SEC cannot consent to one investor's intervention, which could put her interests in front of other investors who suffered the same type of losses.

Ultimately, the SEC is seeking to return assets to investors in an equitable and efficient manner, and permitting Ms. Mendenhall (or any other individual investor or group of investors) to intervene could frustrate that purpose.

For these reasons, the SEC respectfully declines to consent to Ms. Mendenhall's request to intervene.
Kristi Johnson has also filed a joiner, supporting the SEC's opposition for the reasons they cite.
A Judge has yet to make a decision on the matter, but I'm really not seeing this go through.