AxeMediaTV Review: $39 a month pirated streams + recruitment

AxeMediaTV provides no information on their website about who owns or runs the business.
The AxeMediaTV website domain ("axemedia.tv") was privately registered on May 3rd, 2018.
In their Privacy Policy and Terms of Service, AxeMediaTV provide a virtual office address in Las Vega, Nevada.
Update 13th August 2018 – Anthony Oxley is citing himself as CEO of AxeMediaTV on his LinkedIn profile;

As per his profile, Oxley is also CEO of Vicinity Ascent, a "modern, responsive real estate IDX & web solutions provider."
Why this information isn't provided on the AxeMediaTV website is unclear /end update
As always, if an MLM company is not openly upfront about who is running or owns it, think long and hard about joining and/or handing over any money.
AxeMediaTV Products
AxeMediaTV has no retailable products or services.
Everyone that subscribes to AXEMediaTV monthly will automatically be enrolled in our AXERewards program.
AxeMediaTV market a $39 a month streaming service, with every subscriber counted as an affiliate.
Watch AXEMediaTV on your smartphone, computer, or big screen with a compatible streaming device.

Never miss a minute of the big game or your favorite shows—on your time, anywhere you go.
AxeMediaTV claims its streaming service provides access to
24/7 movies and shows (and) over 5k HD channels in over 50 countries around the world.
AxeMediaTV fail to disclose any broadcast agreements with copyright holders on their website, suggesting content it provides access to is pirated.
Update 7th August 2018 – I did some digging around and through AxeMediaTV's signup process, derived that the company is simply selling access to "MyWifi TV".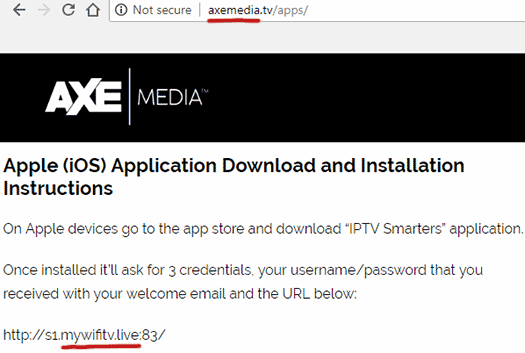 On their website, MyWifi TV advertise a $20 a month IPTV subscription. A "reseller program" is also mentioned, which is presumably what AxeMediaTV are reselling.
MyWifi TV appears to be a fly-by-night pirate stream provider that only popped up earlier this year.
Note: channel lineup is subject to change at anytime. We do our best to provide the best streams possible.
Totally legit… /end update
The AxeMediaTV Compensation Plan
AxeMediaTV affiliates pay $39 a month and are paid to recruit other affiliates who do the same.
AxeMediaTV pay commissions down three levels of recruitment (unilevel):
level 1 (personally recruited affiliates) – $10
level 2 – 2%
level 3 – 3%
Joining AxeMediaTV
AxeMediaTV affiliate membership is $39 a month.
Joining AxeMediaTV
We've seen a few MLM pirate stream companies pop up, with AxeMediaTV's model being the most paper-thin.
Typically an MLM company offering access to stolen content will charge a few hundred for a stream box, pre-configured to access pirated streams.
AxeMediaTV do away with that and instead offer a software "video player".
The underlying premise is the same though, you pay AxeMediaTV a monthly fee and they provide you access to stolen content.
Everyone is an affiliate, meaning 100% of commissions AxeMediaTV pay out are tied to recruitment.
In summary; AxeMediaTV combines copyright infringement with pyramid recruitment.
Pretty every MLM streaming opportunity ends in one of two ways:
recruitment dies down and the company collapses (maintenance is typically abandoned at this point and the streams eventually stop working)
a content creator sues the company for copyright infringement (probably why AxeMediaTV don't disclose who's running things)
Take your pick, with either making for a predictable outcome to a terrible MLM opportunity.