AutoBTC Builder Review: Six-tier 2×2 matrix bitcoin Ponzi cycler

AutoBTC Builder provide no information on their website about who owns or runs the business.
The AutoBTC Builder website domain ("autobtcbuilder.com") was privately registered on July 14th, 2017.
A marketing video on the AutoBTC Builder website is hosted on a Vimeo account bearing the name "Gregory Aggesen".
Further research reveals Aggesen confirming he is the owner of AutoBTC Builder on Facebook:

Aggesen's Facebook history dates back to 2010, with promotion of the collapsed TVI Express pyramid scheme.
More recently Aggesen was linked to the twice collapsed JetCoin Ponzi scheme.
Read on for a full review of the AutoBTC Builder MLM opportunity.
AutoBTC Builder Products
AutoBTC Builder has no retailable products or services, with affiliates only able to market AutoBTC Builder affiliate membership itself.
The AutoBTC Builder Compensation Plan
AutoBTC affiliates purchase 0.0167 to 4.05 BTC positions in a six-tier 2×2 matrix cycler.
A 2×2 matrix places an AutoBTC Builder affiliate at the top of a matrix, with two positions directly under them: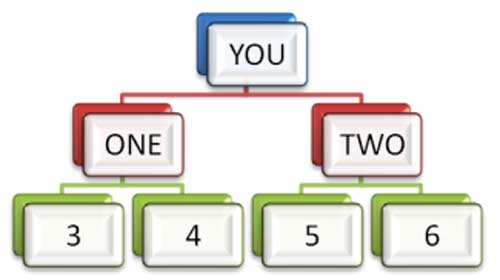 These two positions form the first level of the matrix. The second level of the matrix is generated by splitting these first two positions into another two positions each (4 positions).
Positions in the matrix are filled when new and existing AutoBTC Builder affiliates purchase cycler positions.
Once all six positions in a matrix are filled, a "cycle" is generated and a commission paid out.
Commissions paid out across AutoBTC Builder's six cycler tiers are as follows:
Level 1 (positions cost 0.0167 BTC) – pays a 0.05 BTC cycle commission
Level 2 (positions cost 0.05 BTC) – pays a 0.15 BTC cycle commission
Level 3 (positions cost 0.15 BTC) – pays a 0.45 BTC cycle commission
Level 4 (positions cost 0.45 BTC) – pays a 1.35 BTC cycle commission
Level 5 (positions cost 1.35 BTC) – pays a 4.05 BTC cycle commission
Level 6 (positions cost 4.05 BTC) – pays a 12.15 BTC cycle commission
Joining AutoBTC Builder
AutoBTC Builder affiliate membership is tied to a 0.0167 to 4.05 BTC cycle position.
Full participation across all six AutoBTC Builder cycler tiers costs 6.0667 BTC.
Conclusion
AutoBTC Builder presents itself as a simple 0.0167 BTC minimum investment Ponzi scheme.
Affiliates invest in cycler positions, with each tier designed to suck up more money.
Affiliate positions are shuffled toward the sixth tier, wherein Gregory Aggesen takes as much money as he or she wants before anyone else.
To provide some perspective to AutoBTC Builder's compensation plan, 0.0167 BTC payments deliver a potential 12.15 BTC ROI.
That's 727 first-tier investments, not accounting for additional buy-ins across levels 2 to 6.
Still, it's pretty obvious most AutoBTC Builder affiliates aren't going to have 727 investments placed after their own.
On top of that there's Ponzi math to consider, which guarantees that when a Ponzi scheme collapses the majority of investors lose money.