AdFeedz Review: Adcredit Ponzi pretends to offer cashback

AdFeedz provides no information on its website about who owns or runs the business.
The AdFeedz website domain ("adfeedz.com") was privately registered on November 2nd, 2018.
A since-deleted AdFeedz marketing presentation hosted on the company's website ties company support to a Skype account bearing the name "merry.makowski":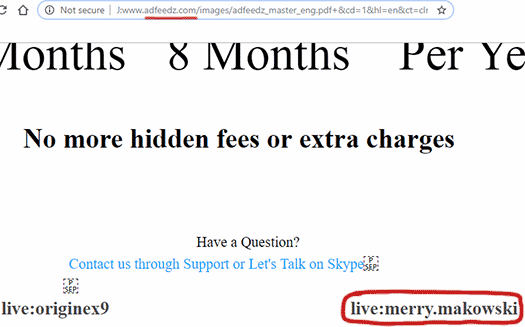 Makoswki (right) was one of the first people to promote AdFeedz and started on November 8th, a full eight days before the company officially launched (Nov 16th).
According to her Facebook profile, Makowski is based out Ontario, Canada.
Prior to AdFeedz Makowski was promoting the Crypto Pros pyramid scheme. She is/was also a CryptoTab Browser affiliate.
On her LinkedIn profile, Makowski credits herself as "owner" of MMM Global.
Rather than the notorious Ponzi scheme of the same name, Makowski claims 'that MMM happens to be the initials of my full legal name and I used that when I first came online'.
Over the past year Makowski has promoted a number of cryptocurrency projects, most of which have failed and causes widespread losses.
Given Makowski manages the official AdFeedz Facebook page, it is assumed she is running the company.
Pending evidence to the contrary, it is also assumed Merry Makowski and "Ori Ginex" are one and the same.
Read on for a full review of the AdFeedz MLM opportunity.
AdFeedz Products
AdFeedz has no retailable products or services, with affiliates only able to market AdFeedz affiliate membership itself.
Once signed up AdFeedz affiliates can invest in $29 "profit contracts".
Bundled with each profit contract investment are a series of ad credits, which can be used to display advertising on the AdFeedz website.
The AdFeedz Compensation Plan
AdFeedz affiliates invest in $29 adpacks on the promise of an advertised 120% ROI.
Your profit contract will stay active for 50 days or until it
expires by reaching the maximum 120% (34.8 USD).
As above, AdFeedz represents the 120% ROI will be paid out within 50 days.
A 10% referral commission is paid on adpack investments by personally recruited affiliates.
Residual Commissions
AdFeedz pay residual commissions via a unilevel compensation structure.
A unilevel compensation structure places an affiliate at the top of a unilevel team, with every personally recruited affiliate placed directly under them (level 1):

If any level 1 affiliates recruit new affiliates, they are placed on level 2 of the original affiliate's unilevel team.
If any level 2 affiliates recruit new affiliates, they are placed on level 3 and so on and so forth down a theoretical infinite number of levels.
AdFeedz takes 20% of funds invested across the first ten levels of an affiliate's unilevel team, and places it into a Team Pool.
Rather than an individual affiliate getting paid what's in the Team Pool, AdFeedz splits the balance with an affiliate and every affiliate with an active profit contract across the first ten levels of their unilevel team.
Each profit contract across these ten levels counts as one share, calculated daily when the Team Pool is paid out.
Group Pool
Within AdFeedz there are affiliate "groups". AdFeedz affiliates who pay $599 every 4 months, $999 every 8 months or $1299 every 12 months can be designated "group managers".
Group Managers receive an additional 5% of funds invested by their downline.
AdFeedz also takes 20% of profit contract investment across a group and places it into the Group Bonus.
The Group Bonus is shared at the end of each day to each affiliate in the group who has an active profit contract.
Each active profit contract counts as one share in the Group Pool.
Global Pool
AdFeedz takes 20% of company-wide investment and places it into the Global Pool.
The Global Pool is paid out daily to affiliates with active profit contract investment positions.
Each profit contract counts as one share in the Global Pool.
Surf Pool
AdFeedz takes 10% of invested funds and places it into the Surf Pool.
Affiliates who visit supplied websites receive 1 share in the Surf Pool per site visited.
At the end of each day AdFeedz pays out the Surf Pool to affiliates who hold shares in the pool.
Joining AdFeedz
AdFeedz affiliate membership is free.
While free affiliates can earn some commissions however, full participation in the AdFeedz MLM opportunity requires a minimum $29 investment every 50 days or so.
Conclusion
By their own admission, AdFeedz recycles 90% of invested funds to pay their affiliates.
Our compensation plan is a foolproof, unique, never seen before system paying out up to 90% commission!
This makes AdFeedz your typical adcredit Ponzi scheme.
AdFeedz affiliates invest $29 or more on the promise of a 120% ROI.
Every Purchase will give you a profit contract, you will receive cash back up to 50 days or until you reach up to 120% of the amount you purchase.
The ROI is paid out of subsequently invested funds, with affiliates encouraged to roll over returns through new investment.
Note AdFeedz's erroneous use of the term "cash back".
Legitimate cash back sees a percentage of a purchase returned to buyer. Naturally if this was 120% of the price paid, the company offering cash back would soon go out of business.
AdFeedz's feeble attempt at pseudo-compliance sees them attempt to redefine an investment return as cash back.
While the pseudo-compliance attempt itself is meaningless, it's important to demonstrate the distinction between legitimate cash back and AdFeedz Ponzi returns.
When AdFeedz affiliate recruitment inevitably slows down, so too will new investment.
This will starve AdFeedz of ROI revenue, eventually prompting a collapse.
The math behind all Ponzi schemes guarantees that when they collapse, the majority of investors lose money.