3to600 Review: $3 to $777 matrix cycler Ponzi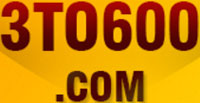 There is no information on the 3to600 website indicating who owns or runs the business.
Recognizing the 3to600 website design layout, my first thought was this was a reboot of Angela Dumais' 1 Million Fast.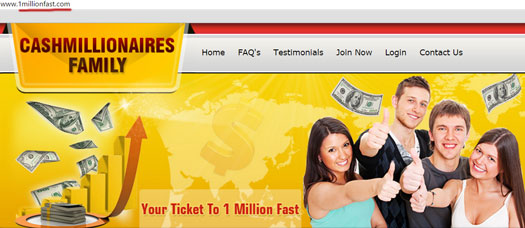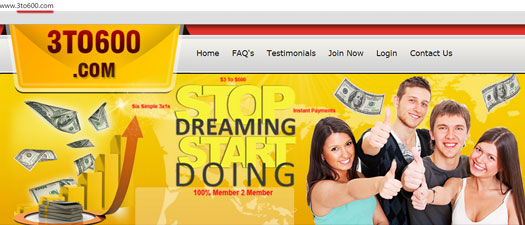 The 3to600 website domain registration however lists Robert Mcatamney as the owner. An address in Queensland, Australia is also provided.
Mcatamney first popped up on BehindMLM's radar mid last year as the admin for One Time Infinity. Two days later we reviewed another of Mcatamney's schemes, Cash Money Bucket.
Both One Time Infinity and Cash Money Bucket saw affiliates invest funds in matrix positions, which were then passed through multi-tier Ponzi cyclers.
As at the time of publication, Alexa statistics on the One Time Infinity and Cash Money Bucket websites suggest both schemes have collapsed.
Read on for a full review of the 3to600 MLM business opportunity.
The 3to600 Product Line
3to600 has no retailable products or services, with affiliates only able to market 3to600 affiliate membership itself.
Once signed up, 3to600 affiliates can purchase matrix cycler positions to participate in the offered income opportunity.
Bundled with each cycler position are a series of advertising credits, which can be used to display advertising on the 3to600 website.
The 3to600 Compensation Plan
The 3to600 compensation plan sees affiliates purchase $3 cycler positions, on the promise of an advertised $777 ROI.
3to600 use a series of 3×1 matrix in their six-tier cycler, with each matrix requiring three new positions to be purchased in order for one position to be paid out on.
How much of a commission is paid out is determined by what tier of the cycler a position cycles out of as follows:
Tier 1 (positions cost $3) – no commission and cycles into Tier 2
Tier 2 – $2 commission and cycles into Tier 3
Tier 3 – $25 commission and cycles into Tier 4
Tier 4 – $50 commission and cycles into Tier 5
Tier 5 – $100 commission and cycles into Tier 6
Tier 6 – $600 commission
Two additional "bonus tiers" are offered, costing $400 and $800 and paying out $400 and $2400 respectively.
Note that 3to600 affiliates are capped at having three active positions in any cycler tier level.
Affiliates wishing to purchase additional positions are advised to sign up with 'a new account with new username & email address'.
Joining 3to600
Affiliate membership with 3to600 is free.
Participation in the 3to600 income opportunity however requires the purchase of at least one $3 cycler position.
Conclusion
Through 3to600, Robert Mcatamney is essentially offering up more of the same.
3to600 is another Ponzi cycler, with affiliates investing in positions on the promise of advertised ROIs.
Those ROIs are paid out of subsequently invested funds, defining the closed-loop Ponzi nature of the business.
The bundled advertising credits are neither here, serving only to offer a deceptive layer of pseudo-compliance to the scheme.
Logic dictates that if affiliates were indeed purchasing advertising credits, that unused credits would attract a refund.
Instead, 3to600 has a strict "no refunds" refund policy.
The reason for this policy is obvious, with funds invested immediately used to pay off existing investors.
As with One Time Infinity and Cash Money Bucket, don't expect 3to600 to fend off a collapse for too long.