One Time Infinity Review: $10-$30 three-tier matrix Ponzi cycler

The One Time Infinity website does have an "about us" section, but at the time of publication it was "404 not found".
As such there is no information on the One Time Infinity website indicating who owns or runs the business.
The One Time Infinity website domain ("onetimeinfinity.com") was registered on the 16th of August 2015, however the domain registration is set to private.
Further research reveals that last Friday, an individual named "Robert McAtamney" was advertising One Time Infinity using an admin referral link:

On the 18th of August, McAtamney published the following on his Facebook account:
Rob Mcatmney, 18 August

Keep your powder dry I have A new site Pre Launch Coming.
That prelaunch is One Time Infinity which, by virtue of him controlling the admin account, McAtamney is the owner of.
According to his LinkedIn profile, McAtamney lives in Queensland, Australia and has been a chef since 1979.
Head Chef In Number Of Clubs And Pubs Did 2000 Olympics Feeding Canada, Jamaica, Bahamas and Australian Teams.
Also featured on McAtamney's LinkedIn profile is a marketing spiel for Cash Money Bucket, a three-tier matrix Ponzi cycler.
McAtamney is/was also and affiliate of Residual Income In a Box (cash gifting), EzWealthBuilder (matrix recruitment) and Cash Bot Club (straight-line Ponzi scheme).
With the launch of One Time Infinity, now McAtamney appears to be getting into the admin side of the MLM underbelly.
Read on for a full review of the One Time Infinity MLM business opportunity.
The One Time Infinity Product Line
One Time Infinity has no retailable products or services, with affiliates only able to market One Time Infinity affiliate membership itself.
Once signed up, One Time Infinity affiliates can then purchase $10 or $30 matrix positions, qualifying them to participate in the income opportunity.
Bundled with these matrix positions are a series of advertising credits, which can be used to display advertising on the One Time Infinity website itself.
The One Time Infinity Compensation Plan
The One Time Infinity compensation plan sees affiliates purchase $10 or $30 positions, which are then passed through a series of matrix cyclers.
$10 Positions
A $10 One Time Infinity position is run through a 3×1 matrix, requiring three additional positions to be purchased before the position "cycles" out into a new $30 matrix (no commission is paid).
$30 Positions
A $30 One Time Infinity position is first run through a 3×2 matrix.
A 3×2 matrix places an affiliate at the top of the matrix, with three positions directly under them (level 1):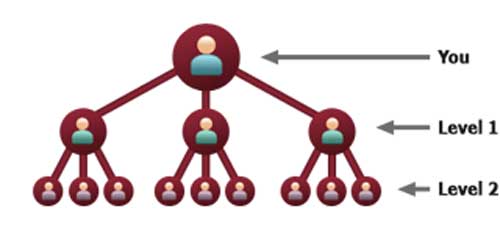 The second level of the matrix is made by splitting the three level one positions into another three positions each, for a total of twelve positions in the matrix.
Once all twelve positions are filled, a One Time Infinity affiliate is paid $365. They are also given entry into two new $30 matrix positions and one entry into a new $30 position phase 2 matrix.
The phase 2 matrix is a 2×3, which has two positions on the first level, four on the second and eight on the third:

Once again commissions are paid out as positions in the matrix are filled, with all positions filled resulting in a $1800 commission.
Referral Commissions
A direct referral commissions is paid across two of the One Time Infinity matrix cyclers as follows:
$10 position matrix = $5 commission
$30 position matrix (first phase) = $10
Conclusion
As per the One Time Infinity website:
You refer paid members…. you earn….very simple!
One Time Infinity is your typical ad-credit Ponzi cycler, which sees affiliates invest either $10 or $30 on the promise of an eventual $2165 ROI.
The $10 feeder matrix complicates the math a bit, but otherwise you're looking at $30 in and at least 70 new $30 position purchases for a single ROI payout.
That figure is actually slightly higher once referral commissions are factored in.
The advertising credits serve as a pseudo-compliance ruse, having no bearing on the paying of existing affiliates with newly invested funds.
Logically if advertising credits were indeed being sold, unused credits would attract a refund.
Instead, as per One Time Infinity's refund policy:
Are there Any Refunds?

NO REFUNDS!
As with all Ponzi schemes, once recruitment of new investors dies down so too will investment in new matrix positions.
This results in cycle times getting longer and longer, before stalling altogether.
At that point One Time Infinity will have collapsed, with Rob Mcatmney keeping whatever funds are still attached to uncycled positions.