Darren Yaw tries to hide GCG Asia Ponzi via DMCA takedowns

Darren Yaw is running around trying to hide his Guardian Capital AG Ponzi past.
Cue all manner of gaslighting, starting with a bunch of bogus DMCA takedown notices.
I loosely keep track of DMCA takedowns filed against BehindMLM. Anything we publish is protected by fair use, but it can be interesting to see who's trying to hide what.
Back on December 11th a DMCA notice was filed against BehindMLM on behalf of Chen Chiu.
I didn't recall the name and figured it was just some random scammer trying their luck.
On December 15th another notice was filed, this time on behalf of Darren Yaw.
I recognized Yaw's name as co-founder of the collapsed GCG Asia Ponzi scheme.
This prompted me to look closer into the Chen Chiu notice, at which point I discovered BehindMLM had never published anything on Chiu.
Pulling up Chen Chiu's name on the Lumen Database reveals a bunch of DMCA notices filed on December 11th.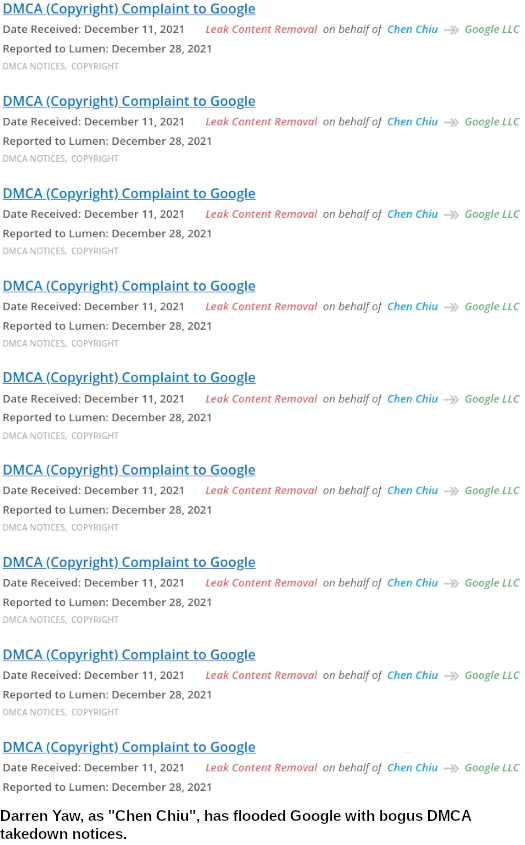 That led me to this website in Chinese, detailing Darren Yaw's prison stint in Cambodia.
At this point I figured Chen Chiu and Darren Yaw are the same person.
The Chinese language website has some photos of Yaw in Cambodian prison I hadn't seen before.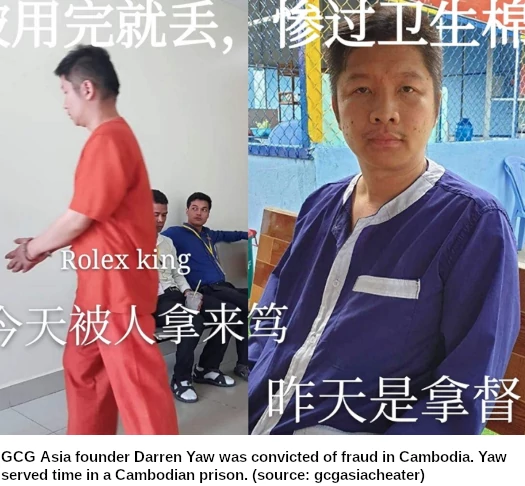 As reported here on BehindMLM, Yaw and his wife were arrested in Cambodia in 2019.
Tracking what happened after that was difficult. As of June 2019, all we knew was that Yaw's wife had been released  but that he was still in custody.
Today I revisited Yaw's arrest and found he, as "Yaw Foo Hoe" (??), was convicted of attempted fraud in October 2019.
Yaw was sentenced to one year in prison but received a five month suspended sentence.
This means Yaw was released sometime in Q2, 2020.
Getting back to the DMCA notices, they're all pretty similar. The one for the Chinese language website cited above reads as follows:
This personal photo belongs to our client that was used by somebody to discredit him.

He was accused with false allegations and images attached on links/forums are his property.

Photos of him and his colleagues are even exploited for fake news online and this is against the law.
To be clear, Yaw/Chiu was very much arrested, convicted and sentenced to prison in Cambodia. I can't speak to ownership of Yaw's prison photos, but I've republished them here under Fair Use.
The DMCA notice Chen Chiu filed against BehindMLM on December 11th reads near identical to the notice quoted above.
The notice Darren Yaw filed on December 15th is more egregious.
Private photos of my client that he has taken himself has been leaked online without his consent.

My client is a high status individual who has been recognised by the King of Malaysia, and these leaks has affected his reputation negatively.

As these are his private photos, they are not meant to be distributed online and remains his copyright since he is a creator, and no links of the content can be found online.
Excluding the prison photos above, the only photo BehindMLM has published of Yaw is this one:

That was taken directly from GCG Asia's marketing material. The original source doesn't exist anymore, because GCG Asia's website was pulled following Yaw's arrest.
In any event, it's clearly not a "private photo" as Yaw falsely represents. Nor was it "leaked online".
This by itself is not something I'd typically report on. Scammers filing bogus DMCA notices against BehindMLM is nothing new. And it's not particularly interesting.
On December 15th however Yaw filed yet another DMCA notice, this time referencing BehindMLM in a list of thirty-two other website domains.
The text of the notice was identical to the notice filed against BehindMLM. Surely all these domains didn't "leak" photos of Yaw.
This piqued my interest. What was Yaw up to?
Turns out a bit of good old fashioned reputation management, through boatloads of lying and deceit.
GCG Asia was a simple trading Ponzi scheme with pyramid recruitment.
Through a series of 2021 press-releases, Yaw attempted to rebrand GCG Asia and his involvement in the scam.
In June 2021 GCG Asia was rebranded as "Go Charge Go", a fictional Malaysian EV startup
In July 2021 GCG Asia was rebranded as the fictional entity "Government Commission for Financial Governance", a fraud fighting outfit in Cambodia
In July 2021 GCG Asia was also rebranded as an Indonesian "education institution", with a fake CEO and baloney partnership with a Cambodian college
In July 2021 GCG Asia was rebranded yet again as fictional "green developer" Green City Group Asia, whose fictional CEO received a fictional award
In August 2021 GCG Asia was rebranded as a Singapore "edutech startup" that Darren Yaw and his wife had invested in
In September 2021 GCG Asia was rebranded as an Indonesian "luxury fashion distributor and retailer", headed up by Darren Yaw as "Martin Yaw Foo Hoe"
In September 2021 Yaw, as "John Darren Yaw", also reappointed himself CEO of GCG Asia, now a fictional advertising firm looking to expand into the US
The press-releases are stuffed with keywords pertaining to GCG Asia and Yaw's arrest and incarceration in Cambodia.
Here's an example from the September 2021 bogus advertising firm article:
The articles typically reference Cambodia and other south-east Asian countries Yaw and GCG Asia scammed people in.
Having published bogus information about GCC and Yaw throughout 2021, the plan now seems to be to take down legitimate information via bogus DMCAs.
And it appears to be working.
Here's what happens when you run a Google search on "GCG Asia":
Not as drastic but results have also been removed from a search on Darren Yaw:
For reference, Chen Chiu flooded Google with twenty-two bogus DMCA takedown notices against various websites on December 11th.
Darren Yaw filed thirty bogus DMCA notices against various websites on December 15th.
Update 17th September 2022 – A few days after this article was published, Darren Yaw and nine other GCG Asia co-conspirators were arrested in Malaysia.