Darren Yaw & nine GCG Asia scammers arrested in Malaysia

Malaysian police have arrested ten individuals connected to GCG Asia.
One of the arrested individuals is GCG Asia founder Darren Yaw.
As reported by Bharian, on January 5th raided multiple locations across Malaysia. The raids led to the arrest of ten GCG Asia scammers.
Nine luxury cars, five 1KG gold bars, sixty-four luxury watches, $4.5 million in cryptocurrency and ~$21,000 in cash were also seized.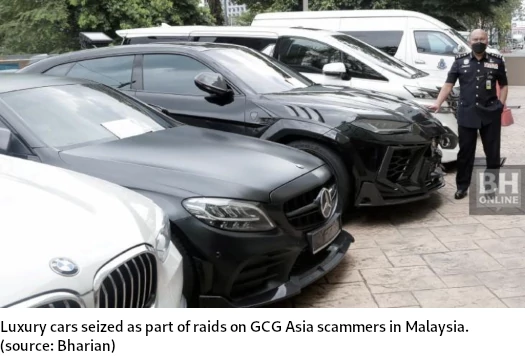 Malaysian police have pegged the total value of GCG related assets seized at $26.6 million.
A televised report from Buletin TV3 provides us with footage of the arrested suspects. Darren Yaw, who stylized himself as a "Datuk Seri", can be seen in the lineup: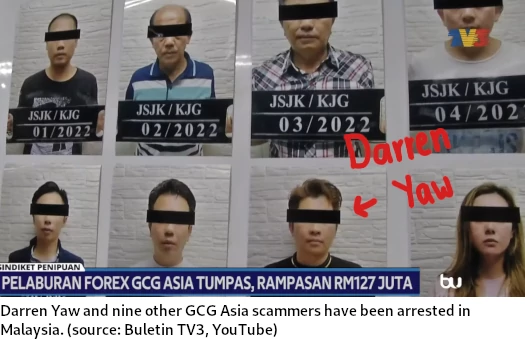 The main mastermind is 40 years old and has a master's degree in business administration, while the other nine suspects include a woman aged between 29 and 64.
Among the seized items was an "ex-police association card", believed to be in Yaw's name. It appears Yaw, aka Chen Chiu, was misrepresenting himself as an ex-police officer as part of GCG Asia's deception.

GCG Asia, also known as Guardian Capital AG, is a forex Ponzi scheme originating from Malaysia.
GCG Asia investors invest funds on the promise of passive returns. Attached to this is a pyramid scheme, to financially incentivize recruitment of new investors.
The syndicate, which has been active since 2018, targets local citizens and promotes the investment with a weekly rate of return of between 12 to 14 percent of the total capital invested.

Investors will be given an investment web link along with a password and can see the amount of profit received after logging into the website.

However, the profit cannot be transferred or cashed out.

The syndicate subsequently cut off communication with investors after receiving a large amount of investment and stopped the operation of the investment scheme suddenly.
There are twenty-three criminal investigations open into GCG Asia as of January 2022.
Yaw was first arrested in connection to GCG Asia back in 2019. Cambodian authorities stepped in after GCG Asia claimed to have government backing to lure new investors in.
The deception went as far as claiming Cambodia's Prime Minister would attend a GCG Asia office ribbon cutting ceremony. This prompted the PM to publicly deny the claims.
Yaw was convicted in Cambodia in October 2019 and served five months in prison.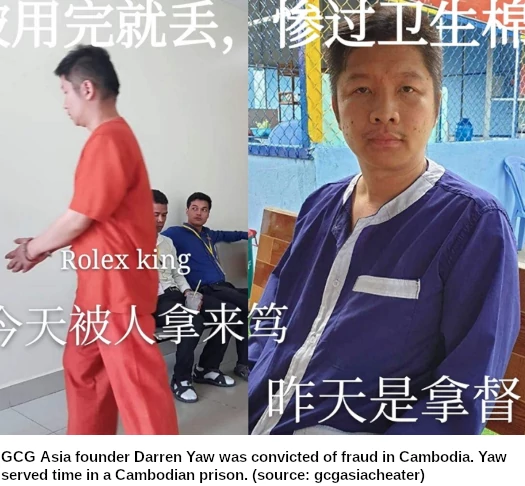 Upon release he appears to have returned to Malaysia and continued to defraud consumers.
As part of those efforts, Yaw attempted to remove/bury access to information pertaining to GCG Asia and Yaw's arrest.
This took place via an SEO spam campaign and bogus DMCA takedown requests, specifically targeting BehindMLM's coverage.
Even following Yaw's arrest in Malaysia, those efforts continue.
The latest bogus GCG Asia DMCA notice received is dated September 14th. The notice was sent in by Parry Sound Law, on behalf of GCG Asia.
As you may know, GCG Asia is the owner of the GCG® word mark (GCG Asia®, USPTO Reg. No. [REDACTED], App. No. [REDACTED]6, filing date 03/22/2017).

GCG Asia has recently learned that the trademarkGCG® appears as a metatag, keyword, or visible or hidden text on the website(s) located at the below-listed URL(s) without having obtained prior written authorization from GCG Asia.

This practice infringes upon the exclusive intellectual property rights of GCG Asia.
BehindMLM's use of trademarks and other copyrighted works in our reviews and reporting, is protected under the US' Fair Use doctrine.
Not that the law matters to GCG Asia. "Parry Sound Law" is a bogus firm set up by GCG Asia scammers ten days ago: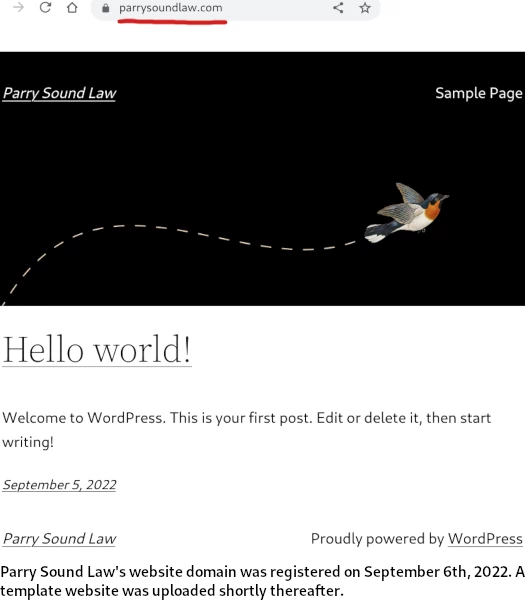 Bharian reports Yaw and his GCG Asia co-conspirators have been arrested on money laundering, terrorism financing and prevention of crime charges.
As of January 2022 all ten arrested suspects remained in custody. There have been no further public updates on the case since.