Driven Properties losing clients due to GSPartners partnership

While authorities in Dubai might turn a blind eye to MLM scams, outside of the UAE fraud has consequences.
In a recently filed defamation complaint, Driven Properties bemoan getting into business with GSPartners.
The author of Driven Properties' complaint has been redacted. We're assuming it's company owner and Managing Director, Abdullah Alajaji.
Alajaji claims, as a result of doing business with GSPartners, Driven Properties is 'getting red and KYC flagged by our bank and whenever we apply for a new license.'
Also, multiple clients refuse to deal with us because of negative and un true information. when clients read news that we are part of Ponzi Schemes, they immediately reject us and refuse to deal with us.
The complaint goes on to claim BehindMLM reporting of Driven Properties' partnership with GSPartners
is not true, and there is not a single evidence about it.
Which is odd, because the BehindMLM articles that feature Driven Properties are choc-full of incriminating evidence.
BehindMLM first reported on Driven Properties' GSPartners partnership back in July.
Here's Alajaji onstage at a GSPartners event in Dubai, positively gushing about the partnership: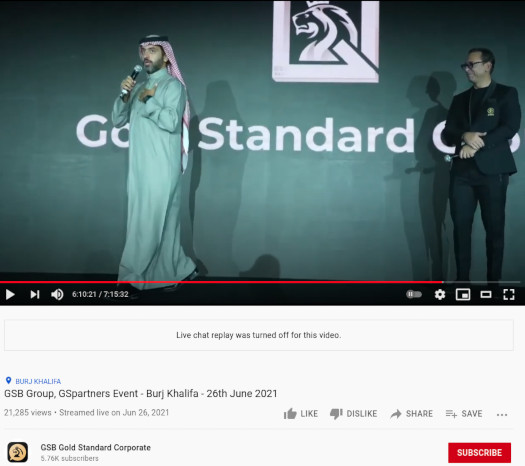 Curious what Alajaji said? Have a listen yourself.
The partnership saw Driven Properties provide GSPartners access to real-estate in Dubai, so as to further their G999 token Ponzi scheme.
In a nutshell, GSPartners affiliates invest in G999 coins. The company uses those funds to pay both pyramid commissions and internal token withdrawal requests.
It is that second flow of money that makes GSPartners a Ponzi scheme.
Additionally GSPartners is not registered to offer securities in any jurisdiction. This means the company at best is committing securities fraud the world over.
If you want a more in depth breakdown, check out BehindMLM's published GSPartners review.
But uh yeah, "not a single evidence" in sight.
Getting back to Driven Properties' complaint, the company states it has 'lost enough business in corona and we cant afford losing more clients because of untrue news like this.'
Rather than approach BehindMLM and explain how they didn't enter into a partnership with a Ponzi scheme, Driven Properties bypassed us and went to Google.
Evidently Driven Properties were hoping Google would help them bury fraud.
Google submitted Driven Properties' complaint to the Lumen Database for public review.
GSPartners' other local partnership in Dubai is SAAS Properties. No word on whether they're also facing regulatory scrutiny.
The way I see it, Driven Properties getting flagged by financial institutions is the system at work.
If financial institutions fail to cover themselves, they themselves can face penalties from regulators.
While it's unlikely Driven Properties will face any consequences in Dubai, elsewhere financial institutions will flag partnership with a Ponzi scheme.
Those investigations lead to Suspicious Activity Reports which, although submitted in secret, have led to regulators taking action against MLM Ponzi schemes.
If Driven Properties experiences any fallout as a result of that process, responsibility rests squarely on the shoulders of Abdullah Alajaji.
Update 6th November 2021 – Abdullah Alajaji doesn't seem to grasp Google's commitment to transparency.
As per a second communication alleging defamation sent on October 26th;
On 19th of October 2021 we filed a defamation request to google (reference number 0-[REDACTED]7) requesting to remove wrong information about our company and CEO.

Later we were shocked that the same website wrote a new harmful and defaming article about our company, and is using the same content that was in our compliant to Google!

It is really annoying for us that google published these information. if you cant trust google, then who can you trust.

I really don't understand how did this happen!, I followed the procedures of google to compliant, shared the information with google because I trust google, and the next day, I am in a worse situation because I complained and did seek assistance from google!
BehindMLM tying you and your company to a Ponzi scheme through irrefutable factually correct research is "annoying"? How terribly inconvenient for you.