Zeek Rewards founder Paul Burks sentenced to 14 years in prison

Following a lengthy sentencing hearing today, Paul Burks has been sentenced to fourteen years and eight months in prison.
The sentence will likely see Burks spend the rest of his natural life behind bars, as acknowledged by Judge Cogburn during the hearing.
With the aid of co-conspirators, Burks masterminded the Zeek Rewards Ponzi scheme.
Launched in 2011, Zeek Rewards ripped off thousands of investors for around $939 million dollars. The SEC shut Zeek Rewards down in August, 2012.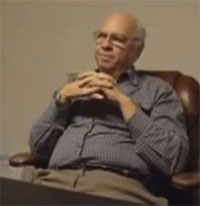 Burks (right) was indicted two years later in October of 2014. Rather than plead guilty Burks opted to go to trial.
After numerous delays, Burks' criminal trial finally kicked off last July. A jury convicted Burks on all counts.
Today's hearing saw the DOJ ask for a sentence of between 188 to 235 months (15 and a half to twenty years).
Burks' defense attorney, Noell Tin, countered with a sentence 'of no more than 11.5 years'.
According to Tin, Burks is currently suffering from 'hypertension, diabetes, heart illness, chronic renal failure, prostate cancer, the removal of his esophagus and mild dementia.'
Judge Cogburn compared Burks' marketing strategy of capturing hundreds of millions of dollars to the Biblical story of Jesus of turning loaves and fishes into enough food to feed at least 5,000 individuals.

"The scheme got out of hand, more than Mr. Burks may have thought was going to happen," Cogburn said.

"But anyone could have seen what was going to occur outside himself and his (marketing) cheerleaders."
For me, Burks' sentencing marks closure on a scam I began tracking way back in 2011.
BehindMLM first published a review of Zeek Rewards back in September, 2011. Ponzi fraud was front and center in a follow-up article published a few days later.
Including this article, over the years I've published 187 articles on Zeek Rewards. Next to TelexFree, Zeek Rewards is the second biggest MLM scam I've covered.
The MLM underbelly has evolved much since Zeek Rewards burst onto the scene in 2011. Cryptocurrency is now the preferred vehicle for fraud, but for the most part the fundamentally fraudulent business models behind the scenes remain the same.
We'll have more for you when the court filings for Burks' sentencing hearing are made public. Stay tuned…
Update 14th February 2017 – The Warner Cable News are reporting Burks intends to appeal.
After the sentencing, Burks had no comment. His attorney says they will appeal.
Good luck with that. A jury conviction, millions of dollars in clawbacks and a lengthy sentencing hearing at which all sides were heard.
Surely a sentencing appeal is an absolute waste of time?
Update #2 14th February 2017 – From the Zeek Rewards Receiver:
There is no parole available under the federal court system.

The Court also ordered Mr. Burks to pay $244 million in restitution to the receivership for distribution to victims holding allowed claims.

As a practical matter the Court's restitution order will not result in any payments to victims because the receivership has already taken from Mr. Burks essentially all of his assets. For similar reasons the Court found that Mr. Burks has no ability to pay a fine and declined to enter a fine.

The Court allowed Mr. Burks to remain free on bond until instructed to report to a federal prison by the Bureau of Prisons. The process of designation to a federal prison usually takes 30-90 days.
There's a minute-entry available on the criminal case docket but as of yet no filings for me to go over.
Update 3rd May 2017 – Paul Burks is now in federal custody.