Zeek Reciever going after Darryle Douglas for contempt

With his plans to launch Auction Attics using the Zeek affiliate database in ruins, Darryle Douglas' mounting legal problems continue to escalate.
The latest has seen the Zeek Receiver file a motion 'requiring Darryle Douglas to personally appear and show cause'.
This filing sees Douglas now facing contempt for failing to comply with court orders.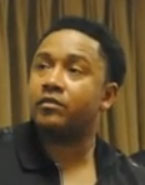 On September 15th, Douglas (right) was ordered to
return and cease using the Zeek database
submit to a deposition no later than September 24th and
produce the requested financial records before his deposition
As per the Receiver's October 21st filing:
Mr. Douglas has refused to make himself available for a deposition and provide related documents, despite the Court's specific Order of September 14, 2015, requiring him to do so.
In his efforts to schedule Douglas' ordered deposition, the Receiver contacted Patrick Roberts, 'Mr. Douglas' purported counsel', on September 18th.
On September 18, 2015, counsel for the Receiver had a call with Mr. Roberts to discuss compliance with the Order and sent a follow-up email with the Order.

On September 24, 2015, counsel for the Receiver sent another email notifying Mr. Roberts that Mr. Douglas had not yet submitted to a deposition or turned over the records as ordered by the Court.

Counsel for the Receiver further advised that the Receiver would need to notify the Court of Mr. Douglas' non-compliance with the Order.

Mr. Roberts indicated he had provided the Order to Mr. Douglas along with contact information of Receiver's counsel for setting up the deposition.
Douglas appears to have done nothing with that information, with Roberts and him parting ways sometime between September 24th and early October.
This was made apparent when the Receiver was contacted by Sam Randall, who was now representing Douglas.
Randall conveyed that
Douglas was arranging to travel to Charlotte, NC for the deposition. October 20 and 21 were the agreed dates.
On October 19th, the day before Douglas was to appear, Randall informed the Receiver that
Douglas would not appear is that "[h]is driver's license was taken and he cannot get on the plane."
Citing being 'unable to trust Darryle's word at this point', the Receiver claims
this excuse is dubious at best because a simple search of the U.S. Department of Homeland Security, Transportation Security Administration's (TSA) website, states that "[i]n the event you arrive at the airport without proper ID, because it is lost or at home, you may still be allowed to fly," and then details alternate forms of ID.
Evidently a lack of a driver's license is easily overcome, which begs the question: Why didn't Darrlye Douglas get on the plane as planned?
Whatever the reason, Douglas will now have to provide the court with a formal explanation.
As of the time of filing this motion, Mr. Douglas has failed to comply with the Court's Order to submit to a deposition, produce the financial records, and return the ZeekRewards affiliate database.

Accordingly, the Receiver is left with no choice but to move the Court for a motion for an order requiring Darryle Douglas to personally appear and show cause as to why he should not be held in contempt for violating the Court's Order.
Auction Attics meanwhile appears to have been abandoned. The company's official Facebook page hasn't been updated since the 30th of September.
A proposed order drafted by the Receiver would see Douglas compelled to personally appear in court and explain himself on November 6th.
Stay tuned…
Footnote: Our thanks to Don@ASDUpdates for providing a copy of the Zeek Receiver's October 21st "Motion for Order to Show Cause".
Update 4th November 2015 – Judge Mullen has approved the Recevier's motion.
As per an order issued on the 3rd of November, 2015, Darryle Douglas has been
ordered to personally appear in court in the Western District of North Carolina on December 3, 2015, at 3:30 PM and show cause as to why Mr. Douglas should not be held in contempt for failure to comply with the Court's Order of September 14, 2015.
Stay tuned…