Auction Attics: Darryle Douglas not done with penny auctions?

Three weeks before the SEC shut down Zeek Rewards, Sales Director Darryle Douglas vanished from the public eye.
The official reason cited for Douglas' departure was "personal reasons", but in reality he'd done a runner.
That was three years ago almost to the day, with Douglas neither seen nor heard from in public since…
…until now.
Over the last few days rumblings emerged from deep within the MLM underbelly, touting a new penny auction opportunity being specifically marketed to former Zeek Rewards investors.

Auction Attics is the name of the opportunity, with a pitch by Douglas made yesterday marketing "special deals" for anyone 'interested in sharing profits with Auction Attics'.
Compound no more, but "Appreciate" your way to $1,000's weekly! Seriously you can earn 1K or more day one; and do it for Free!

"I've been working on this business model since 2011 and now it's ready. The infrastructure is prepared, it's go time!"

We will have people earn $1,000's of dollars within their first few hours…That's with NO money out of pocket! And it's ALL product based! That means it's REAL.
As the name suggests, Auction Attics is a penny auction venture. Traditionally penny auction companies market goods and services they themselves source, often from third-parties (dropshipping).
With Auction Attics though, the idea is to have users sell their own products through the auction platform.
Let's say we take the profit potential of a penny auction and pay it to everyday people! By this we mean not to the company; but pay it to people who post their own items.

Here's an example of what it can do for you:

Post your new couch on our new website and hold on tight!

Suppose you paid $500 for a new couch, and posted it immediately for sale. Each bid raises the price at the rate of one cent, but you're paid 50 cents for each bid (the way penny auction owners have been paying themselves exclusively up until now).

In addition there is no need for worry. We have a reserve minimum system, which means there's no way for you to lose money.

When the new couch sells, say for $50, (which is an amazing bargain to the purchasing customer) You would earn $2,500! That's five times what you paid for the couch just a day ago!

Not bad for one day's "work", wouldn't you say?
Perhaps, but what of the Auction Attics users who coughed up $2500 only for one of them to walk away with an actual item?
The reason penny auctions usually put up products themselves is because losers of the auction can then be offered the item at retail, minus the cost of the bids they spent.
That way anyone who spent money on the auction can walk away with something.
If those items are being posted by users however, that's not an option.
So how long before users of Auction Attics realize they're losing money repeatedly on auctions they have next to no chance of winning?
The shortcomings of Auction Attic's business model aren't addressed in Douglas' pitch.
Now, how will most people use the website?

Jody will post her excellent conditioned used iPhone because she can earn 5 to 10 times more on our site than she would on sites like eBay. So will most others!

This primary reason for purchase gives us a significant advantage! A burning desire of people to purchase and re purchase our product!

But purchase what? What will we sell?

We will sell what most everyone will want to buy on our website…Posting Space.

Each Posting Space package comes with bids, allowing customers to bid on other people's quality items, which will give us a success cycle that no other penny auction (or any other auction site) can match!

I hear the wheels turning… and asking won't we have many, many people buying Posting Space? Of course that is the point. The more people buying Posting Space, the more bids become available for bidding on other people's items.

Another group will buy too. They will buy because they want to bid and get products for up to 90% or more off retail.

How will the company earn and share the profits with you?

We take our cue from the big boys! eBay earns a percentage of each sale and so will we!

Just think about the millions of people posting on other websites daily!
Yes, and they do so because those sites have a large amount of buyers. Buyers who know they aren't paying anything unless they actually win an auction.
Again, how is customer retention going to viable once people lose a few auctions and realize they've spent money and have nothing to show for it.
Zeek Rewards tried to convince the world it was the addiction of bidding that kept penny auction users bidding, but we all know what a load of baloney that turned out to be…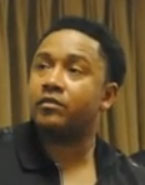 Although not referenced by name, Douglas (right) does mention Zeek Rewards in his pitch – referring to the $850 million Ponzi scheme as "a tragedy":
As most of you know I built two separate organizations for other companies resulting in over 2 million participants.

This is different… This time I am in control of my own destiny. That means WE are in control of the future!!  We now answer to no one but ourselves.

No more trying to work with people who do not share the same vision.

We all watched the tragedy of a recent business growing with millions of people and 850 million dollars in less than 24 months, then burned itself to the ground. NO MORE!!

Can we match the success without the tragedy? Absolutely, Unequivocally, and without a doubt…YES!!!

No need to wait months to compound an income. Earn $1,000's of dollars starting day one.
It's worth noting that Douglas was involved in Zeek Rewards pretty much from the get-go.
A Zeek marketing call on January 21st 2011 saw Douglas pitch Zeek's infamous "compounder" Ponzi points business model to listeners.
Douglas in any way attempting to distance himself from the Zeek Rewards Ponzi scheme is nothing short of being grossly disingenuous.
He was there the beginning of Zeek's 125% ROIs and knew exactly what was going on. But I digress;
The Eagle One Marketing Group offer: This Pool will allow between up to 200 participants only!

The offered Pool is expected to be open only 6 to 8 weeks and will be closed permanently, not to be offered again.

a) $250 gets 1/4 Share of a 10% pool, for the lifetime of the platform.

b) $500 gets 1/2 Share of a 10% pool, for the lifetime of the platform.

c) $1,000 gets 1 full Share of a 10% pool, for the lifetime of the platform plus 1 additional share free, for a total of 2.

d )$2,000 gets 2 full Shares of a 10% pool, for the lifetime of the platform plus 4 additional bonus shares free, for a total of 6.

e) $3,000 gets 3 full Shares of a 10% pool, for the lifetime of the platform plus 9 additional bonus shares free for a total of 12.

Each contributor that you introduce earns you a 100% Matching Bonus.

For example if you contributed 1K for one share and then you introduced a contributor who did the same. This would earn 2 shares for your contribution and 2 additional shares for your contributor's participation. This for the lifetime of the platform.

Top 20 Bonus: The first 20 Contributors will share in a separate 5% pool. This will be exclusively between the initial Top 20 participants, also for the lifetime of the platform!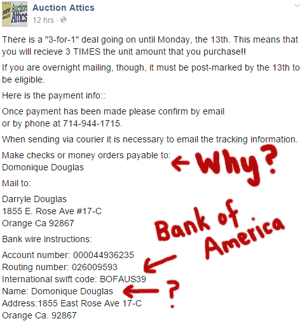 Shares in Auction Attics through which Douglas claims purchasers can earn "$1,000's weekly"?
Sure sounds like an offering of securities to me, yet Auction Attics SEC registration disclosure is noticeably absent from any of Douglas' pitches. Neither is there any mention of it on the Auction Attics website.
Another red flag is Douglas asking people to deposit funds directly into a Bank of America account held in the name of "Monique Douglas" (wife?).
Why would Darryle Douglas himself not be directly accepting payment for shares in Auction Attics you ask?
One reason might be a $2.2 million outstanding default judgement, entered against Douglas back in September 2014.
Accused of stealing almost $2 million dollars, the Zeek Rewards Receiver claimed, as of April 2015, that Douglas was the sole Zeek insider who had failed to pay back funds he'd stolen from Zeek victims.
Whether or not Douglas has since entered into negotiations with the Receiver is unclear. Certainly nothing has been filed by the Receiver or Douglas to suggest this is the case.
The packages being offered today will be long gone once this company is launched. The masses will not be able to share in this particular profit share pool.

Although the company will grow and net profits will follow right-along, the smallness of this pool will create GIANT monthly residuals incomes for those that we here NOW and took action.
Yet here is Douglas, today asking for people to deposit thousands of dollars for unregistered shares he's promising will make them rich.
And it gets worse.
In order to kickstart promotion for Auction Attics (once early investors are paid up and on board), Douglas has announced plans to market the platform to the Zeek Rewards affiliate database.
Some have asked how we will promote and market the website from day one? How soon can sales begin?

As many of you are aware, in my business database we have over 2 million plus contacts. These are not just any contacts, these are over two million previous product purchasers.

Here is the opportunity: We will invite as many of these proven contacts as possible to join us as early customers.

Think about it: These individuals are not a typical cold list of fake prospects. If you've purchased listings of leads in an attempt to close sales you understand what I mean. The quality of that type of lead is horrible! Dare I say it is useless?

The fact of the matter is these prospects in our database have over a 90% purchase rate.

Did you get that? Over 90% of these leads have already bought bids before!

This fact makes this list the most highly sought after lead list available! And remember We have it.
Do I really have to point out that the only reason Zeek Rewards affiliates purchased bids was because they thought they were going to earn Ponzi points riches?
The SEC eventually revealed that just 0.25% of bids purchased by investors were actually used in the Zeekler penny auctions, further reflecting just how insignificant penny auctions themselves were to people on the Zeek database.
For an otherwise legitimate penny auction, a 0.25% bid usage rate is terrible. How on Earth is this being marketed as a positive?!
Leave alone the fact that the Zeek Rewards database is property of the Zeek Rewards receiver. Douglas shouldn't even have a copy, let alone be marketing his own opportunities through it.
At the time of publication Douglas is primarily marketing Auction Attics share investment through the Facebook group "Auction Attics".
The company's website is live over at "auctionattics.com", however it is currently hidden from Google's search results with the "noindex" tag.