A sick joke? Robert Craddock publishes Zeek Rewards book.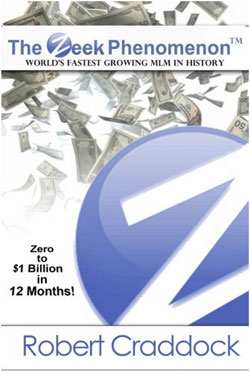 Out of all the people on the planet who might pen a book about Zeek Rewards, arguable none would be less qualified to do so than Robert Craddock.
Craddock, an investor in the Zeek Rewards, was hired by Gregory Caldwell to assist him with silencing Zeek Rewards' critics compliance.
After the SEC shut down Zeek Rewards and revealed it to be an $850 million Ponzi scheme, Craddock was one of the most outspoken critics of the regulatory agency.
Craddock pushed all sorts of conspiracy theories in the immediate aftermath of Zeek through ZTeamBiz, a network of investors he set up.
Wishing to pursue legal action against the SEC, Craddock (right) convinced investors of Zeek to send him thousands of dollars.

Through ZTeamBiz, Craddock (right) promised to put the money towards defending investors against future regulatory action.
The money ZTeamBiz fleeced from affiliates who donated was originally gathered to be used to defend all Zeek Rewards affiliates who donated against impending SEC litigation.

Shortly after the bulk of the money that would be donated was donated however, this changed to the offering of a cookie-cutter attorney letter, provided at an additional cost.

Where did the rest of the money go?

It is widely believed that the bulk of it went towards financing the legal defences of the Zeek Rewards net winners that formed ZTeamBiz.

In the months following the SEC shutdown, a number of legal initiatives were launched by ZTeamBiz affiliates to try to thwart attempts to recover funds they stole from their fellow affiliates.

To date, every single one of these actions has failed.
After that farce, Craddock's name continued to pop up in connection with a number of shady schemes. It wasn't until late 2013 that regulators and/or the Zeek Receivership shut him down.
After a series of Ponzi points business pushed by Craddock flopped, his newest role appears to be that of publisher.
Titled "The Zeek Phenomenon: Zero to $1 Billion in 12 Months", I don't really know how else to describe Craddock's latest move other than that of a sick joke.
Published by Ebon Research Systems Publishing, Craddock's 276 page book was listed on Amazon on September 29th: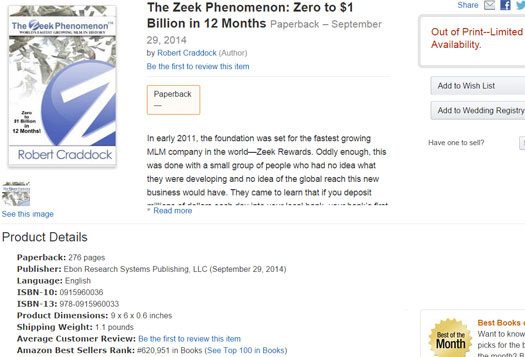 Whether or not the book is actually available is unclear, with it being listed as "out of print – limited liability" barely a week out from launch. As such, no ticket price is provided either.
Here's what the supplied blurb says:
In early 2011, the foundation was set for the fastest growing MLM company in the world — Zeek Rewards.

Oddly enough, this was done with a small group of people who had no idea what they were developing and no idea of the global reach this new business would have.

They came to learn that if you deposit millions of dollars each day into your local bank, your bank's first impression is that you must be doing something wrong. With this unsubstantiated impression, the bank will close your account and ask you to leave.

The founders of Zeek Rewards soon overcame this challenge and built a billion dollar enterprise. This was just the beginning of what Paul Burks, the owner of Rex Venture Group and the promoter of Zeek Rewards and the Zeekler Penny Auction site, was up against.

This sounds like fiction, but in fact, it was the blueprint in 2012 that caused more than 2 million people in many countries to unite and question the motives of the US Government.

Little did anyone know that the people who came together were lawyers, doctors, lawmakers (Federal, local and state), teachers, and everyday people just looking for a way to earn their way into the American Dream.

In 2012, if the present Administration wanted to build a successful stimulus program, it should have used Zeek Rewards as a guide. This pioneering venture went from zero to one billion dollars in just 12 months, paid over 400 million dollars to more than 20,000 people earning an average of $20,000, created 10 people who made over one million dollars, and caused several thousand people to earn incomes in excess of one hundred thousand dollars.

This unparalleled example would have been a phenomenal feat for our US Government during a period when our very financial existence was threatened.

When the US Government closed Zeek Rewards, the Company had over 600 million dollars in the bank ready to pay out to the people who helped the Program grow!

The following question is addressed in this book: Why would the US Government want to shut down the American spirit, innovation, self- reliance and global trade? We will discuss in depth this question and more.

The Zeek Phenomenon is a must read book for all entrepreneurs, attorneys, ordinary people, government officials and those who seek the American Dream!!!
Speechless. I am left absolutely speechless.
When the SEC shut down Zeek Rewards, it was revealed that during the course of its operation (2011 to 2012), the company did indeed take in around 600 million.
This is not however the amount Zeek had in the bank when they were shut down.
Upon being shutdown, the SEC revealed that Zeek held
approximately $225 million in investor funds in approximately 15 foreign and domestic financial institutions, and those funds are at risk of imminent dissipation and depletion.
Around $3 billion in monopoly money points had been accumulated by Zeek Rewards affiliates. At a value of $1 being equal to 1 point, it was thus calculated that Zeek would have had to pay out $45 million a day to meet its obligations.
With $225 million in the bank, without Ponzi points monopoly money re-investment, Zeek would have gone bust in around 5 days. Well short of the required 90 day ROI maturity period.
By July 2012, a month before Zeek was shut down, the company was bringing in $5 million a day. The balance it owed to affiliate investors however continued to increase at an alarming rate.
ZeekRewards' current investor payouts are approaching, and may soon exceed, total incoming revenue. In July 2012, total revenue for ZeekRewards was approximately $162 million, while total investor cash pay-outs were approximately $160 million.
Had the SEC not have moved to shut down the company, in a few months Zeek would have collapsed under the weight of its financial obligations in any event.
But what's more important than all of that is the fact that Zeek Rewards was a Ponzi scheme.
Owner Paul Burks sat in a room and each day decided how much newly invested funds he was going to pay out to existing investors.
Burks himself hasn't been charged yet, but his right-hand woman Dawn Wright-Olivares plead guilty to fraud late last year.
The two counts Wright-Olivares plead guilty to (securities and wire and tax fraud conspiracy), come with $250,000 fines and up to five years imprisonment respectively.
And in addition to that, both Burks and Wright-Olivares only a few months ago consented to a judgement of $600 million to be paid to the Zeek Rewards Receivership.
This money will eventually be used to pay out Zeek Rewards' investor victims. The first batch of checks were sent out to Zeek Rewards victims just a week ago.
This is the reality and facts behind the shutdown of one of the biggest MLM Ponzi schemes of all time currently playing out in US courts.
And then of course there's Robert Craddock's alternative "American Dream" take on it all.
Good grief.