Wings Network pending Securities Division bust?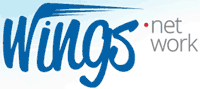 Not content to sit idle while a new wave of reload scams target TelexFree investors, Massachusetts Secretary of State William F. Galvin's office has announced the issuing of subpoenas to Wings Network.
We attended one of their events,'' Galvin said. "We had heard from some investors who, in light of TelexFree, had become concerned — and we're concerned.'
TelexFree of course being the $1 billion Ponzi scheme recently shut down by the SEC and Massachusetts Securities Division.
Wings Network's business model sees affiliates buy into the scheme for between $299 to $1499, and after recruiting two new participants into the scheme then qualify to receive commissions when recruited affiliates purchase their $299 to $1499 position.
The more money an affiliate spends on their package and the more people they convince to sign up and purchase a position, the more money they earn.
Supposedly Wings Network is being run out of Portugal, but details on the company's ownership are sketchy. That might change soon however, with news from Wings Network's attorney confirming
the company had received subpoenas from Galvin and that lawyers for Wings Network met last week with the Securities Division. The regulators want to meet with company executives next week.
No word on whether the SEC have gotten involved, but as we saw with TelexFree recently, the Securities Division and SEC work closely together on these matters (both filed their respective complaints against TelexFree on the same day).
In response to media inquiries regarding possible regulatory action being taken against Wings Network, attorney D.J. Poyfair replied
Wings is cooperating with the state's investigation and is "conducting its own internal investigation and it intends to address quickly any problems that it discovers.

If Wings Network discovers that significant issues exist, it would even be willing to suspend operations until the problems are properly addressed.
Yeah. "Investigating" the pyramid-scheme business model Wings Network uses was probably a good idea before the company launched. Bit late for that now.
Dozens of people have e-mailed the Globe, saying some people who participated in TelexFree are now shifting to Wings Network. Like TelexFree, it appears to be popular with Portuguese-speaking Brazilian immigrants.
With a complete lack of retail and the business model able to be boiled down to new affiliate money being used to pay existing affiliates based on their recruitment performance, I suspect the Securities Division investigation is likely to result in further action being taken against the company.
Stay tuned for that, and in the meantime – hats off to William Galvin for trying to clean up the MLM industry. It is very much appreciated.