After a year of delays, WMI's PURE to launch 2012

Way back in November 2010, Wealth Masters International announced that they were going to launch two separate nutrition and finance subsidies.
Named Opes Partners (finance) and PURE (nutrition), both were set to launch in 2011 in January and 'the first quarter' respectively.
Whilst Opes Partners launched (only to disappear into complete obscurity for much of 2011, WMI's Pure has been plagued with delays and setbacks.
Just days out of their first quarter 2011 deadline, WMI announced out of the blue that they were delaying the launch of PURE until September 2011.
Along with the launch schedule, WMI also revealed that their longtime WMI alliance partner Deanna Latson would be heading up the company as CEO.
Claiming full responsibility for the delays, Latson informed us that
the launch delay is 100% my responsibility as I am putting together the scientific board of advisors and it is taking much longer than anticipated.

Most of the advisors are MD's and it takes a lot of time and negotiation.
Three months later Latson quit WMI Pure and severed all ties with the Wealth Masters International community.
The specific reasons for Latson's sudden departure are still unknown.
That was back in July and since then Wealth Masters have been silent on the WMI Pure issue. As an observer, I watched the September 2011 launch date come and go without a word from the company.
News about an IPO did trickle out but from the looks of it Pure had either been put on the backburner or abandoned entirely.
Or so I thought.
Less than twenty four hours ago, Wealth Masters put out a press release announcing
the arrival of Dr. Becky and Dan Maes to lead PURE.

Set for an early 2012 launch, PURE will focus on an innovative line of nutritional and anti-aging supplements aimed at increasing energy and mental clarity.
Early 2012 of course putting us on track for about a year of delays before Wealth Masters finally appear to be getting Pure off the ground.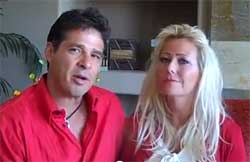 Meanwhile Latson's successors, Becky and Dan Maes (photo right) appear to have previously been involved in MLM company Isagenix, but seem to have left the company in January 2010.
After Isagenix (a nutrition and health MLM company) the pair joined NuVerus (an organic juice MLM company).
I'm not sure when they left Nuverus (it appears shortly after joining) and it's unclear why the Maes left either company.
Becky and Dan also appear to have gotten married in the interim as during their time in Isagenix they do appear to have been together, but Becky was then known as 'Dr. Becky Natrajan'.
Dan appears to be a straight up internet marketer whilst Becky is a retired board ceritified gastrointestinal specialist. Isagenix and Nuverus are both nutrition based companies, so the appointment of Becky and Dan seems to be a natural progression in their MLM careers.
Given the history of PURE however, we're still in early days yet.
Apart from the launch date and new CEO(s), not much else was released by Wealth Masters;
WMI will announce PURE's launch timeline at their m2 Wealth Conference in Maui (Dec 5-8) where community members will meet Dr. Becky and Dan and preview the products.

"Our technology gives people an immediate 'wow' factor," stated Dr. Becky. "PURE products help the body absorb more nutrients at the molecular level."

Dan adds, "Studies show that it's conceivable to live to 120 and beyond. Our business model gives people the financial means to enjoy the journey!
120 years you say? How about you just focus on actually launching Pure for now guys…