Phil Ming Xu linked to Vizinova (Global Unity)

Facing a regulatory crackdown in multiple jurisdictions, earlier this month Ponzi mastermind Phil Ming Xu publicly announced that he was giving up his WCM777 empire.
In a somewhat cryptic series of tweets, Xu revealed that he was 'not a shareholder or officer of WCM777 or Global Unity', having exited the company 'due to investigations'.
The story Xu pushed was that he'd sold off WCM777 and Global Unity to a new anonymous buyer, who he hoped would "legalize" the company and "continue his vision".
Not surprisingly, turns out Xu might have been telling porky pies…
About a week ago I noted that some former top TelexFree and WCM777 affiliate investors were heavily pushing a new scheme called "Vizinova". Other than asking people to sign up as affiliates, details were scarce.
Recently tipped off with new information from BehindMLM readers, yesterday I did some further research into the company and learnt that the company was purportedly being marketed as the "product line" for Global Unity (the third incarnation of Xu's WCM777 Ponzi scheme).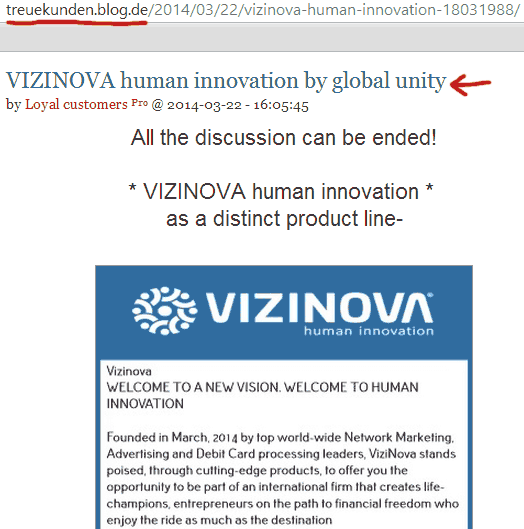 Published on a German affiliate blog, it is claimed that Vizinova was 'founded by top worldwide network marketing, advertising and debit card processing leaders'.
According to the same blog, one of Vizinova's "leaders" is none other than Phil Ming Xu: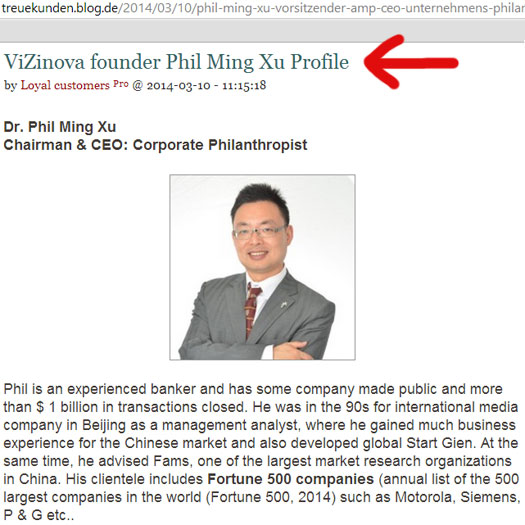 With Vizinova being marketed as Global Unity's product line, it follows on that contrary to what Xu published on Twitter, he's still very much involved in the scheme.
A Spanish version of Vizinova's official compensation plan was made public yesterday, in which it appears Vizinova will pick up where WCM777 left off.
At the time of publication an English version of the compensation plan has yet to be released, so I'm unable to provide a formal review of the plan. From what I've seen in the Spanish version though, affiliates first trade in $200 of their real money for a Vizinova "virtual currency".
This $200 fee is the affiliate buy-in cost, after which they can then go on to invest in either a Silver ($1000), Golden ($2000) or Diamond ($3000) plan: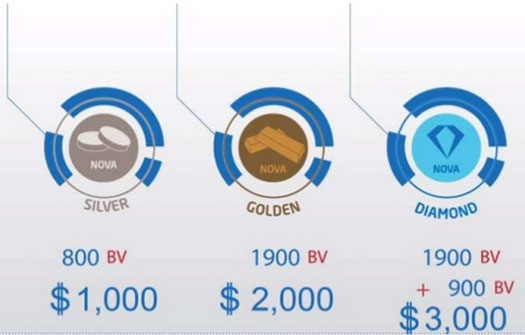 Referral commissions appear to be available on deposits made by recruited affiliates and there's also mention of a 100 day ROI period and "repurchase" of plans when they expire. Binary commissions and various other affiliate bonus incentives also feature in the plan.
If I didn't know any better, I'd say this is just another clone of WCM777's "cloud computing" plan. Although what the facade product is this time around I'm still not entirely sure on.
Meanwhile Xu is believed to be under SEC investigation for his part in running WCM777 and its later incarnations. His partner in crime, Zhi "Tiger" Liu has reportedly disappeared with a large percentage of affiliate investor money, leaving Xu to face US regulators alone.
The current status of the investigations into WCM777 and Xu are unknown but believed to be ongoing. Sources reveal that Xu has been trying to distance himself from WCM777, with Xu trying to negotiate a fine in the place of jail time due to his overall lack of involvement in the day-to-day running of WCM777.
As per the information above, Xu's masterplan to shirk any legal repercussions appears to hinge largely on the SEC not having basic internet access at their offices.
Sounds bulletproof to me…