Leonard Johnson avoids prison for USFIA Gemcoin fraud

One of the executive ringleaders behind USFIA's GemCoin Ponzi scheme has avoided prison.
Leonard Stacy Johnson pled guilty to two counts of fraud in July 2019.
On June 5th, Johnson was sentenced to two years probation and $45,871 in restitution.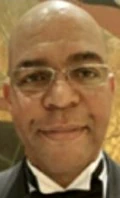 Johnson (right) served as USFIA's Vice President of Investor Relations.
(Johnson) provided services to Chen and Chen's businesses that included vetting potential real estate and business projects, preparing promotional and private placement materials, and making presentations to potential investors and funding sources.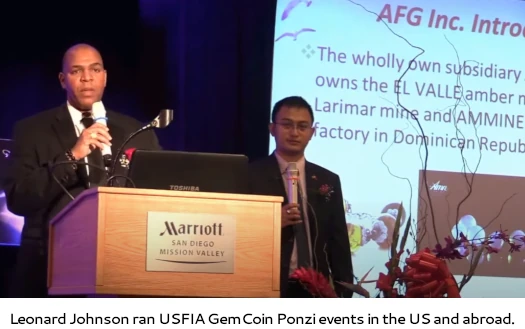 In particular, as Vice President of Investor Relations for USFIA, defendant prepared promotional materials and made sales presentations at various domestic and foreign conferences that touted the financial success and prospects of Chen, USFIA, and AFG.
A pre-sentencing memorandum filed by the DOJ reveals Johnson provided the government with "substantial assistance".
Defendant's cooperation was useful to the government's investigation and prosecution of Chen.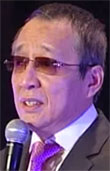 "Chen" refers to USFIA founder and CEO Steve Chen (right).
Chen pled guilty to USFIA related criminal charges in 2020. In February 2022, Chen was sentenced to ten years in prison.
Chen passed away ten months into his sentence in December 2022.
As a result of Johnson's assistance, his recommended offense level was reduced from 13 to 8. This corresponded with an advisory guideline range of 0 to 6 months.
The government recommends that defendant be sentenced to a three-year term of probation.

The government further recommends that defendant be ordered to pay restitution in the amount of $45,871 to the Internal Revenue Service.
In his own pre-sentencing memorandum, Johnson stated he was
a first-time offender, who has accepted responsibility for his actions and pleaded guilty pre-indictment, and who provided significant cooperation to the government.

He survived a tumultuous upbringing, and he has struggled financially most of his life. His tax-based offenses occurred because he had difficulty making ends meet.

For all of these reasons, Mr. Johnson respectfully requests that the Court impose a sentence of one year of probation, a special assessment of $200, restitution for unpaid taxes in the amount of $45,871, and waive all fines.
After USFIA Johnson went on to launch Artificial Intelligence Economic Development Corporation (AIEDC).
AIEDC is described as starting out as a "consulting business that provides technical advice to small business." The company is now creates apps for small and midsize businesses.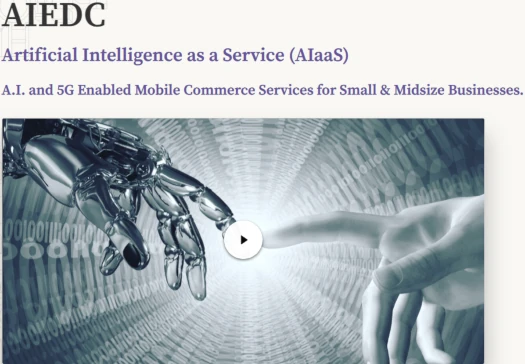 As noted by the DOJ;
In promoting AIEDC to the public, it appears that (Johnson) falsely or misleadingly claimed that he or AIEDC holds three patents to protect AIEDC's technologies, when the only registrations with the U.S. Patent & Trademark Office are merely for three trademarks that (Johnson) registered in 2017. There are no patents.

(Johnson's) bio as founder and CEO of AIEDC says his professional experience includes "conducting Senior Stock Loans
for corporate executives," which appears to be a reiteration of the false representations he made at AFG and USFIA that he was a formerly a "Senior Stock Loan Broker."

(Johnson's) bio claim that he is now "pursuing a Ph.D. Degree in Artificial Intelligence" is dubious, given (Johnson's) lack of any accredited college degree, and his previous false claims when promoting USFIA and AFG that he had attended Princeton University and "Irvine University School of Law."
Johnson told a Probation Officer in 2020 that he ran the business from his home and that it was an "unprofitable".
At time of publication AIEDC's website was non-responsive.
With respect to USFIA, a court-appointed Receiver is looking to wrap up later this year having disbursed tens of millions in restitution to USFIA victims.
Johnson's sentencing brings BehindMLM's coverage of his guilty plea and related criminal proceedings to a close.